And finally… Falkirk Wheel set for new £50 note
---

---
A new image of the world's first and only rotating boat lift, the Falkirk Wheel, is to feature on the new Bank of Scotland polymer £50 note, which will enter circulation on July 1.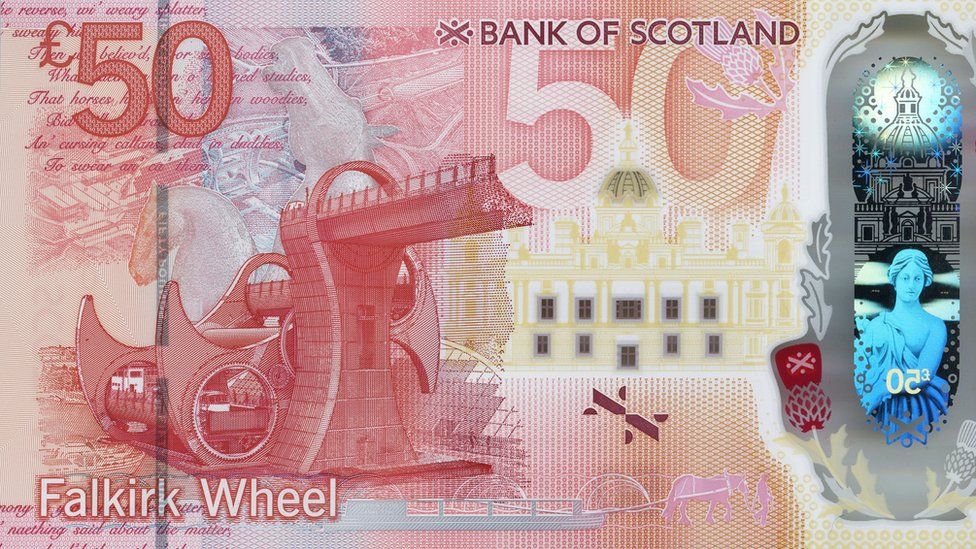 Visible on the reverse, the famous Falkirk structure will be joined by an image of the shape-shifting water spirits, The Kelpies. The two 300-tonne horses' heads have been added to the £50 note in celebration of the contribution of horses to the history of Scotland. Furthermore, a new UV feature depicts a horse pulling a canal barge, one of the ways horses shaped the geographical layout of the Falkirk area.
Bank of Scotland's new £50 notes feature the poem 'Steam Barge', by William Muir. It was written after he saw the newly-invented steam boat passing through Scotland's Grand Canal.
The front of the new note portrays the Scottish novelist and poet Sir Walter Scott, alongside the image of The Mound in Edinburgh, as the current £50 note does today.
The note has important security features which include an anti-counterfeit 'window effect' – transparent windows within The Mound frontage and a transparent vertical stripe – on the front of the note. Inside the vertical stripe is a holographic foil strip which displays the 'Prosperity' statue on top of The Mound, the bank's logo, and '£50.' The foil also displays a 'Northern Lights' effect, with stars and colours resembling the phenomena appearing, when the note is tilted.
In addition, as with the £10 and £20 polymer notes, the £50 note will have a tactile emboss feature, to aid the visually impaired.
Philip Grant, chairman of the Scottish executive committee, Bank of Scotland, said: "Bank of Scotland has issued bank notes showcasing our country's rich history for more than 320 years. Our new £50 note, with its images of the majestic Kelpies, the Falkirk Wheel and a poem by William Muir, celebrates the greatness of Scottish culture and engineering achievement. I am very proud to be a signatory on the note, in my role as Treasurer of Bank of Scotland."
Catherine Topley, CEO of Scottish Canals, said: "I am delighted one of Scottish Canals' most iconic attractions will be showcased on the Bank of Scotland's new £50 note. This decision by the Bank of Scotland pays homage to Scottish Canals' transformation in central Scotland over the last 20 years. From abandoned backwaters, to Scotland's most vibrant city-to-city and sea-to-sea canal corridor, with our incredible destinations The Falkirk Wheel and The Kelpies at the heart of the canal renaissance. The note also complements the appearance of The Falkirk Wheel in the United Kingdom's passports, recognising its significance to the nation's infrastructure."