And finally… Forth Ports brings in wrist tech to watch bad vibrations
---

---
Forth Ports has rolled out a range of innovative wearable technology which monitors the vibration exposure experienced by power tool users to reduce the risk of developing the incurable HAVS condition.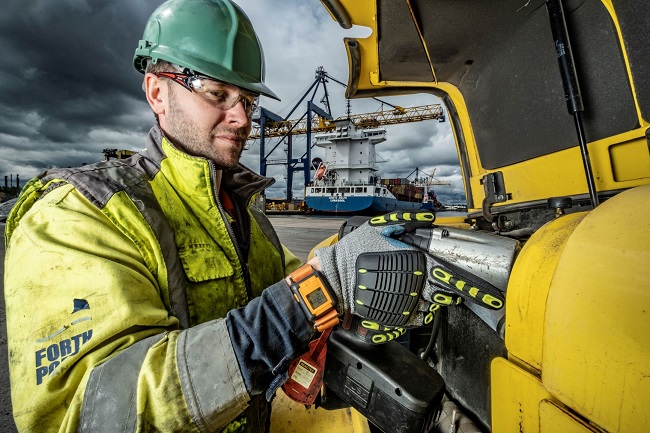 Launched in 2016 by manufacturer Reactec, HAVwear is a wearable wrist device that monitors in real time an individual's exposure to vibration when using power tools.
Reactec's analytical platform provides cloud-based reporting which allows dynamic risk assessment and exposure reduction.
The investment of around 100 HAVwear watches will upgrade Forth Ports' existing Reactec HAV management technology.
Forth Ports own and operate eight commercial ports in the UK - Tilbury (London), Grangemouth, Dundee, Leith, Rosyth, Methil, Burntisland and Kirkcaldy – and implements a 'Safety F1rst' culture at all levels across the business to protect employees, customers and visitors.
The company has its own in house engineering teams who maintain port equipment including very large container cranes, straddles carriers and fork lift trucks.
The tools used across the business range from small battery screwdrivers to impact wrenches, with grinders, hammer drills and many other tools in between.
Dr Derek McGlashan, group health, safety & environment manager for Forth Ports, said: "As a major employer across the UK, the health and safety of our workforce is at the core of our values with safety being our top priority. We have worked with Reactec for a number of years, reviewing and commenting on their scientific studies and have been impressed with their commitment to seeking innovative ways to reduce the risk that over exposure to vibration can cause people in the workplace. Our roll out of HAVwear is now complete and the feedback from our engineering teams has been positive.
Hand Arm Vibration Syndrome (HAVS), which is also known as Vibration White Finger, is one of the most common industrial diseases in the UK. The condition is usually caused by the prolonged use of power hand tools, whose vibrations can damage the blood vessels, nerves, muscles and joints of the hand, wrist and arm. 300,000 people in the UK suffer from the condition, for which there is no known cure, only prevention.