And finally… Recycled toner powder could transform the colour of concrete
---

---
The curvilinear walls of the Cidade das Artes in Rio de Janeiro, the cliff face walls of Kengo Kuma's V&A Dundee, and the three sails of the Richard Meier designed Jubilee Church, just outside Rome, all have one thing in common - concrete.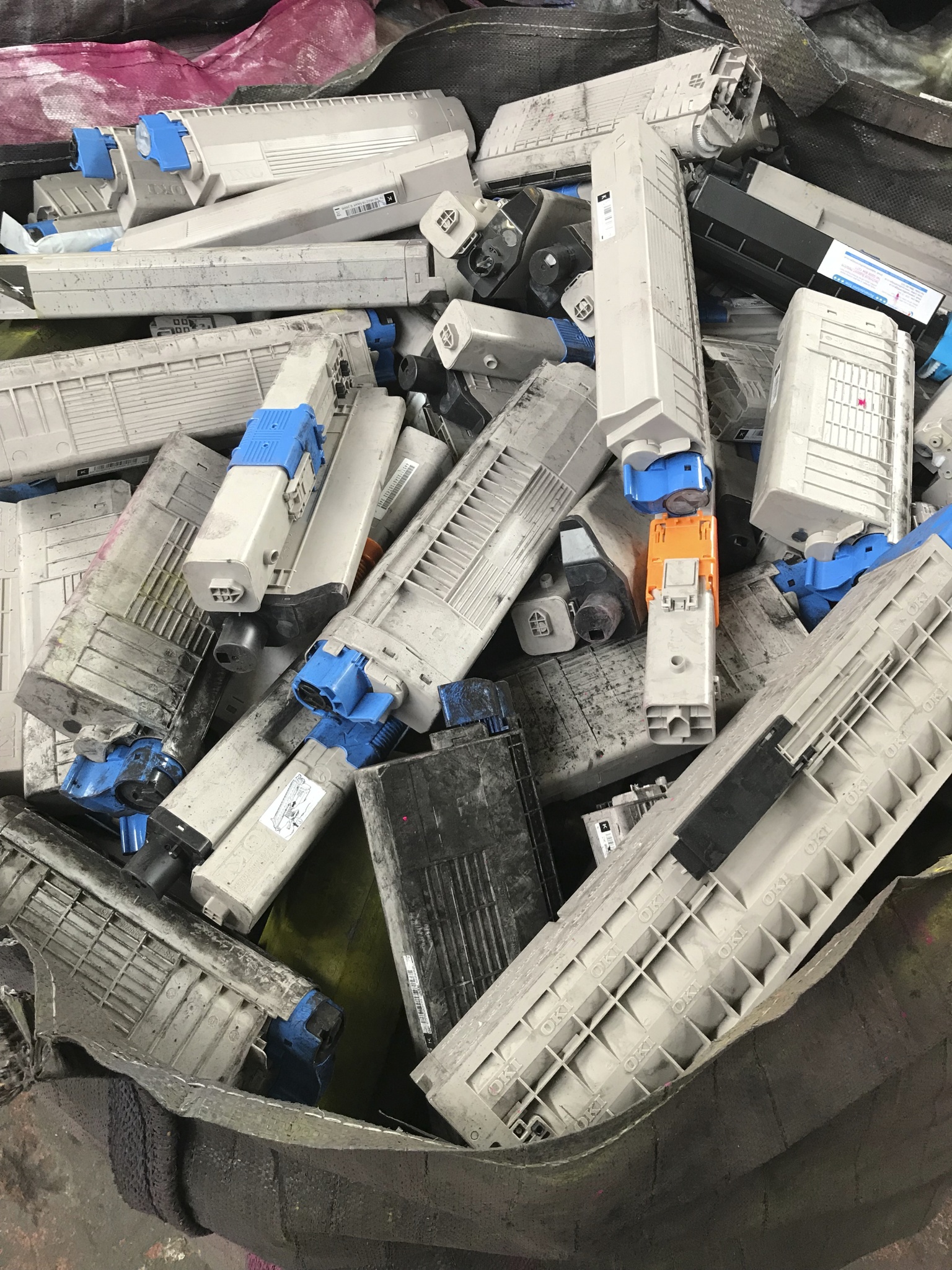 Concrete structures have long been able to astonish, but their future could be brighter still thanks to a collaborative project funded by Construction Scotland Innovation Centre.
A team from the University of Dundee, along with Moock Environmental Solutions and Inverurie Precast, have come up with a way of recycling the toner powder in old printer cartridges to create a cheaper and more versatile colourant for concrete.
Led by Dr Moray Newlands, the team from the University's School of Science and Engineering say they are able to replicate colours within cement pastes and concretes in a move that could transform the look of urban environments and landmarks of the future.
Dr Newlands said: "Around 10% of toner remains in a cartridge at the end of its life, so we've been looking at ways in which we can utilise it and prevent it being sent to landfill. Toner powder is incredibly fine, but cannot be recycled into new cartridges as it goes through thermal cycles and changes size once it is involved in the printing process."
Mixing cyan, yellow, magenta and black recovered toner powder (RTP), researchers found that it was possible to produce a range of colours within concrete and cement without affecting the integrity of the finished substance. Tests showed the coloured products to be resilient in both dry and wet environments, while the colouring also proved resistant to ultraviolet light, allowing it to retain its hue over time.
While there are coloured concretes on the market, the palette range is limited by production methods and the excessive cost of producing more distinctive colours, such as blue, which requires the use of cobalt. However, the Dundee team believe that mass production using RTP would cost significantly less and allow a far greater range of tints to be manufactured.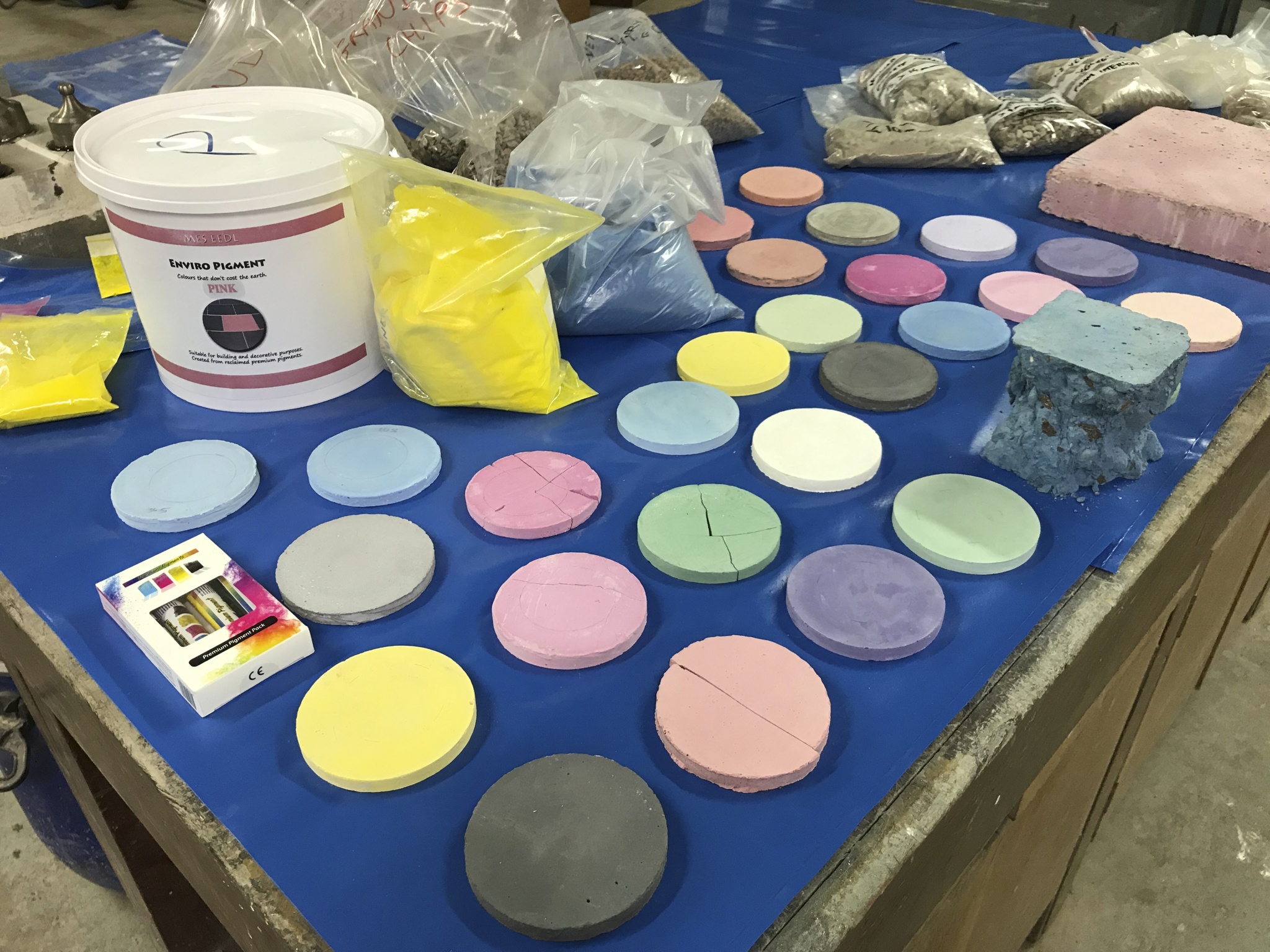 Another benefit of introducing RTP into the concrete structure at the beginning is the waterproofing it offers. Currently, the industry standard and state-of-the-art process of waterproofing concrete uses either vapour-retarding membranes or pore blockers. Protection against the ingress and damage by chloride from de-icing salt in winter requires similar measures. Therefore the addition of the RTP would remove the need for these processes, and at no extra cost, making it a financially attractive alternative product in the precast concrete market.
Dr Newlands added: "Inverurie Precast is producing samples which we are testing to see how they resist water and how strong they are. As engineers, the main thing we're concerned with is ensuring that the properties of the concrete remain similar or are improved by adding colour to it. If that is the case then architects will be able to use it as they wish."
Jennifer Smart, business relationship manager at Construction Scotland Innovation Centre, said: "This project is just one of many that demonstrates how industry and academia is working together to drive innovation, and CSIC is delighted to be supporting this exciting development. The product offers not only an environmental solution to a potential waste problem, but has the potential to reduce ongoing structure maintenance costs due to its waterproofing benefit, in addition to using colour in creative and interesting ways."