BAM give shed loads of help to local group
---

---
BAM Construction's site team at Stobhill Hospital responded to a plea for help from Springburn Park Men's Shed association who were looking for off-cuts of timber but ended up with two 32 foot cabins for the organisation.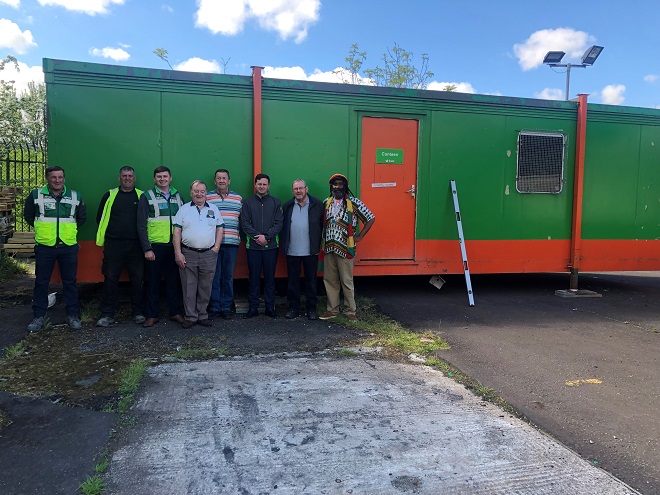 Located near Belmont Road in Springburn, Glasgow, Springburn Park Men's Sheds is run by volunteers and offers a place where men can meet, socialise and work on projects or hobbies. Around 35 people use the facility, including ex-veterans and former tradesmen, who have all experienced challenging times.
Sheds are split into different areas to include a social area, woodworking shop, a metal fabrication shop along with an outdoor space. As well as a place to meet and talk, the volunteers also make and sell furniture and take part in horticultural activities.
Volunteer, Tom Bennett approached BAM for any discarded timber which they could put to good use within their woodworking shop. However, when Project Manager, Paul Allan and his team learned of the good work and support that was being offered they stepped in to help and offered them two site cabins.
Paul explained: "Tom was looking for some old pallets but when he told us about the shed and what it meant to the guys who met there it really struck a chord with me and we wanted to help. We discussed it internally and were able to donate two of our unused site cabins. Tom was very grateful and was keen to try and install power in two existing sheds but the quote he'd received wasn't affordable.
"We reached out to our supply partners and within hours, building services company, Arctech had offered to install the power to the two existing sheds and also the two cabins donated by BAM. Arctech then contacted their supply partners, MEF, Edmundsons and Nationwide Platforms, who have kindly agreed to donate the lifting equipment to carry out these works and also supply the volunteers with power tools to assist them with making their bespoke furniture.
"It really was fantastic the way everyone pulled together as it was easy to see how a relatively simple idea can transform people's everyday living and give them an outlet to be positive."
Men's Sheds was founded in Australia over 20 years ago and in 2013 the first one opened its doors in Scotland. Welcoming men over the age of 18, the sheds provide a place for people to talk, and meet new friends, particularly supporting people when they may feel isolated or vulnerable.
Tom said: "I still can't believe the generosity of BAM! I stopped by the site one day to ask for any broken pallets or timber off-cuts we could collect, and we ended up with two Portakabins! We are all very grateful for the support. The Men's Shed is a place where all cultures of men can come together shoulder to shoulder, and that's a great support to the community."
BAM Construction is building a single storey facility as part of Stobhill Hospital's dedicated Mental Health Campus on Balornock Road in Glasgow which will provide residential care for acute admissions and complex clinical care patients.