Barratt teams up with housing association on three year build programme
---

---
Albyn Housing Society has partnered with national housebuilder Barratt Homes to bring 95 quality homes to the people of Inverness.
The partnership will run until March 2020 and will concentrate on the Culloden West site in Stratton, Inverness.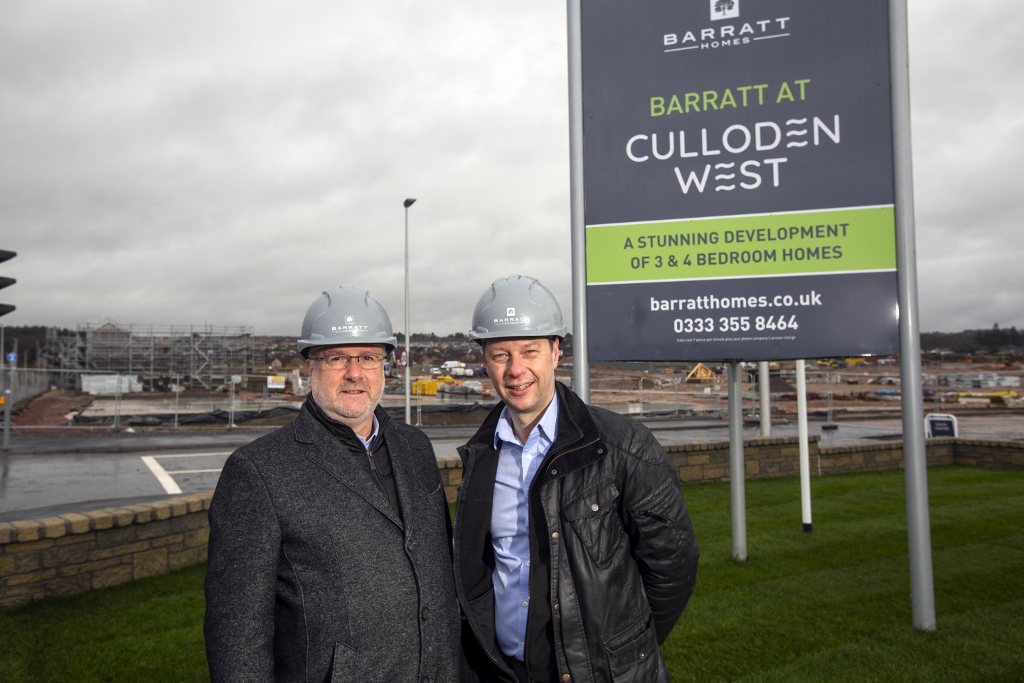 The site will be developed in three distinct phases. Due for completion in September 2019, the first phase will comprise of 42 one and two bedroom apartments suitable for two, three and four person occupancy. Representing a total investment of £5 million, the development has received over £2.8m in grant funding from the Scottish Government.
Once complete, around 95 homes will be available, 73 of those will be available for social rent through Albyn Housing Society, 12 for mid-market rent and 10 will be available to buy through the popular LIFT scheme (Low Cost Initiative for First Time Buyers).
Calum Macaulay, chief executive at Albyn Housing Society, said: "Working with a reputable house builder like Barratt Homes gives the people of the Highlands the reassurance that we are committed to delivering quality, affordable homes to the people in the local area.
"We aim to provide homes in attractive, integrated communities that are close to schools, essential amenities and other services. As an exciting new area of our bustling Highland capital, the site at Stratton is an excellent place in which to invest in new homes.
"We are committed to bringing 750 new homes to the Highlands by 2020 and this new site at Stratton in Inverness is central to this plan."
Scott Pettit, technical director at Barratt North Scotland, added: "These new phases at Culloden West is evidence of our continued partnership with Albyn Housing Society in delivering good quality affordable homes to the local community, whilst creating an exciting new neighbourhood."
Phases two and three of the site will host a range of terraced, semi-detached and detached homes suitable for three people through to seven people.
Housing minister Kevin Stewart said: "I am delighted to see the progress and the opportunity that the Highland Infrastructure Fund has created to deliver these new affordable homes.
"Working with Albyn Housing Society and partners, the Scottish Government is investing over £6.6m in this phase of the overall Stratton development, creating a mix of affordable housing options to suit a variety of needs.
"Making sure everyone has a safe, warm and affordable home is central to this Government's drive for a fairer and more prosperous Scotland, improving life for families and the wider community.
"Providing affordable housing is an important priority for this government and these homes are an important part of our ambitious aim to deliver 50,000 affordable homes by 2021, with at least 35,000 of these being for social rent. This is backed by £3 billion - the single biggest investment in, and delivery of, affordable housing since devolution."
The Highlands-based Registered Social Landlord works alongside a range of housebuilders to bring affordable homes to the people of Inverness and the surrounding area and has previously worked with Springfield Properties and Bancon Construction.
In recent months, Albyn Housing Society has completed homes in Nairn, Alness, Conon-Bridge, Inverness, Aviemore and Kirkhill delivering significant progress on its commitment to bring 750 new homes to the Highlands by 2020.