Barratt West builds careers with apprentices at its core
---

---
Barratt West Scotland will add an additional seven apprentices to its workforce during the course of 2019.
The announcement comes as Skills Development Scotland celebrates Scottish Apprenticeship Week, which aims to shine a light on the successes of apprentices, apprenticeship programmes and the value of nurturing young people in the world of work.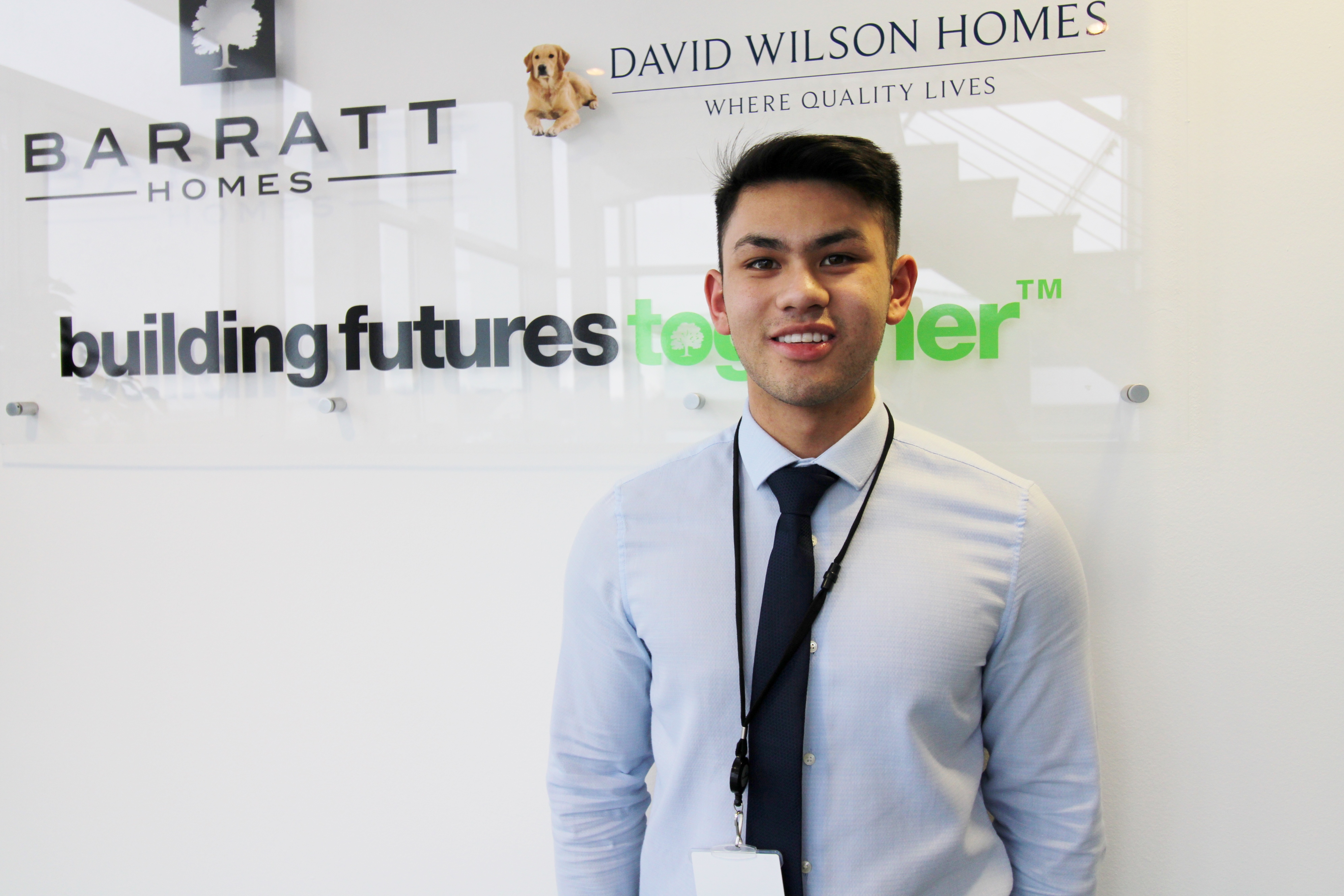 Last year, Barratt West Scotland recruited eight apprentices in a range of roles, from traditional on-site roles such as plumbing and joinery to office based roles in the technical and commercial departments.
One of the up and coming stars of Barratt's Apprentice programme is Cameron Chung, a Commercial Apprentice based in the Barratt West Scotland's head office in Stepps. Cameron is originally from Glasgow and joined housebuilder Barratt in its last intake of apprentices, opting to focus on off-site work rather than the traditional site-based model for apprentices.
Talking about the apprentice programme and his new role in the commercial team, Cameron said: "My apprenticeship scheme is so varied, no two days are the same and that's what keeps the role fresh and interesting. As a commercial apprentice sometimes I'm on-site to attend meetings or to see the progress of a live site, other times I am based in head office doing take-offs, assisting with our subcontractors and generally offering an extra pair of hands to the other surveyors."
Cameron is currently enlisted in a Modern Apprenticeship with South Lanarkshire College where he will gain a recognised qualification on completion of his apprenticeship and the course. Modern Apprenticeships help employers to develop their workforce by training new staff and upskilling existing employees.
Cameron said: "I'm learning a huge amount throughout this apprenticeship and I'm only a couple of months in. When I started I didn't quite grasp the amount of knowledge you needed to have to be a surveyor, or the complexities of some of the jobs we would be working on but it's challenging and rewarding and I'm really enjoying it."
Suitable for both school and university leavers Modern Apprenticeships offer a great way to embark on your chosen career while earning money and gaining hands-on experience at the same time.
Cameron said: "Even being in an office environment is helping me to build up my skillset. For example, being able to communicate effectively with someone is a skill in itself. As a surveyor we need to build relationships with colleagues and subcontractors and being able to present and receive information in a way that works for both people is something that you have to be able to adapt to very quickly.
"It's a fast paced environment and it can be challenging at times, but if we have relationships with people on the project team, we can get things done quicker and to a higher standard."
Apprenticeship schemes are a good way for young people to enhance their skill set, and the Barratt programme has offered Cameron a range of different workplace qualifications since starting including health and safety training, CSCS qualification, CDM training and systems training.
David Scott, managing director, Barratt West Developments, said: "We firmly believe that apprentices are the lifeblood of our industry. They allow us to keep delivering homes for families across the country which is why we want to invest in giving them the best training possible.
"Through our apprenticeship programme it is possible to end up almost anywhere in the business; from managing sites and surveying land, to organising the finances, managing contracts and suppliers, overseeing marketing activity and driving sales."
Skills Development Scotland run Scottish Apprenticeship Week on an annual basis. This year, the dedicated week runs from 4 – 8 March and focuses on 'Skills for the Future'.