Building Briefs – April 30th
---

---
New hotel for sale at Edinburgh regeneration project
The Canongate, a boutique hotel redevelopment in the heart of Edinburgh's New Waverley regeneration project, has been placed on the market for £8 million by its owner.
The former C-listed Victorian schoolhouse will feature 21 apart-hotel style bedrooms as well as commercial units which span over two floors, ideal for a bar, restaurant and outdoor terrace area.
Knight Frank is marketing the building on behalf of developer Edinburgh Castle Ltd for offers in excess of £8m. Edinburgh Castle Ltd has forecast operating rooms revenue at £1.4m per annum, representing a potential yield of 12.2% after operation costs.
Following a full renovation and fit-out led by contractor Redpath, the development has been redesigned to celebrate the building's original features – including the school house façade and double-height atrium. The property is expected to be complete and ready to hand over to a new owner in June 2019.
The 7.5-acre mixed-use New Waverley project lies in the heart of Edinburgh's Old Town, transforming the area with 160,000 sq. ft. of Grade A office space, a range of leisure and retail opportunities and 148 residential apartments and penthouses.
Dundee merchant scraps old site for flats
Dundee's oldest family-owned scrap merchant is set to move for the first time in its history – and plans to build six flats on its former site.
Frank Kelbie Ltd went into business on Milnbank Road in 1946 and has been there ever since.
However, with plans to move to a new site in Lochee now in motion, the Evening Telegraph has reported that family firm's site in the West End is set to be freed up for a potential new housing development.
An application to build homes on Milnbank Road has been submitted to Dundee City Council's planning department on behalf of Frank Kelbie Ltd by Davidson Property Services.
The proposal outlines plans for six two-bedroom flats, seven parking spaces – including one for an electric vehicle – and facilities for bicycles and motorbikes.
Each flat would benefit from eco-friendly resources such as photovoltaic cells in the roof and rainwater storage in the basement for use in the complex's plumbing.
National recognition for East Lothian Local Development Plan
East Lothian Council's Local Development Plan (LDP) has been commended at a prestigious planning industry awards ceremony.
The LDP had been shortlisted as a finalist in the category for Excellence in Plan Making Practice at the Royal Town Planning Institute (RTPI) Awards for Planning Excellence 2019.
The LDP is the key planning document guiding development across East Lothian to 2024 and beyond and has involved a huge amount of preparation and extensive public engagement and consultation. It was approved by Scottish Ministers in September 2018, after the Report of Examination made only minor recommendations for changes to the work of the council's planning team.
The RTPI Awards for Planning Excellence are the most established and respected awards in the UK planning industry. Running for over 40 years, they celebrate exceptional examples of planning and the contribution planners make to society.
The winners were announced at a ceremony in London last week.
Councillors highlight Dundee's social housing boost
More than 160 new homes for rent have been built in Dundee in the past 12 months according to the latest figures.
Housing officials from Dundee City Council revealed that between April 2018 and March this year 161 social rented housing units were built, most of which were two bedroom flats.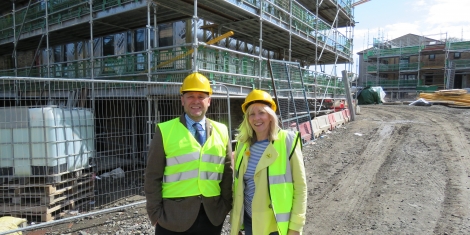 Of the 161 units, 51 were houses and 87 flats, eight were built to be wheelchair accessible and 15 were community care units.
The £20 million cost of the building programme came from the Scottish Government, Dundee City Council and the three housing associations.
Most of the new build homes completed in the period were in Alexander Street, with Fintry Drive/Finavon Street and Eliza Street also sites where multiple units were developed. Other homes were built in St Ann Lane, Gray Street Lochee and Kirkton Road.
Most of the new builds were flats with the remaining 51 of them houses. As well as the most popular two-bedroomed properties, 21 were constructed with one bedroom and 41 with three or four.
Banff 'bouncing back' after £500,000 plus conservation project
When Aberdeenshire businesswoman Rachel Kennedy was looking for premises to run an antique and vintage ware business, it was the historic charm of an old traditional shop that won her over.
Ivy Blanchard's had been the beating heart of Banff's retail scene for over 60 years selling haberdashery to generations of local families. Ivy retired in 2003 and her Bridge Street shop premises had lain empty for many years. However, it recently underwent a makeover, with the landlord receiving a grant from Banff Conservation Area Regeneration Scheme (CARS) which helped towards the cost of improving its façade and frontage by fitting replacement windows and a front door.
Banff's CARS has seen £500,000 of grants from Historic Environment Scotland supporting the restoration and refurbishment of traditional buildings in the hub of the former burgh town. The total investment is more than £1 million, with additional funding coming from Aberdeenshire Council, Scottish Government and private owners.
Rachel Kennedy believes the project is aiding urban renewal by improving both the appearance and condition of key buildings who hails it as a positive step towards helping revitalising the town centre and attracting more shoppers.
Community wind farm project planned for Orkney
Orkney Islands Council is to investigate an additional two sites for potential community wind farms in the county - to add to the project already under investigation on Hoy.
The new projects under consideration are located at Faray, in the North Isles, and at Quanterness in St Ola.
'Orkney's Community Wind Farm Project' could generate significant income and community benefit for Orkney. All profit would stay in the islands, enabling the council to preserve and enhance key services that local people value and depend upon and providing a foundation for communities to drive transformational projects of their own.
The developments will also allow the council to join other local developers in making a meaningful contribution to a Needs Case for a new interconnector for Orkney, thereby substantially supporting the vital renewable energy industry in Orkney, including future development of the marine energy sector.
The wider economic development value of a new cable to Orkney could be highly significant, particularly if a substantial proportion of local ownership can be secured - which will help employment and income remain in the county.
Plans for a development of up to around 28MW in Hoy were announced to the local community last year - with sites for a development of up to 32MW on the island of Faray and up to 24MW on shoreside farmland at Quanterness outside Kirkwall now also being investigated.
Vital maintenance works announced for Cardwell Road bridge
Work to replace the waterproofing on the bridge over the railway line at Cardwell Road in Gourock is set to start at 8am on Monday 13 May 2019.
The vital maintenance work is expected to be finished by 5pm on Friday 19 July although it may take longer if there is adverse weather.
The bridge will still be open to pedestrians and we will also keep local access open to shops and homes in the area.
Edinburgh housing market activity 'highest since credit crunch' and resisting Brexit pressure
Property market activity in Edinburgh is at its highest level since the credit crunch and shows no sign of slowing down because of Brexit, according to Warners Solicitors & Estate Agents.
Between January and March, Warners recorded over 250 property sales – an annual increase of over 40% compared to the same period in 2018 – and brought almost 300 properties to the market.
David Marshall, operations director with Warners, said: "There had been a feeling that activity in the local property market would be subdued in the early part of 2019 as people were expected to wait and see the outcome of Brexit negotiations before deciding to buy or sell. This has not been borne out in reality.
"The rise in the number of homes coming onto the market that we have seen has been the greatest improvement in the market over the last two years.
"In 2016 and 2017 many people were having to delay selling their own home because they couldn't find a property that they wanted to buy.
"As more homes have become available it has made this problem far less common. Buyers are more often able to find a home that they want, while most sellers are still able to sell their properties quickly."
Mr Marshall added: "With the pressure on buyers having eased, house price inflation has also come back down to more manageable levels.
"The latest figures from ESPC show that the average house price in Edinburgh rose by 1.8 per cent annually during the first quarter, well below the rate of inflation observed during 2017 and 2018.
"The levels of inflation that we are now seeing are much more sustainable over the longer term so this is good news for the health of the market and, as we move forward, we would expect to see inflation continue in the region of one to three per cent for much of 2019."