Building Briefs – December 6th
---

---
Artists urged to submit plans to create main entrance at Balfour Hospital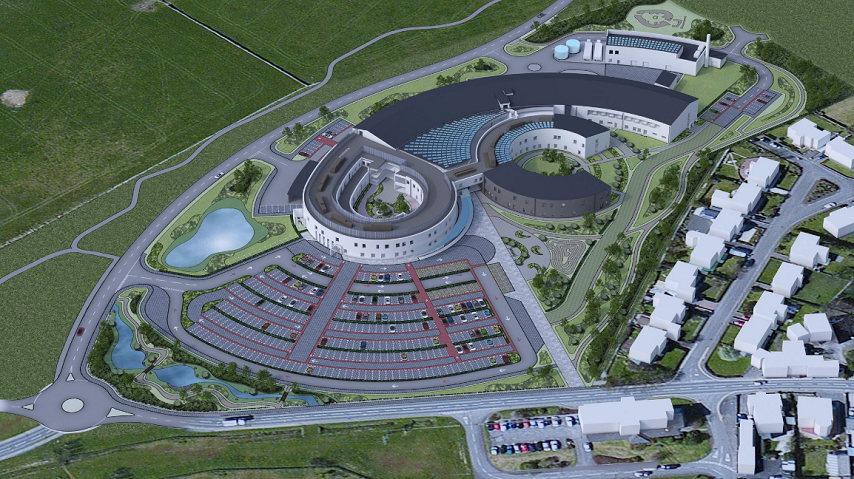 Artists are being encouraged to submit proposals to help create the main entrance area for the new Balfour Hospital in Orkney.
It was announced last month that NHS Orkney, in partnership with Orkney Islands Council's Arts Development service and supported by the charity Art in Healthcare, was inviting proposals from artists to help create a distinctive identity for the main entrance area.
An opportunity has become available for an artist to take up a six month residency within the old and new hospital and healthcare facilities. They will play a key role in commemorating an historic moment for health care in Orkney during the transition between the two buildings.
The artist is expected to spend in the region of three days a month between the sites, which will be negotiated with the project team. The commission will embrace dialogue with staff, patients and users of the hospitals. The residency will allow unique access to the sites and the artwork created will be presented at the new Balfour Hospital and Healthcare Facility, becoming part of the permanent collection of art.
The second creative arts opportunity is for an artist or curator to review the Balfour Hospital's current art collection and develop a scheme for the re-hanging and display of works in the new building.
NHS Orkney has an existing collection of around 250 artworks, many of which are on display within the existing hospital. These works have been gifted over several decades or previously been commissioned.
Work starts on primary school extension in Inverness
Morgan Sindall has started construction work on an extension project at a primary school in Inverness.
The scheme at Dalneigh Primary School includes creating a new commercial kitchen and a dining hall which will have a capacity for 350 children over three sittings, two for primary and one for nursery.
Morgan Sindall Construction & Infrastructure has been appointed under a design and build contract and the works will be managed and supervised by the council's Property Team within the development & infrastructure service.
Works are expected to be completed in the summer of 2019.
Plans submitted to install charging bays for electric cars in Dundee
Plans have been submitted to install 10 charging bays for electric cars at a multi-storey car park in Dundee.
Dundee City Council's development committee has been asked to approve the works at the Greenmarket multi-storey car park.
The bays will offer 20 car charging opportunities on the roof level.
Worth nearly £600,000, the project is being funded by various sources primarily European Funding through Transport Scotland, Dundee City Council and the UK Government's Office for Low Emission Vehicles.
The city development committee will consider a tender from Swarco UK Ltd at a meeting on Monday 10 December.
Fife Council approves £10m retail park
Revised plans have been approved for a new retail park in Cupar.
North-east Fife's planning committee gave permission for seven new units on the former Reekies garage site on South Road.
About 100 jobs are expected to be created as a result of the £10 million investment.
Consent had been given for a similar scheme consisting of six units last year.
The fresh proposal increases the number of units by one, while reducing the overall size of the development.
Councillors welcome plans for new Thurso hotel
Plans for an 81-bedroom hotel in Thurso have been approved by Highland councillors.
The budget chain Premier Inn hotel will be built on a former livestock mart site and will feature a bar, outdoor seating, an 87-space car park and a number of rooms specially adapted for disabled guests.
Highland Council's north planning committee unanimously voted in favour of the development.
The land, which lies between Thurso High school and the town's railway station, has lain derelict for 12 years.
Construction work is expected to begin in February next year.
East Lothian tourism accommodation applications approved
Two applications to increase the provision of tourist accommodation in East Lothian were approved at a meeting of East Lothian Council's planning committee yesterday.
Bourne Leisure Ltd, operators of Seton Sands Holiday Village applied for permission to provide an additional 75 static caravan pitches on its existing site increasing its overall provision to 853 and to increase the number of touring sites from 40 to 50. Planning officers recommended approval of the application, which would not be an overdevelopment of the site or significantly alter its visual impact of the holiday village.
Councillors heard that construction will be undertaken to the winter months to limit disruption to the site and community. The committee voted unanimously to approve the proposals.
The committee also approved an application to develop land in the countryside outside Pencaitland to create an eco-accommodation site encompassing a shop, café, five holiday cabins and one two-bedroom house.
Wallyford ready for digital revolution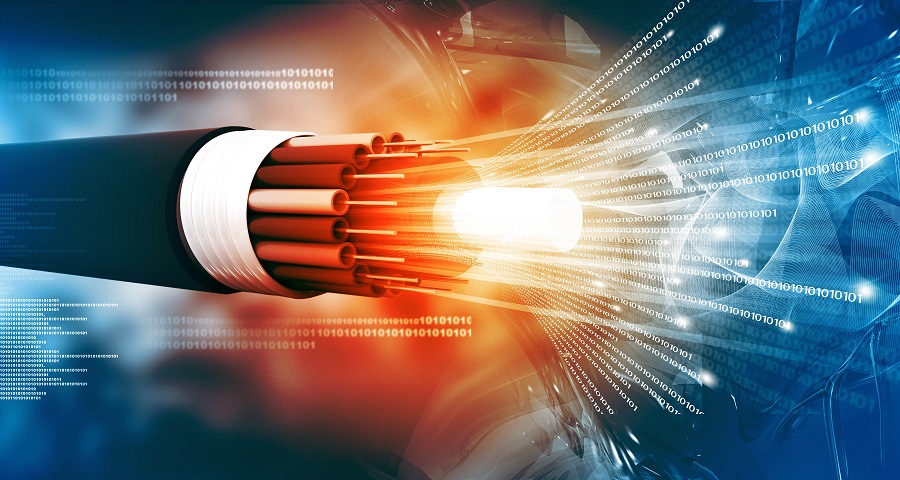 Energy Assets Utilities is playing a key role in ensuring that the 2,200 new homes planned for a major development in Wallyford will be at the leading edge of the digital revolution sweeping across the residential new build sector.
The firm has been responsible for laying the conventional gas, electricity, and water infrastructure up to the spine road running through the site, but is also leading on the roll-out of fibre-to-the-home.
"The first few homes are now benefiting from superfast connectivity, with many hundreds more to follow to support lifestyles increasingly reliant on digital technology…and to connect to who knows what as we enter the era of the 'Internet of Things'," said Craig Topley, Energy Assets group managing director (construction).
The Wallyford scheme is the largest multi-utility network design and construction project ever undertaken by EAU, with services now available not only for residential homes but also for a new primary school, currently being built, and potentially some commercial units. It's all part of East Lothian Developments' plans for a new community at St Clements Well, which stretches to the south, east and west of Wallyford.
Close shave as Glasgow Shepherds and Hardies Boys surpass £1000 Movember fundraising target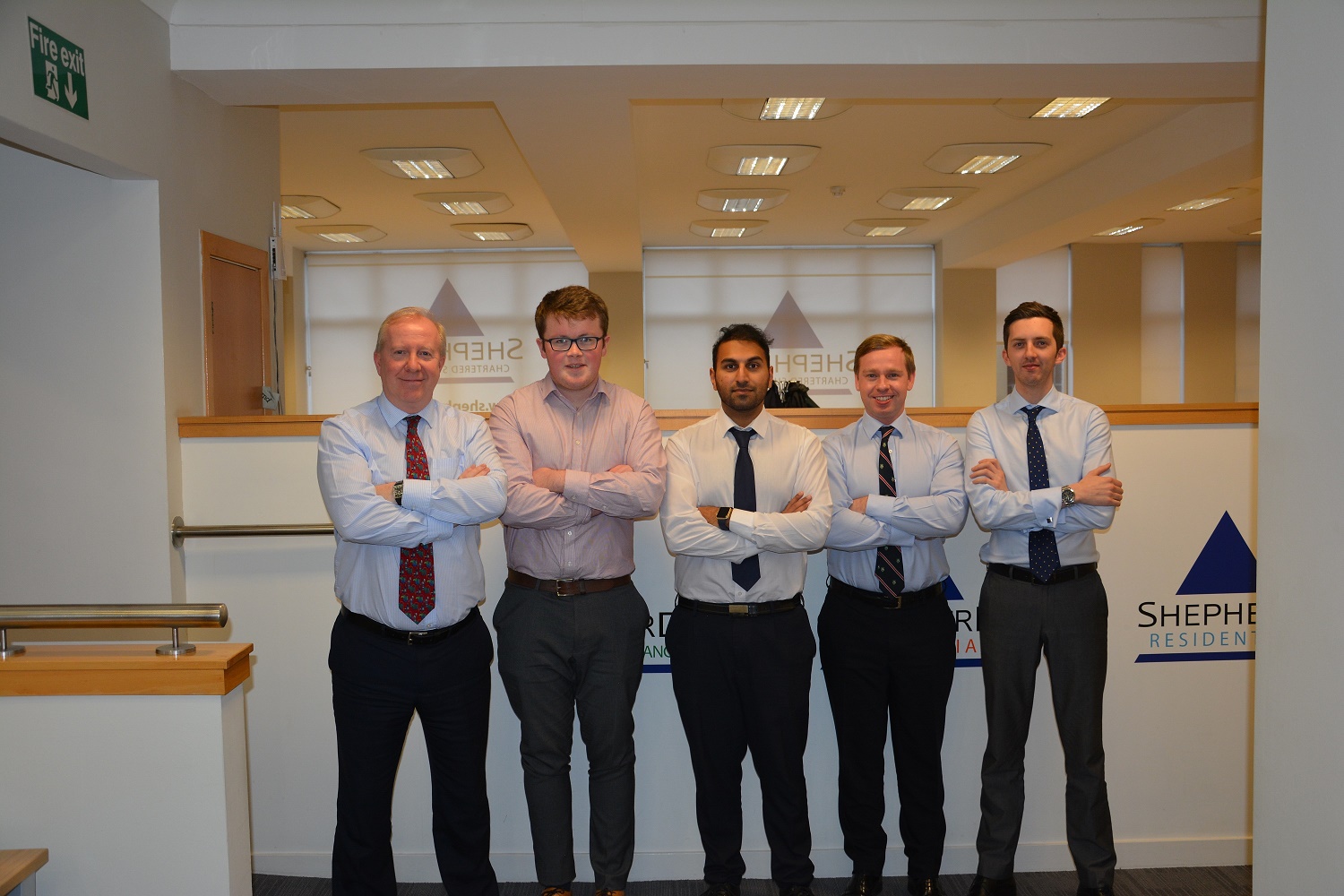 It was a close shave but a team of surveyors from the Glasgow office of Shepherd Chartered Surveyors and Hardies Property & Construction Consultants have surpassed their £1000 fundraising target for the annual Movember Foundation fundraising campaign to change the face of men's health by growing moustaches for the month of November, raising a whopping £1135.
Taking part were Fraser Smith, commercial agency, Alan Berry, commercial property management, Sadiq Khan, building surveying, Jack Heneghan, quantity surveying and Gary Louttit, hospitality and leisure.
Fraser Smith said: "The team is really pleased to have been able to raise so much money from all parties that donated. It was great to be able to help raise the profile for such a worthwhile charity."
The Movember Foundation is the leading charity changing the face of men's health in prostate cancer, testicular cancer, mental health and suicide prevention.