Building Briefs – January 13th
---

---
Lennoxtown veteran charity benefits from cash boost from Barratt
A charity that specialises in veteran rehabilitation has been selected as the latest recipient of Barratt's £1k community fund donation.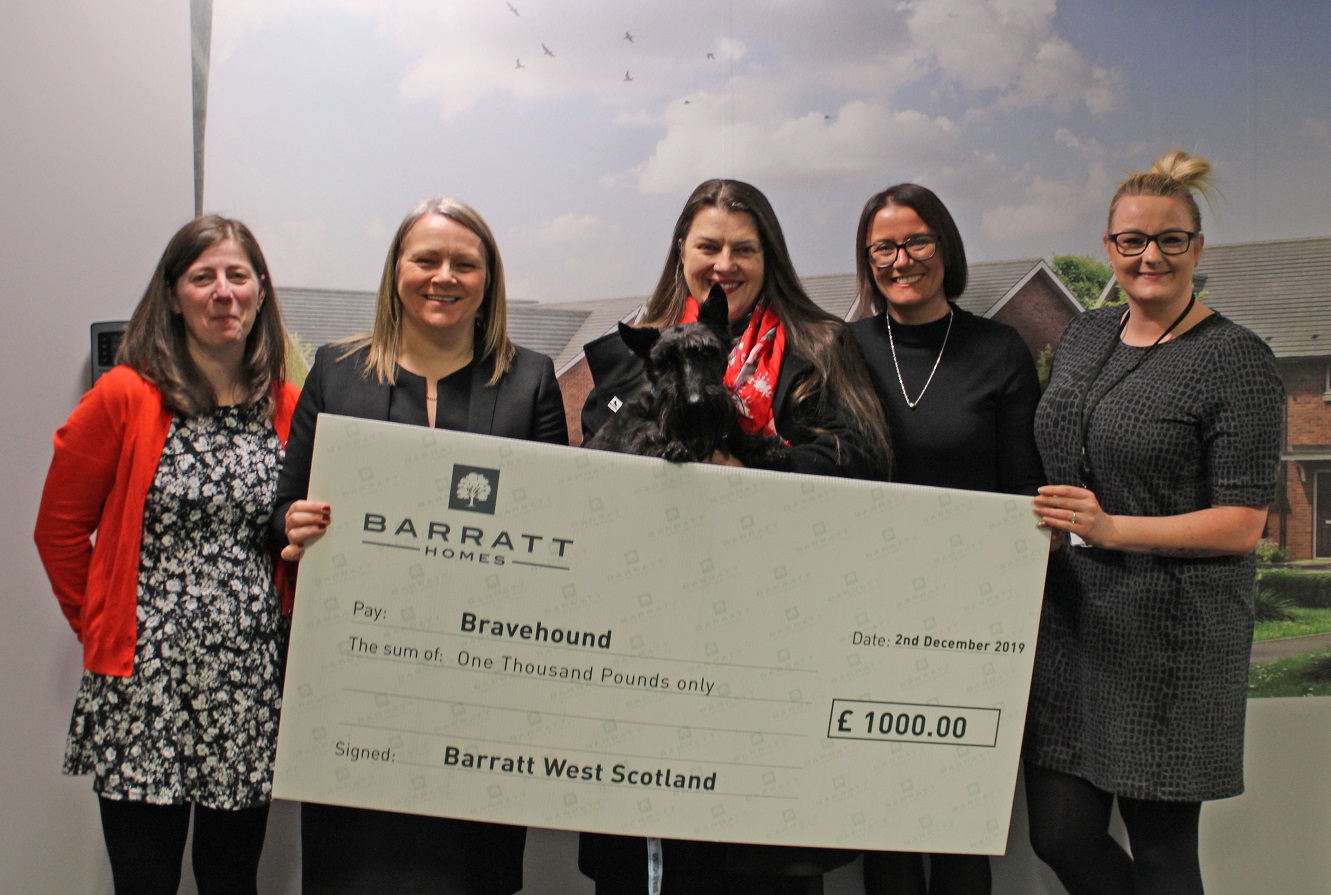 Barratt Homes donated £1,000 to Bravehound – a charity based in Lennoxtown but that provides companion dogs to military veterans across Scotland – as part of its community fund programme.
Bravehound offers companion dogs to veterans as they transition back to civilian life. The charity believes that owning a dog can provide companionship, promote exercise and good routine making the transition back to life in the community as smooth as possible.
The donation will be allocated to funding essential veterinary care and travel costs for the veterans the charity supports allowing them to attend training sessions.
Suzanne Craven, finance director, Barratt West Scotland said: "Bravehound is a fantastic charity that provides invaluable support to ex-military personnel and their families during, what can be, a tough time for them as they start to adapt to life in the community again.
"The work that the charity does is fantastic and they really do make such a positive impact to the lives of people in Scotland. We are thrilled to be able to help them."
Avison Young secures trio of Glasgow office deals
Global real estate specialists Avison Young marked the start of 2020 in Scotland with a trio of deals in Glasgow including securing two acquisitions and an office expansion in the city.
Avison Young, which provides services for the full lifecycle of real estate developments, carried out an extensive search of the city centre office market to help expanding renewable energy recruitment consultancy, Taylor Hopkinson Ltd, secure new office premises. As a result, Taylor Hopkinson has taken the entire second floor office suite within 58 Waterloo Street extending to 3,832 sq ft.
The second acquisition saw a leading global insurance company acquire the fully-refurbished second floor office suite spanning 4,788 sq ft in Sutherland House, 149 St. Vincent Street - the floor directly above Avison Young's Glasgow office.
In the third transaction, the team - on behalf of LGIM Real Assets - let 2,122 sq ft of fully refurbished office space on the ground floor at Kintyre House, 205/209 West George Street to major UK private equity player, and existing tenant, Maven Capital Partners UK LLP. This letting takes Maven's total occupation in the building to just over 7,400 sq ft where it already occupies 5,285 sq ft on the first floor.
As well as taking on the additional space, Maven has re-geared its first floor lease – reaffirming its long-term commitment to the building and to Glasgow. The ground floor (front) suite is the last remaining available space in the building and provides 2,800 sq ft of high quality refurbished space fronting onto West George Street.
Options appraisal to breathe new life into Peterhead Town House
An important options appraisal has been commissioned to identify new uses for an iconic listed building in a North-east coastal community.
Thanks to a £10,000 grant award from the Peterhead Development Partnership through Aberdeenshire Council, the Peterhead Feuars Managers have appointed a specialist team of local consultants to assess how best to re-use the Town House.
A Category B listed building, the Town House is a landmark at the top end of the town's 'market square' in the heart of the Peterhead Outstanding Conservation Area.
Comprising a single, distinctive symmetrical block with a prominent central steeple, it was constructed in 1788 for the Community of Feuars of the Town of Peterhead to replace a previous administrative and prison building dating back to the 1660s.
A two-storey adjoining block was added in Marischal Street in 1832 to provide a market place, a holding cell and a witness room.
The original straight external stair was replaced as a horseshoe stair in 1859 before being enclosed into its current format in 1881.
The Town House building is considered to be a fine specimen of its form and type, still retaining most of its historic integrity including its distinctive prison cellar at the heart of the principal entrance as well as much of its ornate plasterwork.
The ground floor is currently leased to the Citizens Advice Bureau, while the upper floors - formerly occupied by legal agents - are now redundant.
A recent condition survey highlighted general decay and deterioration within the Town House requiring fairly urgent work, with a recommendation that a full redevelopment of the building be undertaken.
The options appraisal, which will include community consultation and engagement, will play a key role in shaping the future use of the historic building.
Dundee City Council to consider boiler replacement programme
Councillors in Dundee will today be asked to approve the installation of new boilers in 71 council houses throughout the city.
Work to replace boilers will be carried out in Coldside, Lochee and Maryfield in the latest stage of the project.
The £278,021 worth of improvements will see the properties receive gas boiler renewals and associated works.
If approved, the replacement installations will run from March 2020 to May 2020.
The scheme previously saw more than 200 homes throughout the city benefit from replacement boilers in 2019.
BESCA vent hygiene scheme shortlisted as industry award finalist
Certification body BESCA, part of the wider BESA Group, was today announced as a 2020 finalist for the HVAC Initiative of the Year category of the prestigious H&V News Awards for its Ventilation Hygiene Elite (VHE) scheme.
The VHE scheme is based on BESA's long-established and industry recognised specification and guide to good practice TR19®. The scheme is developed by the industry, for the industry and is approved and administered by BESCA, who will audit firms' work to help raise standards and ensure they are maintained.
It enables contractors to improve the service they offer clients by demonstrating the highest level of compliance and competence. Completed works receive a TR19® Certificate demonstrating conformity with industry standards and giving clients complete peace of mind.