Building Briefs – January 20th
---

---
RSA Group moves into NFU Mutual's Glasgow office development
RSA Group, a multinational general insurance company, has moved into NFU Mutual's landmark office development in West George Street, Glasgow.
The move means that the recently refurbished building is now fully let.
RSA Group has taken the entire third floor, extending to over 15,000 sq ft, on a ten-year lease at a rental of £31.00 per sq ft. The firm is relocating from existing premises in Alexander Bain House on York Street in the city and is due to take occupation on X following a period of fitting out.
In July it was announced that Hilton Worldwide Ltd acquired the lower three floors, joining existing tenants in the building Hewlett Packard, which operates from the fifth floor, and Edrington-Beam Suntory, the first occupier to move in and based on the fourth floor. Once all new tenants take occupation, the building will be home to over 600 highly skilled employees.
The £5.5 million refurbishment project by NFU Mutual completed last year and created 87,000 sq ft of Grade A office space over six levels with virtually column-free floorplates.
Spring 4 Properties acted for RSA Group in the transaction whilst joint letting agents Knight Frank and JLL represented NFU Mutual.
Dundee synagogue approved for demolition
A synagogue in Dundee is to be demolished.
The St Mary Place building, which opened in 1978, was vacated last year by the remaining Jewish community in the city after the congregation had dwindled and amid spiralling costs for its upkeep.
Members have now moved to the Chaplaincy of St Andrews University where there is a larger Jewish community.
Dundee City Council has approved permission for demolition which is expected later this year.
New traffic light system to be installed on Kingswells bypass roundabout
A new traffic light system looks to be installed on the Kingswells south roundabout on the city bypass (AWPR/B-T) to improve safety of the junction.
The cost of the installation would be funded by Transport Scotland which was also the principle funder of the new trunk road, along with Aberdeen City Council and Aberdeenshire Council. The cost of the ongoing maintenance of the traffic lights would be met by Aberdeen City Council.
The traffic lights would be installed at the roundabout following approval of a report to the City Council's operational delivery committee in March. Aberdeen City Council is the Roads Authority for the junction, and would be arranging for the work to be carried out.
It is anticipated that following approval, work would start on the new traffic lights within weeks.
Argyll Community Housing Association opens first homes in Kilmartin
Argyll Community Housing Association (ACHA) has just completed its first new build development in the village of Kilmartin, just north of Lochgilphead.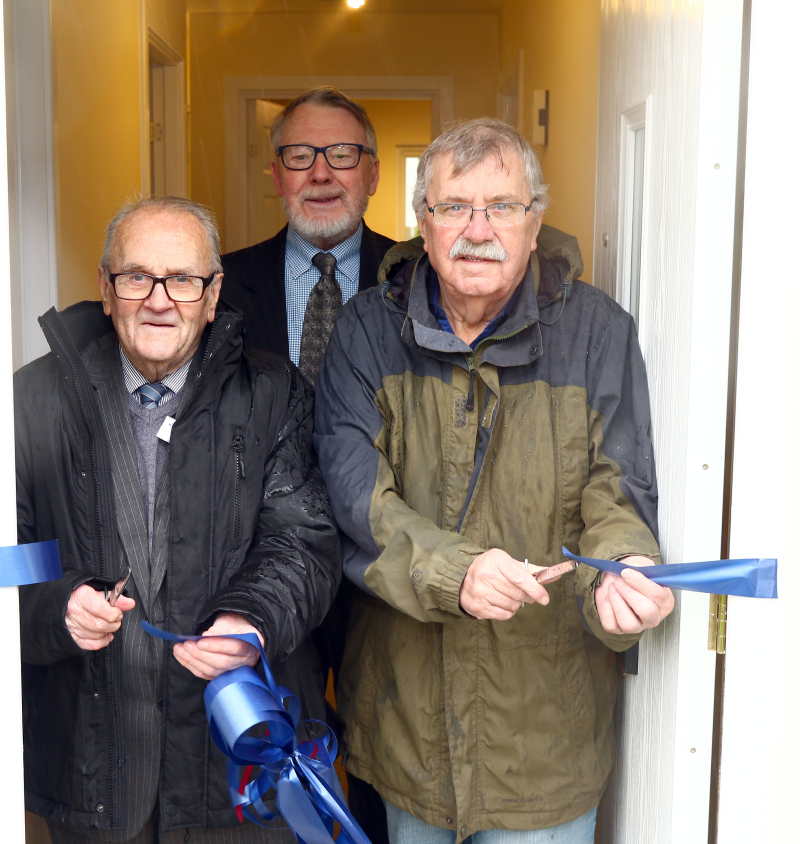 The official opening was carried out by Mid Argyll councillor Donnie MacMillan BEM who is thought to be Scotland's oldest serving councillor at 92.
The Association, prior to building these four homes, only had one property for rent in the village. The development, in terms of design and mix, is semi-detached/terraced and all properties are two-bedroom.
The total cost of the project was £671,898, including the land acquisition. Funding for the development was a three-way partnership involving the Scottish Government, Argyll and Bute Council and ACHA. The construction period lasted exactly one year and the properties were built by MacLeod Construction of Lochgilphead.
Aberdeen event offers advice on preserving granite heritage
Specialists will be on hand this week at the Arts Centre in King Street, Aberdeen, to offer advice on repairing the city's granite heritage and how to apply for grants.
Organised by Aberdeen City Heritage Trust, the event is aimed at owners of property falling within the Trust's current eligible areas, which include the South end of King Street, Marischal Street, Regent Quay, Market Street (North), Guild Street, Bridge Street, Union Terrace, Golden Square, Schoolhill and Upperkirkgate.
Details of building repair grants under the Union Street Conservation Area Regeneration Scheme, which Aberdeen City Council is running, will also be available.
Aberdeen City Heritage Trust is supported by Aberdeen City Council and Historic Environment Scotland and has supported the repair of more than 300 buildings since 2005.
Event details: 7.30pm, 23rd January 2020, Aberdeen Arts Centre, King Street, Aberdeen.
To book tickets, click here or email dcampbell@aberdeenheritage.org.uk.
Rooftop playground at Dundee primary school given £180,000 makeover
A rooftop playground out of use for decades has been transformed into a bright and colourful play area for children.
The playground, situated on top of St Mary's RC Primary School, hasn't been enjoyed by pupils for years – but that all changed on Friday as the ribbon was cut on a brand-new play area.
Plans were unveiled to renovate the space, which will be used as a playground as well as a learning feature, in 2018. Work, costing £180,000, was then carried out to make the railings secure as well as improve the surfacing.
West Lothian roundabout to close for roadworks
Roadworks have been announced in West Lothian resulting in the closure of a busy roundabout.
The A801 roundabout, which connects to Junction 4 of the M8, will close from Monday 03 February to allow for full road reconstruction work to be carried out. It is expected to be closed for five weeks to allow the work to be safely completed.
Both on and off slips for Junction 4 of the M8 as well as the A801 between Pottishaw Roundabout and the junction with the A705 between Blackburn and East Whitburn will be closed for the duration.
Traffic using the M8 is advised to use either Junction 3A at Starlaw or 4A at Heartlands instead. Diversions will be in place for local traffic heading north or south along the A801 via either Blackburn or Whitburn main streets.
Local access to properties via the A801, such as the J4M8 Business Park, will be maintained from the north only.
Work to start at Dumbreck Nature Reserve
Work will start at Dumbreck Local Nature Reserve in Kilsyth in spring 2020 to re-naturalise the Garrell River, create new paths and conserve threatened habitats and species.
The £2 million project is being managed by North Lanarkshire Council and SEPA, through the Water Environment Fund, and is expected to take 35 weeks.
During this time as much as possible of the reserve will remain open and, where a path is closed, there will be a mapped diversion in place.
The main aims of the project are toonserve threatened habitats and species such as invertebrates, water voles and wetland birds and to re-naturalise the Garrell River to improve access for fish, through two new fish passes, and improve and sustain the wetland habitat of the reserve.
The works will also improve and encourage access to the site through a network of new and improved paths with features of interests, a bridge across the river and interpretation will be created.
The boardwalk will be replaced and a longer circular route created around the pond.
Dundee business turns up the heat on wood-burning stoves
A Dundee family business is on a mission to promote the benefits of wood-burning stoves, which they claim suffer from 'an image problem'.
Fire Surround Centres, owned by brothers Gary and Graeme Turnbull, has joined the Stove Industry Alliance. Formed in 2008, the UK body promotes the benefits of wood-burning stoves and biomass appliances and is the industry voice to government.
By joining the SIA, Fire Surround Centres hope to combat widespread misconceptions about wood-burning stoves, with many people and businesses claiming they are to be banned and are dangerous to both the environment and consumers.
The brothers are also taking to Dundee city centre this weekend (Friday 24 to Sunday 26 January 2020), demonstrating the stoves and their benefits outside Overgate shopping centre, by the Steeple Church, from 9am to 5pm.