Building Briefs - January 25th
---

---
New all-weather pitch for Maybole
Work to build a new all-weather pitch at Carrick Academy will start soon.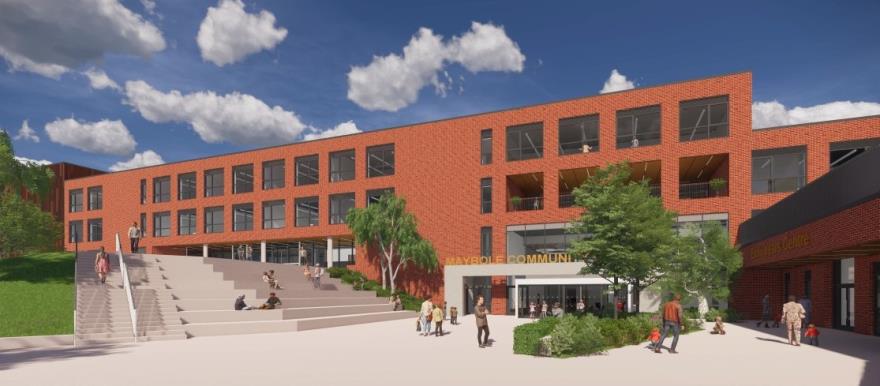 This is the first of two all-weather pitches planned as part of South Ayrshire Council's £50 million Maybole Community Campus.
As well as the new pitch, enabling works will also include the diversion of underground services and erecting hoarding to secure the main site in advance of work commencing later this year.
The new campus which will have capacity for 1,370 pupils, is set to open in 2023 and the remaining demolition and external works will continue until the end of that year.
Councillors approve Broughty Ferry cycle path and walkway
A Broughty Ferry park will soon be revamped with a new cycle path and walkway as part of a wider £9 million active travel plan.
The plan, just one of numerous changes to be made around the Esplanade, will see a new route cut through Castle Green Park and Windmill Gardens.
Councillors unanimously voted to approve the plans at a meeting of Dundee City Council's planning committee earlier this month.
Other measures, which do not need planning permission, will see the route extended from the gardens and along the Esplanade to Monifieth.
It is being fully funded through the Scottish Government's Places For Everyone fund, administered by UK-wide cycling and walking charity Sustrans.
A condition was attached to the plan means details of the materials used in the path and cycleway must be submitted to the council for approval before works begin.
Town centre funding projects agreed for 2 Skye communities
Highland councillors at the Isle of Skye and Raasay Committee today have unanimously approved three projects that will be offered a total £56,104 Scottish Government Town Centre funding to help deliver economic stimulus in the eligible settlements of Broadford and Portree.
Projects need to have started by the end of March and grant spent by the end of September.
Councillors agreed that the following successful projects will be offered Town Centre Funds:
Broadford new public toilets - £28,052 to Broadford and Strath Community Company to supplement their 2019/20 TCF award of £99,483 to provide new public toilet provision in the town.
New 3 x stainless steel notice boards in Portree car park next to the Tourist Information centre. £9,000 to Portree and Braes Community Trust for the purchase and installation of the new notice boards to advertise local businesses yielding a small income for the Trust. Any profit from the advertising sales will be invested in the Trust's " clean up club" which will carry out projects to improve the appearance of the village regarding street furniture, signage, and path improvements works.
Refurbishing Portree Community Centre small hall (bar area) and disabled toilet - £19,052 to Portree Community Centre for the refurbishment with a view to renting out the room as a business unit and/or for private, business or community events. The works will also include the renovation of the disabled toilet to create a suitable public facility when events are held at the nearby playing field.
Wick regeneration project to benefit from additional funding
Members of the Highland Council's Caithness Committee have approved additional funding for a project to bring new life to the site of a former derelict building on Wick High Street.
In September last year, the Scottish Government announced extra funding through the Town Centre Fund as part of its national economic recovery stimulus package, particularly aimed at supporting construction activity across Scotland.
The Highland Council has received an additional £1,066,000, providing an extra £56,104 for investing into Thurso and Wick.
Last week members agreed that £12,000 of this money will go towards additional works to complete a key project in Wick town centre.
Last year, the Highland Council successfully accessed grant funding from the Scottish Government's Vacant and Derelict Land Fund and Town Centre Fund which provided funding for the Highland Housing Alliance (HHA) to acquire a derelict property with land at 126 High Street. HHA have been managing the demolition of the property before transferred the land to the Wick Development Trust for redevelopment.
The demolition and site clearance work undertaken by HHA has progressed well and is nearing completion. However, on completion of the demolition works it became apparent that the original scope of the works proposed to make good the exposed gable end of the adjacent property, was considered by the property owner as inappropriate and unsatisfactory.
Consequently, a more permanent solution involving stonework repairs was devised and agreed. This has left the project with a projected overspend of £12,000.
The decision by councillors means £12,000 of the extra Town Centre Fund will go to HHA to absorb this unforeseen package of additional works.
All Town Centre Fund money needs to be committed by March this year and projects completed by September 2021.
Members have agreed that a special Committee Meeting be arranged next month to consider Council led projects which could benefit from the remaining £44,104 Town Centre Fund investment.