Building Briefs - July 22nd
---

---
Tenant takes first blow as Dingwall flats are demolished
Demolition day arrived for a number of properties on Meiklefield Road in Dingwall to make way for the development of 14 new homes.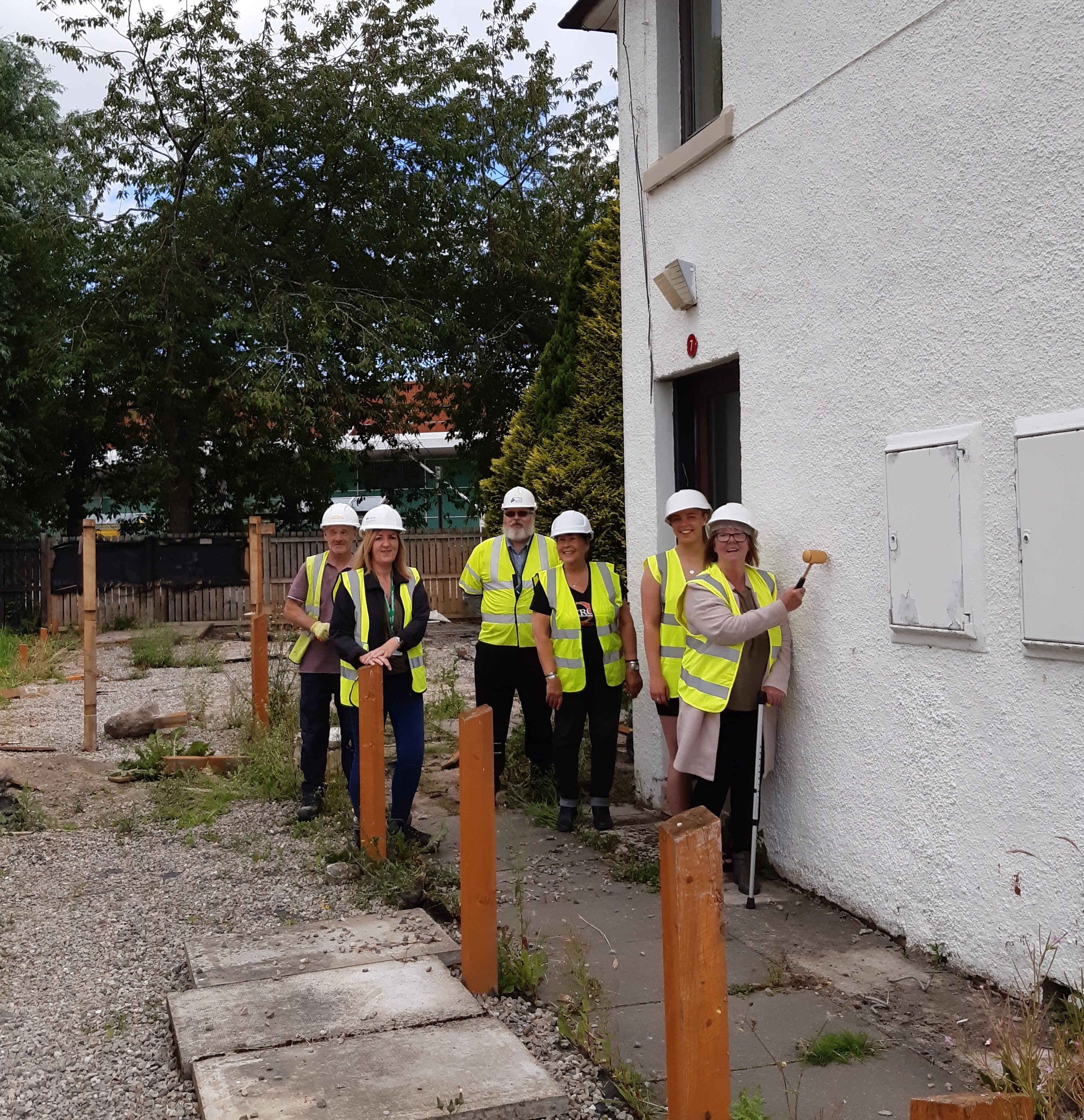 Central Demolition has set up on site and is carrying out pre-demolition works to odd numbered properties from 1 to 23.
The project team are delighted to take a step forward to creating modern, accessible, energy efficient and affordable housing in the area.
Making a special appearance on site to strike the first blow was Janet MacLean, who has lived in the flats since 1977. She is looking forward to moving back into one of the new homes when they are completed.
Accompanying her as she took the first blow was her granddaughter Megan, Councillor Margaret Paterson, housing manager Rory MacLeod, housing options officer Faye Dyer, and site manager Rab Blyth.
The demolition work is estimated to take 12 weeks, and the contractor has pledged to do all they can to minimise disruption in the area.
New report on future of public EV charging infrastructure
Transport Scotland and the Scottish Futures Trust have published a new report on public electric vehicle charging infrastructure which sets out how Scotland can grow and expand provision to enable households and business to confidently switch to electric vehicles and help tackle climate change.
The joint report highlights the current approaches and constraints associated with present models of delivery. The market engagement exercise outlines future opportunities for businesses and for local authorities. It considers models which encourage greater financial innovation and partnership working between the public and private sectors, benefitting from wider skills and expertise, whilst increasing the pace of rollout.
Demand for electric vehicles and associated charging will increase significantly in Scotland over the next decade in response to government policies and market responses. The report, based on extensive engagement with local authorities and the private sector notes the solid foundations of public charging provision provided through the current ChargePlace Scotland network – but recognises that how this model evolves, whilst retaining its best elements, will be key to meeting demand and encouraging more people to drive electric vehicles with confidence.
The report also recognises the need to maintain a consumer-focused approach that provides equity of access to all users as part of the just transition to net zero.
Proposal for 3rd Cruyff Court unveiled for Aberdeen
A proposal for a new sports and activity area, including basketball and dodgeball courts, mini-tennis courts and a running track, are being explored by Aberdeen City Council and community partners.
Subject to the scheme being acceptable to the relevant statutory processes, a new Cruyff Court would be built in the north of the city next to the new purpose-built Riverbank School in Tillydrone.
The council has already invested approximately £350,000 in two such facilities – Cruyff Court Denis Law in Catherine Street and Cruyff Court Neale Cooper in Tullos.
There are more than 250 Cruyff Courts in more than 20 countries worldwide, creating a safe place to play for young people and designed to encourage participation in a range of sports as well as a place where they learn about respect, responsibility and integration.
The Denis Law Legacy Trust spearheaded the introduction of the concept to Aberdeen with support from the Cruyff Foundation and the council.
The existing courts host The Denis Law Streetsport programme, run by the Denis Law Legacy Trust in partnership with Robert Gordon University, Police Scotland and the Scottish Fire and Rescue Service. The non-profit initiative aims to reduce instances of youth crime and anti-social behaviour while helping develop the employability and aspirations of young people in Aberdeen.