Building Briefs - June 12th
---

---
Linthouse HA begins £1.1 million remodelling project in Govan
Linthouse Housing Association has started a £1.1 million project to extensively remodel a building that formerly housed a very sheltered housing complex in Govan.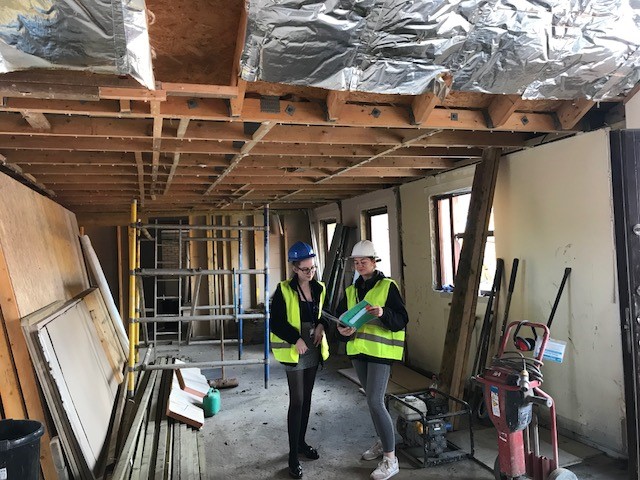 Works to convert the former complex at Eldergrove Court in Drumoyne, Govan are now underway and will convert the building into 11 individual main door, level access amenity flats for tenants aged 55+.
The areas that were originally utilised for communal purposes will be divided into equally generous flats, some of which will include rear door access. All properties will also have access to a communal external courtyard.
This project has been procured by Linthouse Housing Association following an advert in Public Contracts Scotland and will be delivered within a 28-week programme. Works commenced April 2019 and are currently on programme.
The main contractor is Contract Building Services (CBS), who have over 30 years' experience in the building and construction industry. As part of this project, CBS will be working closely with the housing association to deliver a range of community benefits.
This contract has been supported by Glasgow City Council's Development and Regeneration Services, who have invested £636,463 of grant funding. The balance is being met by a private loan that the association has secured from Unity Bank.
Irene Campbell, Linthouse CEO, said: "We are delighted to be working in partnership with our funders, Glasgow City Council and Unity Bank to deliver secure, level access, warm homes built to amenity standards in the attractive, sought after Eldergrove estate in West Drumoyne.
"This project is being managed by our new asset management team headed up by Gail Sherriff, our depute CEO."
Solar company triumphs in national awards on 40th birthday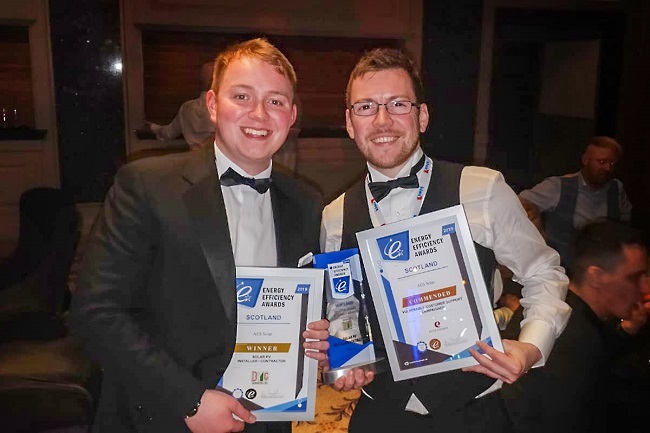 AES Solar named best in Scotland after winning PV Installer and Contractor of the Year at the Energy Efficiency Awards 2019.
A Scottish business which prides itself on being the longest established solar company in Europe, has now proved it is also the best in country.
AES Solar was named Solar PV Installer and Contractor of the Year at the Energy Efficiency Awards in Glasgow on Friday night. The specialist solar company also received a commendation in the Vulnerable Customer Support category, recognising the designated AES Solar helpline offering free advice in light of recent solar scams.
The prestigious awards come less than two months after a regional award win where the company won a Best Energy Efficiency in House Design or Build title. This achievement recognised AES Solar for its work on a remote property in the West Highlands, featured on Channel Four's Grand Designs House of the Year in 2018.
It adds to what has become a busy year of celebrations for the company which has been successfully trading for 40 years.
George Goudsmit, managing director, said: "Every day we strive to be the best in the business, and these accolades show that those efforts have paid off. We were up against tough competition, and to win this award makes us proud to have built a team that truly is the best.
"This is the icing on the cake for our birthday year. Three awards in the space of two months is good news for our customers too. They can be confident that from beginning to end they are dealing with a professional, industry leading company, whether they are a single domestic user or a large housing developer.
AES Solar is the only manufacturer of solar thermal panels in Scotland, employing 15 people at their head office in Forres with a recently opened Edinburgh branch to meet the growing Central Belt demand.
Plans submitted for technology-enabled homes and care hub in Blantyre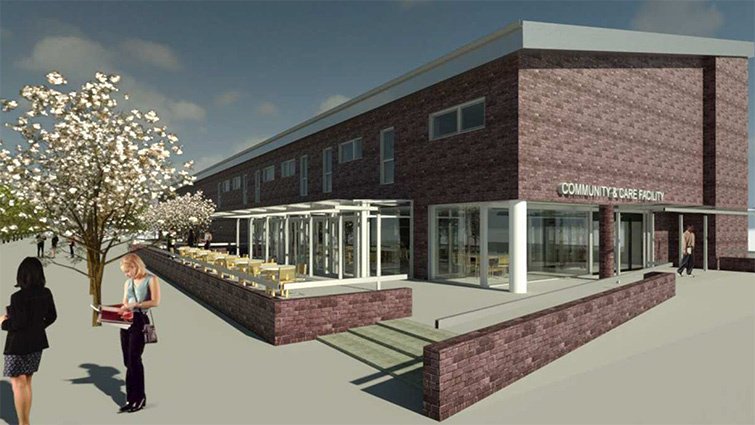 The proposed campus style development centres on the former St Joseph's Primary School site in Blantyre.
Twenty of the planned homes would be technology-enabled to offer long-term supported accommodation to older people and to individuals with complex disabilities.
If approved the Care Hub will provide South Lanarkshire residents with a dedicated intermediate care facility designed to support people to live in their own homes for longer as they grow older and care needs become more complex.
Intermediate Care is short stay care designed to help people recover their health and return to their home after a period of ill health or a hospital stay.
The new homes would each have dedicated parking and in addition the Care Hub would have extensive on-site parking as part of a campus style development.
The plans also lay out community facing elements of the proposed Care Hub which would include a café, a technology area, meeting spaces and consultation/treatment rooms which would provide support for community based care.
Grant awarded to secure future of city centre buildings and businesses
The Inverness Townscape Heritage Project has announced a grant award of £42,197 towards the costs of repairs to 21-25 Academy Street.
21 and 23 Academy Street are home to Coyote Coffee & Doughnuts and Craig Wood Solicitors. A new tenant will be taking up residence at 25 Academy Street, the former Highland Schoolwear shop, following the completion of repairs.
The grant of £42,197 covers 50% of costs, with the remainder being funded by the building owners. It will see vital repairs carried out on the building that was once described as "small scale but quite punchy Victorian Renaissance" by the late John Gifford, author of the Buildings of Scotland series and architectural historian.
This is one of a series of investments by the Inverness Townscape Heritage Project (ITHP), which is a partnership regeneration project focusing on Academy Street, and follows work currently underway at the former Rose Street Foundry and Blackfriars. ITHP is a collaboration of funding partners including National Lottery Heritage Fund (NLHF), Historic Environment Scotland (HES) via the Inverness City Heritage Trust (ICHT) and is coordinated and led by Highland Council.
Work proposed as part of the grant award includes refurbishment and repair of the roof and chimney, leadwork and stonework repairs.
Commenting on the grant award, Highland Councillor Jimmy Gray, Chair of the Inverness Townscape Heritage Partnership, said: "There are a number of significant developments happening on Academy Street at the moment and it's great to see other buildings on this historic street getting the attention they deserve. This grant will allow the building owners to carry out repairs sympathetic to its original features, while preparing it for the future. I look forward to seeing a new tenant occupying number 25 and hope they benefit from the many regeneration projects happening on Academy Street."
Bob Tilford, owner of 25 Academy Street, said: "Receiving grant funding from Inverness Townscape Heritage Project has enabled us to carry out necessary repairs. Parts of the building being renewed will be done so like-for-like, including Scottish slate and cast-iron guttering replacements. I look forward to welcoming our new tenants following the completion of work."