Building Briefs – June 7th
---

---
Video highlights Sighthill regeneration progress
A video showing the progress of the regeneration of Sighthill has been released by Glasgow City Council.
The £250 million regeneration project was given the go ahead earlier this year and is the largest regeneration project in the UK outside of London.
It will see 826 new homes built, as well as space for shops and commercial outlets. Of the 800 plus homes 628 will be for sale and 198 for mid-market rent.
Sighthill will also be connected to Glasgow city centre by a 'street in the sky', a new footbridge across the M8. A new road bridge will link Sighthill and Port Dundas, with roads, paths and access in the area generally improved.
New features including the community schools campus and the road network are now visibly clear from the video.
New Pavillion Café and Training suite opens in Levengrove
A new Pavillion Café and Training suite has officially opened in Levengrove, West Dunbartonshire.
The project was part of a £3.7million investment in the park.
The venue is being run as a social enterprise by West Dunbartonshire Health and Social Partnership's (WDHSCP) Work Connect service.
It offers training places for some of West Dunbartonshire's most vulnerable residents, including those with mental health issues, people in recovery from addictions and those with learning disabilities.
The enhanced training suite provides a range of different learning experiences as well as being available for community use.
The project started in 2014, with a joint application by West Dunbartonshire Council and WDHSCP to The National Lottery Heritage Fund and The National Lottery Community Fund for money to reinstate the park's heritage features, including building a brand new pavilion and extending the services of the training suite.
The bid was successful in gaining £2.8m of National Lottery money, which was added to council funding.
Rural tourism projects to benefit from a share of nearly £2.9m
Some of Scotland's most iconic, rural and island tourist sites will receive funding for new facilities to further enhance the experience of visitors.
Tourism secretary Fiona Hyslop announced the funding on a visit to Doune, where the castle has seen an upsurge in visitor numbers as a result of it featuring in the Outlander TV series and in the pilot episode for Game of Thrones.
A partnership between Stirling Council, Historic Environment Scotland and Kilmadock Development Trust, its £239,560 award will help deliver improved paths and facilities to encourage visitors to the castle to explore the wider village, benefitting local businesses.
It is one of 13 projects across Scotland benefiting from a share of nearly £3 million from the second round of the Rural Tourism Infrastructure Fund (RTIF) which is aimed at helping meet the demand of growing visitor numbers.
Other successful projects include £273,632 to create new toilets and showers along with signage at An Laimhrig pier, Eigg; £184,506 to enhance visitor access and protect iconic landscapes and internationally important habitats at the Old Man of Storr on Skye; £80,500 to provide new car and coach parking spaces, toilets and a seating area to deal with increased visitor numbers to Pluscarden Abbey in Moray.
The full list of recipients of the Rural Tourism Infrastructure Fund is available from VisitScotland, with funding awards generally still subject to conditions.
Aberdeen improvements identified for more than £1m of funding
Suspended street signage for the city centre, lighting on Union Bridge and improvements to an underpass were among a range of projects supported by Aberdeen City Council's city growth and resources committee.
Detailed plans will be drawn up for the schemes, which total an estimated £1.2 million.
They comprise: Hayton Road – Street Design Project (estimated cost £90,000), Parklets (£80,000), Suspended Signage (£400,000), Intelligent Street Lighting Phase 2 (£125,000), Union Street Public Realm Phase 2 – Union Bridge lighting (£68,502), Mither Kirk – Funding requested for the replacement heating system (£390,000) and Living Wall – Flourmill Lane (cost £60,000).
The works/contracts are to be started/signed before April 2020.
The Town Centre Capital Fund was set up by the Scottish Government to stimulate growth and can be used to improve access and infrastructure or to repurpose buildings for culture, tourism and enterprise.
The plans will be developed and taken back to committee ahead of an update going to the Scottish Government in November, which would include a detailed projected spend for each project.
Youngsters show love for the Borders in Hart Builders site mural
Primary school pupils across Galashiels were invited to showcase why they love living in the area while painting a mural on the fence that surrounds a local development site.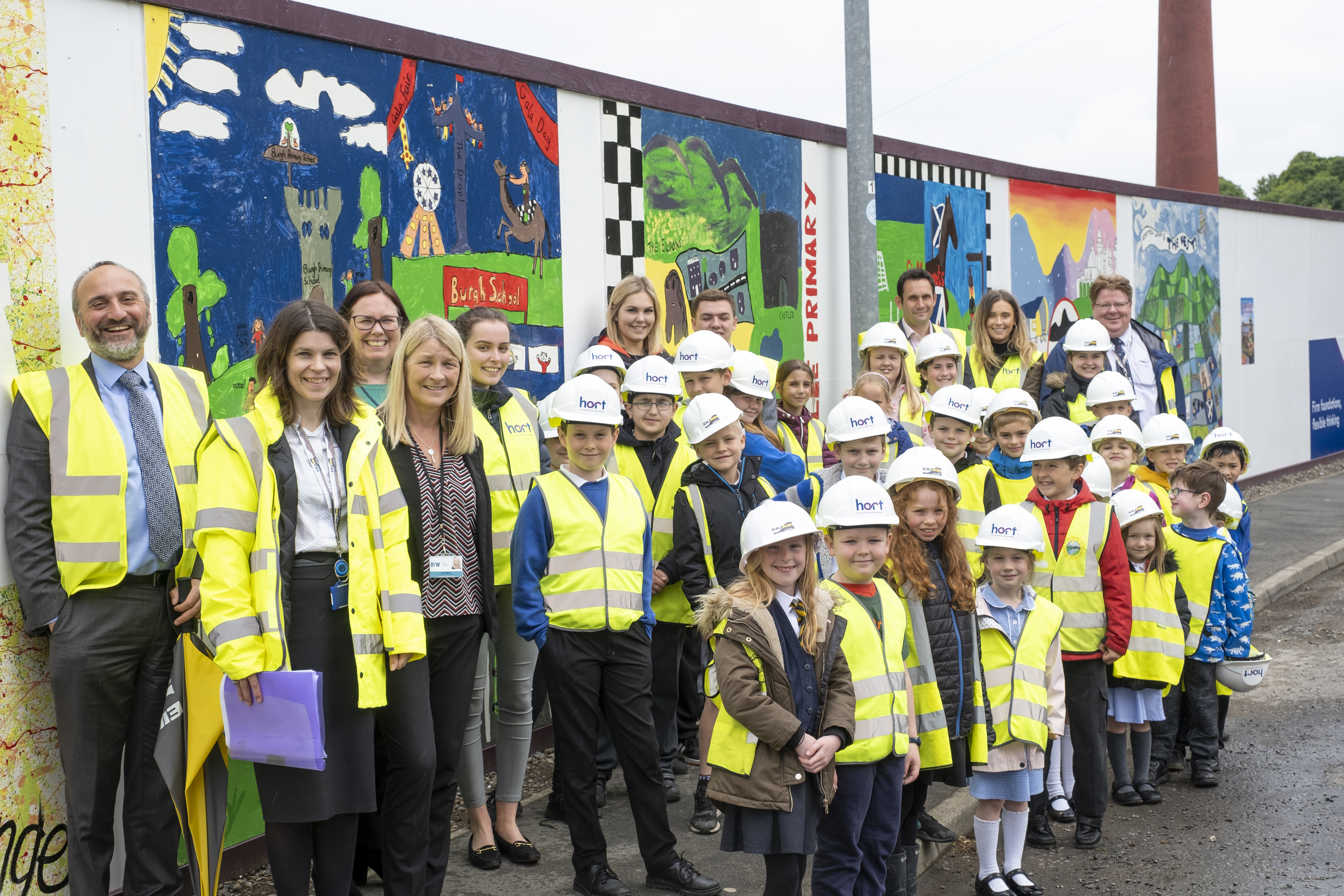 Eildon Housing Association and Hart Builders are delivering the development site at Huddersfield Street.
The Braw Lad and Lass unveiled the artwork from Clovenfords, Burgh, St Peters', St Margaret's, Stow, Tweedbank and Langlee primary schools which will be entered into this year's Ivor Goodsite hoarding competition. Children of all ages can take part in the competition which is designed to unleash artistic skills on site hoardings up and down the country.
Royal opening for Saughton Park following £8m restoration
Her Royal Highness The Princess Royal has officially reopened Edinburgh's historic Saughton Park.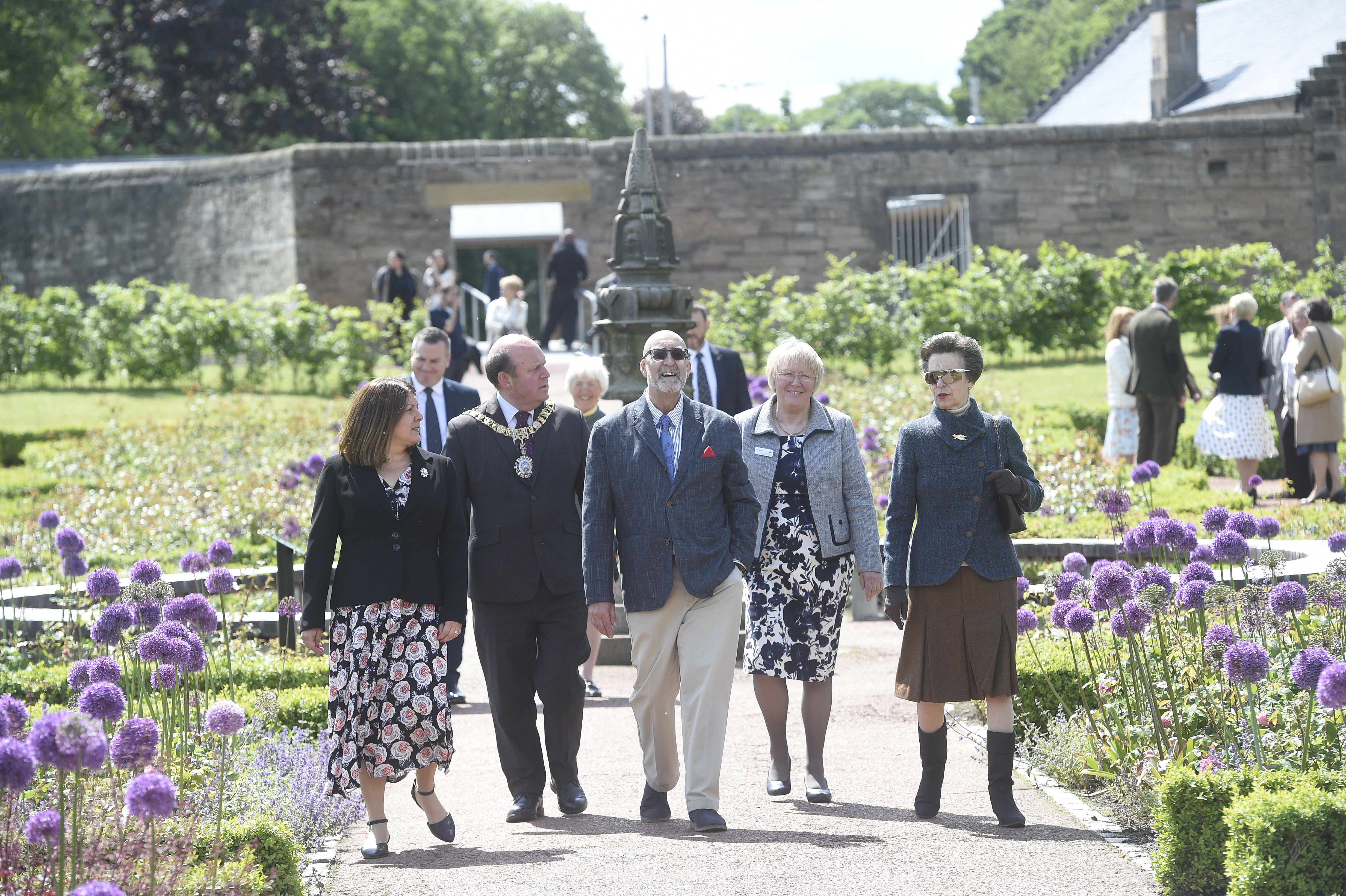 Following an £8 million seven-year renovation project to fully refurbish and reinstate many of the Park's original Edwardian features - transforming the gardens into an inclusive space for the whole local community - the project was officially declared complete yesterday.
The restoration of Saughton Park has been a partnership between the City of Edinburgh Council, the Royal Caledonian Horticultural Society and the Friends of Saughton Park with £3.8m funding from the Heritage Fund.