Building Briefs - May 13th
---

---
Grant award process confirmed for £10m Levenmouth Reconnected fund
Fife Council's policy & coordination committee has agreed a process to award grants from the £10 million Levenmouth Reconnected fund.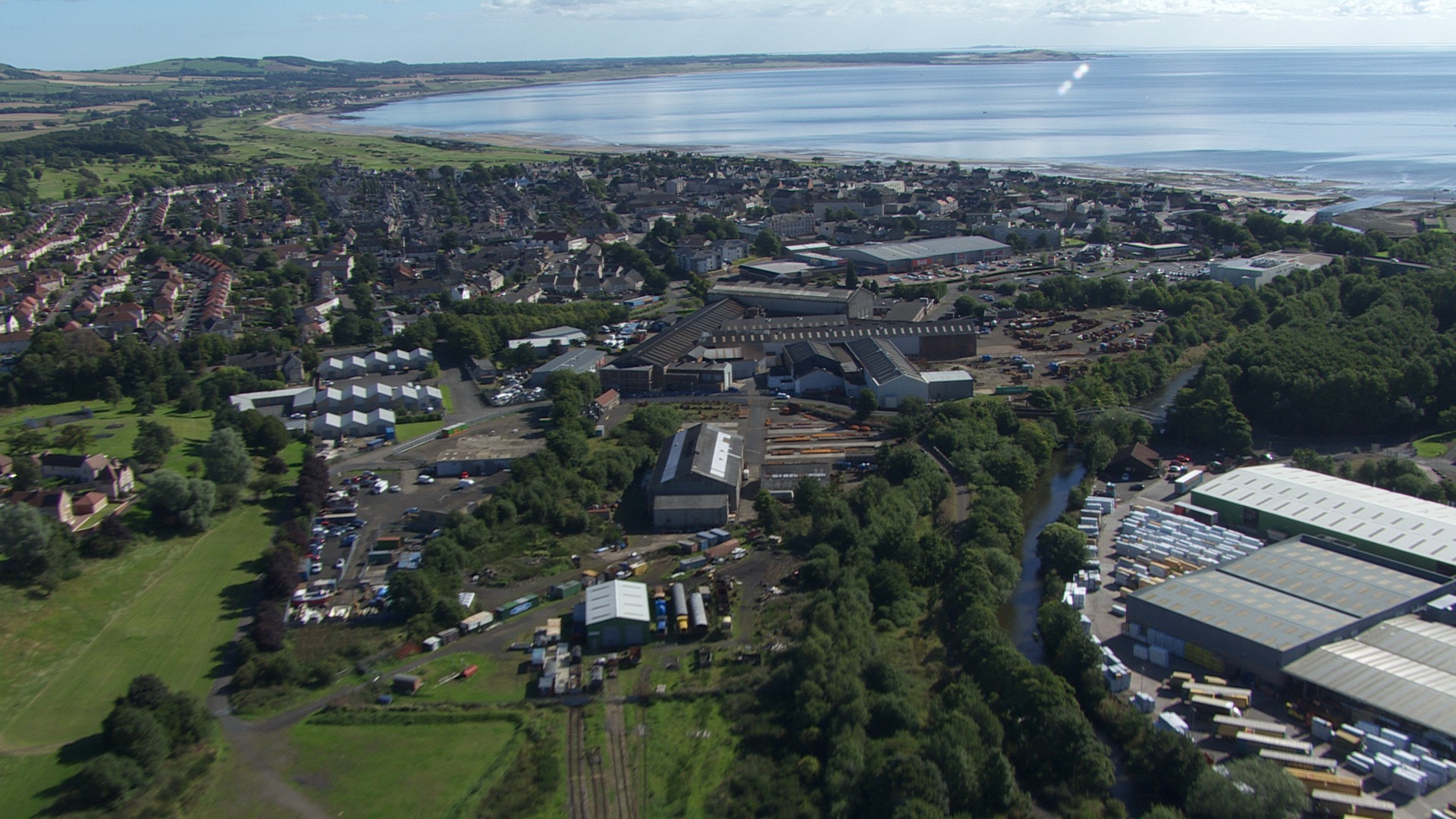 This programme will link a range of local initiatives, including the reintroduction of the Leven rail link and Leven Programme, to maximise the economic regeneration and social benefits they can bring to the area.
Community groups, social enterprises or businesses applying for a grant will need to show how their work will contribute to these aims and local priorities.
The grant application process will open early summer 2021 via the new Levenmouth Reconnected web portal and will be publicised widely when it's launched.
Forth Ports makes two senior appointments to senior management team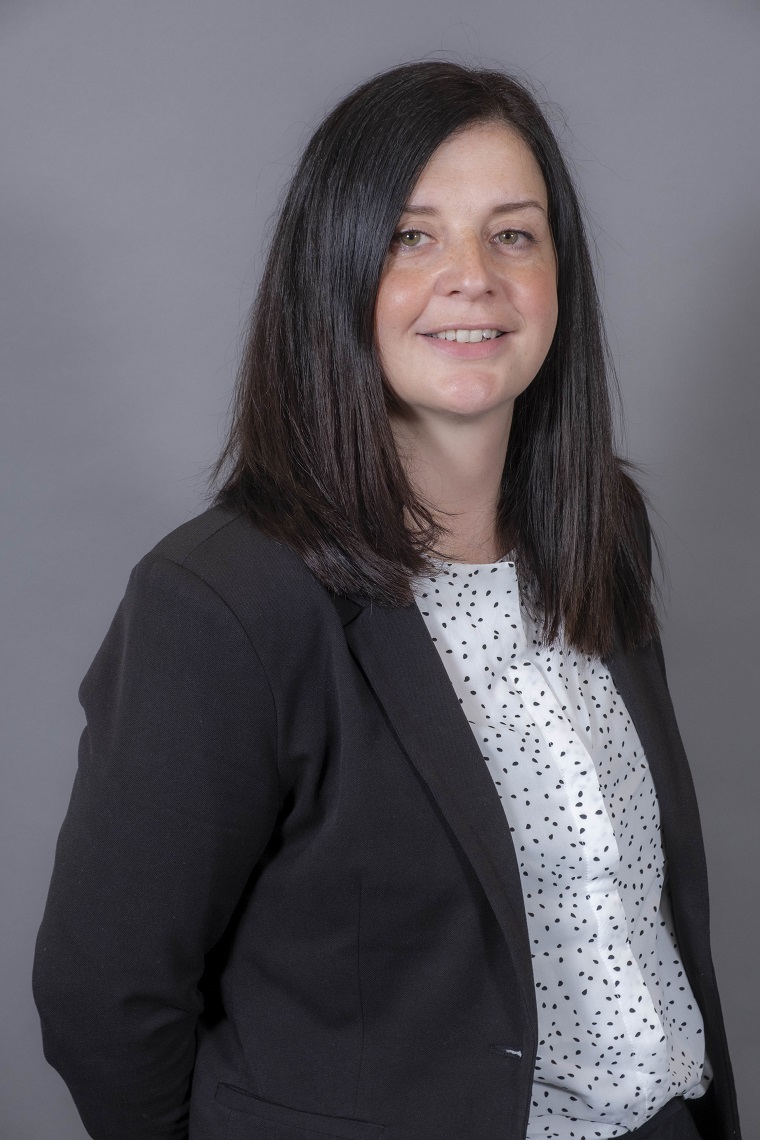 Forth Ports has appointed a new group HR manager and group financial controller as the business continues to invest significantly in its infrastructure, people and skills across its UK operations.
Michelle Primrose has joined as group HR manager and Matt McCreath has been appointed as group financial controller. Both Michelle and Matt joined the group in April.
Michelle is a highly experienced HR professional with previous roles with leading businesses including BAE Systems, Balfour Beatty, AECOM and Sainsbury's. Michelle is a Chartered MCIPD with experience in the delivery of successful people-focused HR strategies and also of supporting a large workforce during a period of change and growth. Michelle joins the senior management team, reporting to the group chief executive, Charles Hammond. and will be based in the Port of Grangemouth with responsibility for HR across the group's eight ports.
Mr McCreath is a qualified chartered accountant and has worked in senior management roles for a variety of well-respected global businesses, most recently John Menzies plc and previously Macdonald Hotels and KMPG. He joins the senior management team, reporting to the chief financial officer, Carole Cran, and will be based in the group's HQ at the Port of Leith.
Works begin at Ardnamurchan Lighthouse
Major improvements have commenced at the community-owned Ardnamurchan Lighthouse Complex which received support from the Highland Coastal Communities Fund (HCCF).
The site remains closed to the public (with no pedestrian or vehicle access) while TSL Contractors Ltd delivers the most disruptive groundworks.
The full programme includes improvements to the condition of the site's much-loved heritage foghorn and viewing platform, the resurfacing of parking areas, better provisions for EV drivers and cyclists, more accessible footpaths and a new scenic seating area designed by landscape architect David Graham of Craignish Design Ltd.
All actions are intended to make the site's infrastructure more resilient and more accessible. An overhaul of the signage and interpretation offer will follow later this summer, in conjunction with Archaeology Scotland's community-led 'Ardnamurchan: The Real Wild West' Adopt-a-Monument initiative.
Truck stop planned in East Glasgow
Plans have been lodged for the development of a truck stop facility in East Glasgow capable of handling dozens of lorries.
An application for a site at 2310 London Road includes a restaurant plus shower and toilet facilities.
There would be space for around 85 trucks.
Views sought on plans for new learning campus in Neilston
Residents are being invited to help shape the plans for the new learning campus in Neilston, which will locate Neilston and St Thomas' primaries on a joint site.
The proposed plan is to build a new Neilston Primary, St Thomas' Primary and Madras Family Centre on a site to the rear of the current Neilston Primary and Madras Family Centre.
As part of the project, further landscaping, outside sports facilities and car parking will also be created.
An interactive web portal showing the initial design concepts will be available online from 12 May until 26 May, allowing residents to make comments throughout this period. The designs have been developed to date in close partnership including with learners, staff and Parent Councils and reflects the views of the Catholic Church, a process that will continue.
A live presentation event will be held on 19 May at 5pm to allow the project team to outline the vision for the project and residents can submit questions. This event can be accessed at the Neilston learning campus web portal.
Construction is expected to begin later this year, with the new schools and family centre scheduled to open for August 2023.
New project to protect 300 Caol and Lochyside properties from flooding
RJ McLeod (Contractors) Ltd is gearing up to start on the Caol and Lochyside Flood Protection Scheme this month.
The £11 million project will see the construction of a 2km flood defence between the Caledonian Canal and the Soldiers Bridge on the River Lochy. The project has been designed by the Highland Council to increase the flood protection to over 300 properties in Caol and Lochyside communities.
The first phase of work will involve the installation of site cabins in proximity to Seaview along with a satellite compound near the shinty clubhouse. Once established the contractor will install heras fencing in the respective work areas, ensuring at all times access is maintained for the local community and stakeholders.
The project will be constructed in phases, these being service diversions, site clearance, drainage installation, earthworks, flood defence structures, surfacing and finally landscaping and reinstatement.
The community will be informed of further details of these and traffic management arrangements through locally held liaison meetings over the next month and throughout the project, the Highland Council project website, community Facebook pages and on noticeboards located around the local community.
RJ McLeod has a number of local members of staff who have engaged with the local colleges, high schools and the job centre regarding potential employment and training opportunities. Once the team are established on the site they will be engaging with local primary schools providing educational support and careers inspiration.
With regards to prospects for the local suppliers and contractors a virtual meet the buyer event is planned to be held on September 7, details of which will be posted on the Highland Council project website.
Bathgate coffee shop wins planning permission
Plans for a drive-through coffee shop in Bathgate have been approved.
West Lothian Council granted planning permission to EG Group Limited on May 6.
The plans are for the erection of a coffee shop with drive-through facility, access, car parking and landscaping.
The coffee shop on land to the east of Whitburn Road in Bathgate will create 10 full-time and 15 part-time jobs. There will be 16 parking bays on site, including one bay for disabled parking.
Spaces for People work to start in Dundee
Work to create easier and safer access for pedestrians to a section of one of Dundee's most historic thoroughfares is set to get under way next week.
As part of the latest Spaces for People project the pavement on the west side of Hilltown between Kinghorne Street and Constitution Road will be temporarily widened and new dropped kerbs and "build outs" put in making it easier to cross.
Work will begin on May 17 to widen the west footway on Hilltown by around a metre, removing one lane of southbound (downhill) traffic.
Access will be maintained to the shops and premises on the west side of the road and the traffic will continue to flow while work is going on.
As part of the Spaces for People programme the UNESCO City of Design Dundee team hosted a series of workshops with community members and stakeholders online which influenced the final scheme.
As well as creating more space for pedestrians the new temporary lay out maintains parking bays outside shops and at the "pergolas".
The £80,000 project, which will be completed in phases, is expected to be completed by the middle of next month.
The changes in Hilltown are temporary and will be kept under review.
Surface dressing and road repairs get underway across Aberdeenshire
Aberdeenshire Council is making significant additional investment in roads improvements during the summer months ahead.
A programme of surface-dressing and a major effort to tackle potholes and other road defects has started in villages, towns and rural communities across the region.
Last year's roads maintenance programme was suspended as frontline staff were redeployed to support critical services such as household waste collections and burials during the Covid-19 pandemic.
During that time, the public has continued to provide important information around potholes and emerging issues with the road network condition which the council has been carefully categorising depending on the severity of the defect. Those posing an immediate danger to the public are inspected and actioned within 24 hours.
The lengthy spell of wintry weather also brought a range of challenges across Aberdeenshire, with an increasing number of emerging issues with the road network condition being reported.
First tenants move into Rural Stirling's Claish Farm development in Callander
Rural Stirling Housing Association (RSHA) has unveiled the first completed homes in a boost for affordable housing in Callander.
The first ten tenants have moved into newly-completed properties at Claish Farm close to the town centre.
Work is underway to complete the remaining 40 in the 50-strong development of properties costing a total of £8.75 million located not far from McLaren High School and the leisure centre.
RSHA said it was further evidence of its commitment to keep on building in communities where housing is much-needed.
The first to move in are couple Courtney Paterson and Callum Redhead and their young son Riley.
They were welcomed to their new home by RSHA chair Mark Griffiths earlier this month.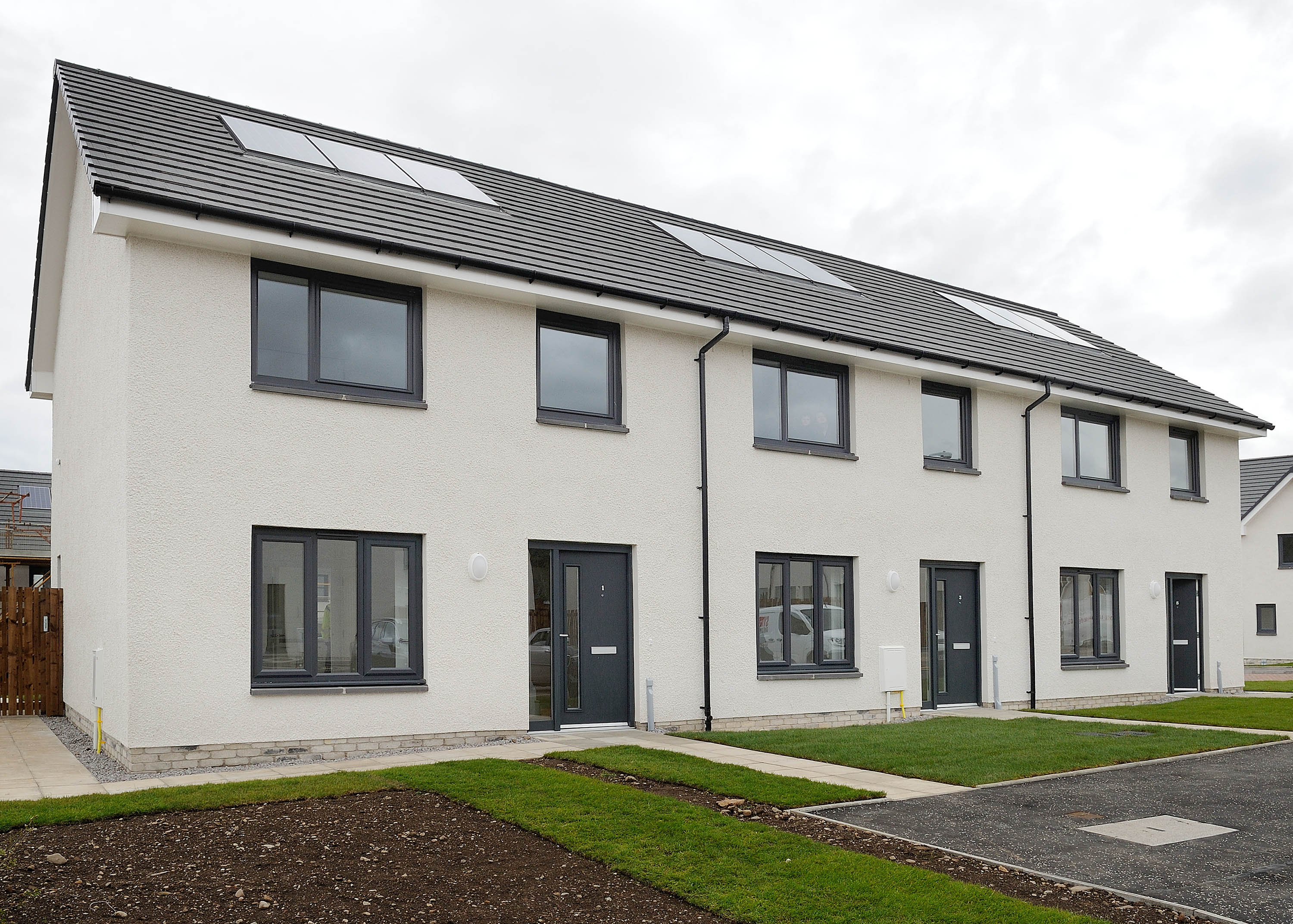 The development is a mix of semi-detached homes and bungalows – two of which are specially-adapted and wheelchair accessible. RSHA acknowledge the support of the Scottish Government in funding the development to the tune of £6.99 million. The remainder of the sum came from RSHA.
RSHA also acknowledge the involvement of Stirling Council which has provided invaluable and ongoing support to RSHA in the development of affordable housing.
Meanwhile, RSHA is continuing to build in other locations across Stirlingshire. In Kippen, 31 homes are being built - nine of which will be for RSHA tenants. A site start is anticipated shortly at a site in Balmaha and RSHA is also planning to build at Buchanan Crescent, Croftamie with proposals to build at Lampson Road, Killearn and Gartness Road, Drymen.
Community discusses next steps for Gartly School
A public meeting to discuss the future of Gartly School was held on Tuesday 11 May, following the publication of results of a recent survey.
Aberdeenshire Council is currently working on a full options appraisal which will be presented to Marr Area Committee in June, to help decide the next steps for the school. Public engagement is a big part of deciding what will be recommended to elected members by officers.
Those who took part in the public meeting have mixed views about what should be done next. Some members of the community would still like to see the school reinstated at it's current location while others indicated a merger with Rhynie School is the best option.
In order to provide the best possible educational arrangements for the time being, Gartly School is to be mothballed from August 2021 and the remaining pupils are choosing an alternative local school in the interim. Presenting the options to council committees, seeking agreement from elected members and allowing for budget considerations before any potential building works could commence will take several months.
Gartly School has been operating from an alternative location since an oil leak was identified at the facility in December 2018. Despite extensive remediation undertaken to excavate, process and properly dispose of a considerable volume of contaminated soil and other material costing in excess of £450,000, it has not been possible to resolve the problem. The advice is that zero level of contamination – or one which is not detectable by analysis – would have to be achieved before the building could be re-occupied for educational purposes.
An estimated further £872,000 would be required to demolish part of the building, carry out further excavations and reinstate the building on its current site. But the dilemma for officers as well as elected members is due to the fact there is no guarantee contamination can be removed. All other options would require £245,000 for the land remediation at Gartly before the cost of any other building project involved.
The recent survey was shared with the wider Huntly community and received 152 responses. It outlined 7 options for residents to consider, including reinstatement of the school on its current site, merging the school with others and building a new 'rural hub'. 118 participants indicated that reinstatement of the school was 'not worth pursuing', while 121 indicated that a merger with Rhynie School (where the school is currently located) would be their 'preferred option', 'second preference' or at least 'worth pursuing'. This was the most popular of the options outlined.
A previous survey of parents at the school, with seven responses, showed that all preferred to reinstate the school. Another, involving parents within the wider local catchment area, gained 35 responses and at that time most had indicated either reinstating the school or building a new school would be worth exploring further.
Officers are expected to return to Marr Area Committee with the outcomes of the full options appraisal in June.
Future of new £1.8m Lossiemouth East Beach Bridge secured
Moray Council has agreed to take ownership of and maintain the new East Beach Bridge in Lossiemouth, following approval from the Scottish Government to fully fund the project.
Future maintenance of the bridge comes with an estimated cost of £165,000 for the whole life of the bridge.
The decision was also taken to demolish the old bridge during the course of construction to avoid a larger demolition bill if it was left to deteriorate, with demolition described as inevitable.
The Scottish Government approved funding for a new bridge from the Esplanade following the assessment of each option presented, which considered cost, environmental impact, flood risk and ground conditions. The environmental impact, flood risk and ground conditions were very similar for all of the options, however the costs for each option were significantly different.
It was noted in the meeting that some members of the local community expressed a preference for a replacement bridge at the same location as the existing bridge. However, as the benefits identified in the Economic Impact Assessment were the same for each option, the only differing factor between each option is cost and this was used in selecting the preferred option that was presented, for agreement with Scottish Government, in the business case.
The funding required to design and construct the bridge is £1.8m, which includes £1.375m capital cost; £365,000 risk allowance; and £60,000 site supervision costs.
Stage 2 of the contract to design and build a new footbridge, with a design life of 100 years, at the esplanade will now progress with an indicative timeline of:
May - submit applications for statutory consents
May – start detailed design
September – bridge fabrication (subject to obtaining statutory consents)
January – start construction
March / April – open bridge
Highlands community regeneration grant fund open for applications
The Highland Council is now accepting expressions of interest for the Regeneration Capital Grant Fund for 2022-2023.
The fund, which is delivered in partnership with the Scottish Government, supports locally developed regeneration projects for communities, helping with job creation and support, and in building sustainable communities. A total of £25m is available through the fund across Scotland.
The opening of applications marks Round 9 of the Regeneration Capital Grant Fund. Since the grant fund opened in 2014, 14 projects from The Highland Council region have received funding. Among the projects that have previously secured grants are Midmills Creative Hub with a £1,700,000 grant, Armadale Redevelopment with a £311,652 grant, Eigg Community Hub redevelopment with a £1,200,000 grant, and Merkinch Welfare Hall received a grant of £200,127.
Applications must be submitted by the Highland Council so organisations and projects interested in applying should submit an expression of interest form on the Council's website. This will be used to develop an official application should the project satisfy the criteria of the fund.
Among the criteria for projects are ones that focus on areas suffering from high levels of deprivation and disadvantage, that demonstrate clear community involvement, that will deliver large scale transformational change with strong regeneration outcomes, and projects and programmes that can encourage additional investment and address market failure.
The form can be downloaded from the council's website with a deadline for submissions of May 24.