Building Briefs – May 30th
---

---
Work to begin on new Clydebank green space
Work to transform the site of the former St Eunan's Primary School in Clydebank into a Community Green space is set to begin next month.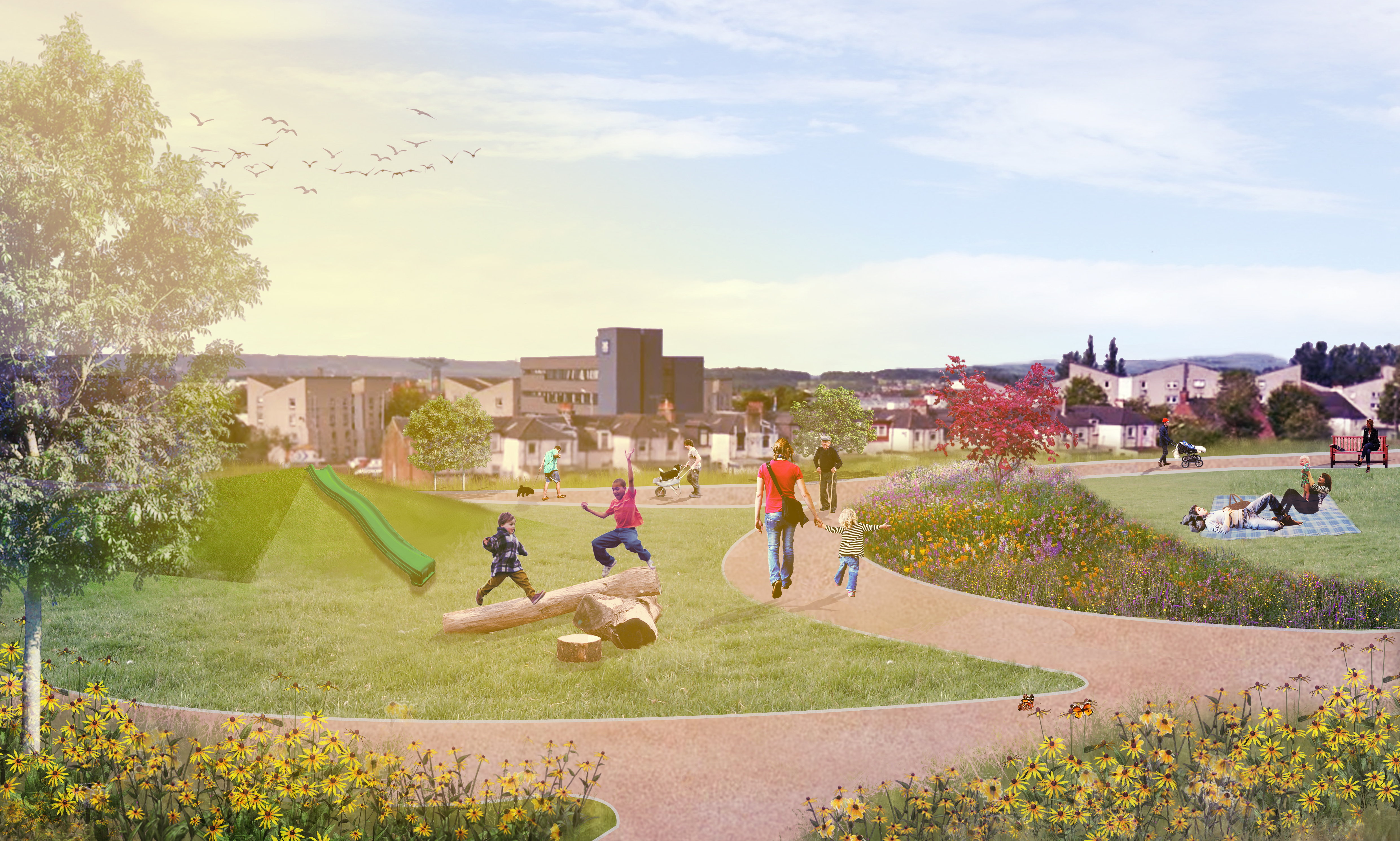 The £1.3 million project will see new biodiversity areas, raised bed allotments, outdoor exercise equipment, play areas for children and areas for outdoor education all added.
The history and heritage of Clydebank will also been represented in the area.
Open pathways will be created through the site, providing accessible connections for pedestrians and cyclists between the town centre to the south, and residential areas to the north of the site.
The area, which was previously inaccessible, has already been cleared in preparation for the project, with contractors now expected on site in July.
The Clydebank project was awarded £375,000 as part of a major new £37.5m Scottish programme of projects to improve the urban environment of Scotland's larger towns and cities. The Green Infrastructure Strategic Intervention, led by Scottish Natural Heritage (SNH), is part-funded through the European Regional Development Fund (ERDF).
With 81% of Scotland's population living in urban areas, the Green Infrastructure Strategic Intervention will make the country's larger towns and cities more attractive and environmentally sustainable places to live, work and invest in. It is a Scotland-wide initiative with many partners, including local authorities and housing associations.
A public meeting is being held on June 5 at St Eunan's Primary School, Gilmour Street, Clydebank for residents to discuss the Clydebank project.
Plans to turn Edinburgh's City Chambers offices into holiday lets
Lateral City Limited hopes to secure a long-term lease deal with the City of Edinburgh Council to transform 329 High Street, next to the Real Mary King's Close, into 24 serviced holiday apartments.
Unlike short-term let apartments that are unregulated and take away housing stock in tenement blocks in the Old Town, the 329 High Street proposals would lead to disused offices becoming fully managed apartments that meet planning regulations.
If approved, the A-listed building, which dates from the 18th century, would be turned into an extension for the Old Town Chambers apartments – with the reception room relocating to the High Street.
Housing associations to officially open Arbroath affordable homes
An £8.1 million development of 71 affordable homes in Arbroath is to be opened by local MSP Graeme Dey.
Cairn Housing Association has worked in partnership with Angus Housing Association to help create 36 of the new homes at Railton Crescent.
The affordable development, comprised of one, two and three bedroom homes, was built by Persimmon Homes and supported by a £4,542,580 grant from the Scottish Government.
Mr Dey will open the new development alongside Cairn and Angus tenants and staff on May 31.
Work on the project began in October 2017 and demand for the 71 homes has proved very high.
The partnership work between Cairn and Angus has seen homes built across the region, where there is a great need for affordable housing across the region.
Cairn provides the repairs and maintenance for the 36 properties while Angus Housing Association carries out tenancy management which includes tasks like property sign-ups and ensuring homes are filled.
Fresh funding boost for Lerwick fish market
A new fish market is being developed at Lerwick Harbour after a £3 million funding package was granted by Bank of Scotland.
The new facility, double the current site's existing capacity, will allow the main seaport in Shetland to expand for landings and meet increasing demand.
Set to be completed in early 2020, Lerwick Port Authority estimates that these measures will deliver a reduction in energy consumption of up to 50 per cent compared to current usage.
Call for sites launched for Inner Moray Firth Local Development Plan 2
The Highland Council has today launched a Call for Sites and Core Paths for the Inner Moray Firth area.
This provides interested parties the opportunity to identify priorities and issues for places and to suggest sites for future development.
The feedback received will form part of the evidence for a new Local Development Plan for the area. This new Plan will seek to direct development to the most sustainable locations that can be supported by services and infrastructure. As part of the consultation the council is asking those submitting their ideas, including landowners and developers of existing and newly promoted sites, to back up their suggestions with a clear justification.
Linked to this Call for Sites the Council is also running a Call for Core Paths seeking people's views on the Core Path network across the Inner Moray Firth area including new or improved paths to improve connectivity or changes to routes. The existing plan can be viewed at www.highland.gov.uk/corepathplans.
Find out more about the Plan online at highland.gov.uk/imf or email the team at imfldp@highland.gov.uk or contact 01349 886608.
Commercial rent disputes drop to five-year low in Scotland
The number of commercial rent disputes reaching a third party in Scotland fell to its lowest level for more than five years, according to analysis from Knight Frank.
Figures obtained by the independent commercial property consultancy from the Royal Institution of Chartered Surveyors (RICS) showed that the number of cases being referred to third-party dispute resolution dropped from 169 in 2017 to 123 in 2018 – down just over a quarter, 27.2%.
This is less than half, 42.1%, of the 292 cases that went to independent assessment in 2016. It is also below the figures for 2015 (155), 2014 (125), and 2013 (147).
Independent Experts or Arbitrators are appointed to cases where commercial tenants and landlords cannot agree on a new rental agreement at a fixed-term rent review date. Typically, these are conducted every five years, depending on the terms of an occupier's lease.
Most reviews state that the rent can only increase – not decrease. This is distinct from lease renewals, where the parties can agree whatever rent deemed appropriate, subject to prevalent market forces, local supply-demand dynamics, along with other factors.
The numbers come against the backdrop of a tightening supply of available office and industrial commercial property space.
In Edinburgh, office lettings completed between January and March 2019 saw Grade A availability fall to only 235,000 sq. ft. – the equivalent of just one year's Grade A take-up. Knight Frank predicted that, combined with other factors, this will drive prime office rents to £36 per sq. ft. by the end of 2019.
Despite a below-average first quarter for take-up in Glasgow, new Grade A availability – excluding refurbished properties – fell to 33,353 sq. ft. Headline prime office rates currently sit at £32.50 per sq. ft. in the city centre for new accommodation and £30 per sq. ft. at refurbished premises.
Across the UK, RICS said it had seen an average 6% rise in commercial rent review applications from 2013-2017, while there was a 12% decline over the last 12 months.
Consultation launched on future development of Kirkcaldy
Fife Council is seeking the views of local people and businesses on the future development of Kirkcaldy.
Residents, businesses and visitors are invited to share their vision for the future of Kirkcaldy by taking part in the council's 'How good is our place? Kirkcaldy Town Centre' online survey.
The survey results will be used to help inform plans for the ongoing development of Kirkcaldy's town centre.