Building Briefs - May 4th
---

---
Circular economy at forefront of latest Seagreen contract award
The contract to supply the communications mast for one of the UK's biggest offshore wind farms has been awarded to an Aberdeen company, with the deal putting the green credentials of the project at the forefront.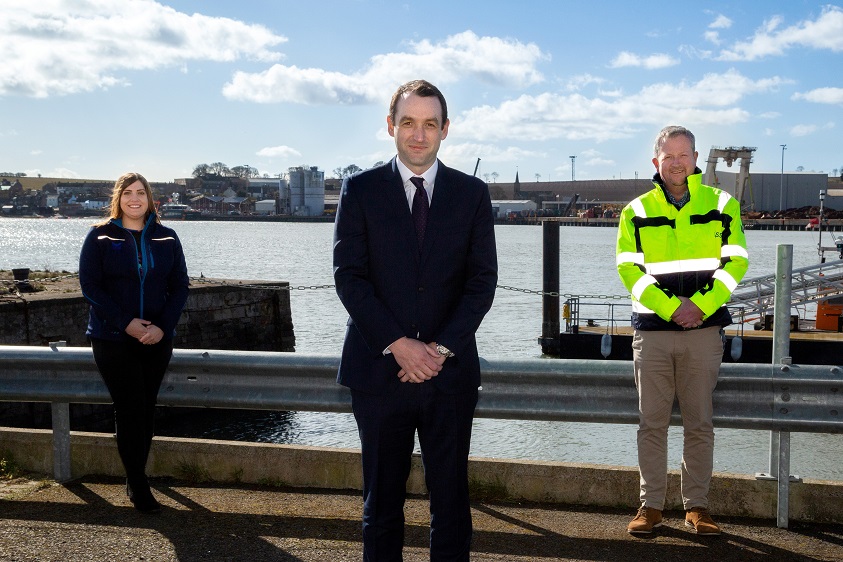 Montrose Port Authority awarded the contract to Aberdeen-based PD&MS Group after it submitted a bid to repurpose an existing structure from another offshore wind project, rather than fabricate a brand-new structure. PD&MS employs more than 600 people at bases in Aberdeen and Baku, Azerbaijan.
Construction of the Operations and Maintenance (O&M) base for the Seagreen wind farm is well underway at Montrose Port, with the two-storey office building currently being built at the site also repurposed, having previously been used by an oil and gas supply chain company in Aberdeen.
The 50m communications mast will sit close to the building on the quayside and will be a vital lifeline between the wind farm, 27km off the Angus coast, and the teams onshore. Previously the mast was used to support the Moray East wind farm before being dismantled by PD&MS and placed into storage in Wick ahead of transportation to Montrose.
By recycling the communications mast, PD&MS will reduce the resources used by 68%. The process will also see an almost 50% reduction in Co2 emissions for the job, compared to if the company was manufacturing a communications mast from scratch.
The new 1,075MW 114-turbine Seagreen Offshore Wind Farm being built 27km off the Angus coast in the Firth of Forth is a £3bn joint venture between Total and SSE Renewables and will be Scotland's largest and deepest offshore wind farm when complete in 2022/23. The wind farm is expected to provide enough electricity for 1.6million homes - around two thirds of all households in Scotland - and will also see the creation of a £1.8million community benefit fund to create a lasting legacy for the town and wider Angus region.
New owners at Drummohr Holiday Park in over 30 years
International real estate advisor Savills, on behalf of private clients, has completed the sale of Drummohr Holiday Park in Levenhall, Musselburgh, to WCF Ltd.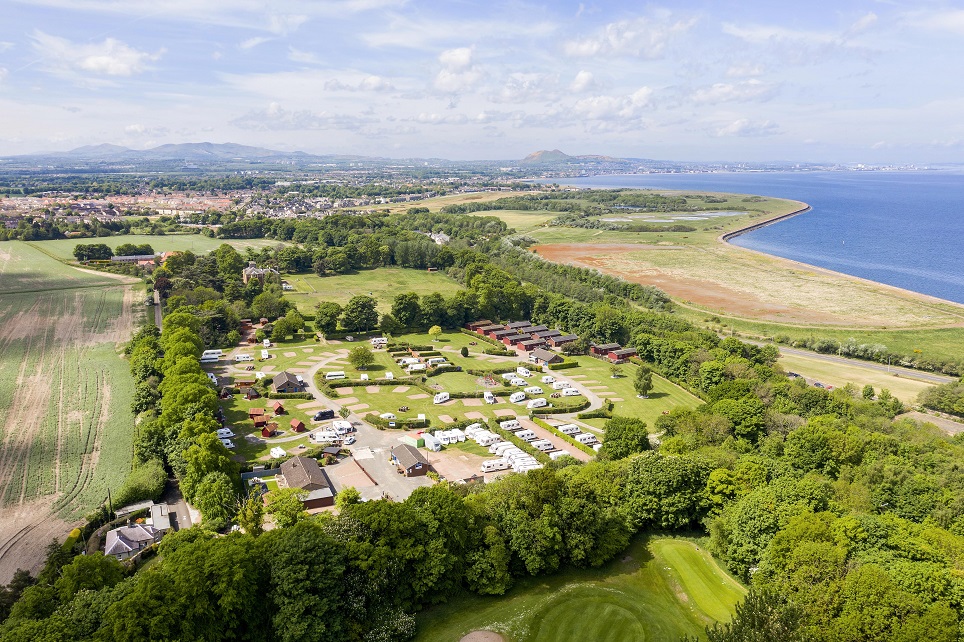 The holiday park is developed to accommodate 12 luxury holiday letting lodges, seven of which have hot tubs, 155 touring caravans, tents and motorhomes together with 20 glamping units. The site also includes storage area for up to 40 touring caravan, a three-bedroom bungalow with hot tub, two amenity blocks and a shop.
The 10.74-acre (4.35 ha) site is situated in the formerly walled gardens of a monastery and was converted to a holiday park in 1981. It has been owned and run by the same family since 1988.
Ayrshire outlines Stevenston New Street improvements
Works to improve Stevenston New Street in Ayrshire are currently underway following engagement with the local community.
The project aims to improve the aesthetic appearance of the town centre through resurfacing works which will enhance access and movement by widening footpaths, improve crossing points and installing parking spaces.
Four options were considered as part of the consultation process – with a one-way option identified as the preferred approach. The design was then finalised based on community feedback.
The works, which are supported by the Scottish Government's Town Centre Fund, seek to balance the need for an attractive area alongside the challenges of access to businesses. This was then approved through the standard Traffic Regulation Order process.
The approved design includes road layout changed to one-way, central carriageway in black asphalt, areas adjacent to the buildings and pavements in black asphalt, pavements in-front of the shops widened, new loading bay for the purpose of businesses loading and unloading goods or customers stopping to purchase goods and then moving on, four designated parking bays located opposite the bus layby and the remainder of the street will have 'no waiting at any time' restrictions indicated by the double yellow lines.
The works are expected to conclude by July 2021.
BSI publishes competence criteria for everyone working on a building
BSI, in its role as the UK National Standards Body, publishes new competence criteria following two rounds of public consultation. The standard supports industry reform and intends to minimize safety risks and improve protection to consumers and occupants, including residents, in and about buildings.
People have the right to expect that buildings and their immediate environment are designed, built and maintained in a way that is safe. Occupants need to have confidence and trust in the people responsible for ensuring that their interests are properly considered and that safety is a priority. Competence of all who provide services and products throughout the life of a building is key to achieving this.
The new code of practice, named BSI Flex 8670 v3.0 Built environment – Core criteria for building safety in competence frameworks – Code of practice, sets the core criteria for building safety competence, including fire safety, structural safety and public health for all individuals working in the built environment, to improve safety outcomes throughout the building life cycle. It will support progressive development of a more consistent approach in the development and use of competence frameworks across the industry.
It is published as one part of the government-funded Built Environment Competence programme. It has been developed by an Advisory Group of built environment professionals.
Download the standard at no cost here.
Saint-Gobain establishes carbon funds to support net zero transition
To reach net-zero carbon emissions by 2050 will require enormous effort and change, collaboration across the construction industry and will be supported by a wide range of small actions by many over time.
To support its commitment to net zero carbon by 2050, Saint-Gobain has established two new Carbon Funds that will provide funding to spend on initiatives and activities that reduce carbon emissions.
The funds aim to accelerate the reduction of non-industrial CO2 emissions through everyday actions of employees and targeted investments on sites. The investments will mainly cover areas related to sustainable employee mobility, renewable energy and improving wellbeing and energy efficiency at Saint-Gobain sites.
The Carbon Fund is based on the group's internal carbon price for investment decisions, which was recently raised to €50/ton of CO2 equivalent. Reductions in CO2 emissions will be converted into money to finance projects which themselves aim to reduce the group's carbon footprint, thus creating a virtuous circle.
In the UK and Ireland, Saint-Gobain has launched a Net Zero Carbon Colleague Assembly who will provide input into which projects are submitted to the Carbon Fund for funding to further reduce carbon emissions. The Assembly is made up of 43 colleagues from 16 Saint-Gobain businesses and will play a critical role in supporting the company's transition to net zero carbon, through engaging and challenging the business to meet their commitments.
HSE inspections to focus on occupational lung disease
The Health and Safety Executive (HSE) is inspecting fabricated metal businesses across Great Britain to check that they are managing the respiratory risks of welding fumes and metalworking fluids.
From yesterday, World Asthma Day 2021, health and safety inspectors across GB will be targeting businesses whose workers undertake welding and use metalworking fluids to check that they are complying with the welding fumes guidance and metalworking fluid guidance. During the visits, dutyholders will need to demonstrate they have measures in place to manage risks to protect their workers from occupational lung disease and 'WorkRight' to keep workers healthy and safe.
Last year in the UK, 12,000 people died from lung diseases estimated to be linked to past exposure, from work in a range of sectors. There is scientific evidence that exposure to welding fumes can cause lung cancer and exposure to metalworking fluids can cause a range of lung diseases, including occupational asthma and occupational hypersensitivity pneumonitis (OHP), which are debilitating diseases with life changing impact.
Inspectors will be looking for evidence of employers and workers knowing the risks, planning their work and using the right controls to protect workers' health. If necessary, they will use enforcement to make sure workers are protected.
While the primary focus will be on lung health during this programme of inspections, if an HSE inspector identifies any other areas of concern, they will take the necessary enforcement action to ensure these are dealt with. This will include making sure that businesses are COVID-secure and doing all they can to protect their workers from the risk of coronavirus.