Building Briefs – November 13th
---

---
George Square to transform into festival of football for UEFA EURO 2020
The countdown to Glasgow's biggest ever football event continued today, as plans for a major city centre Football Village for UEFA EURO 2020 were unveiled.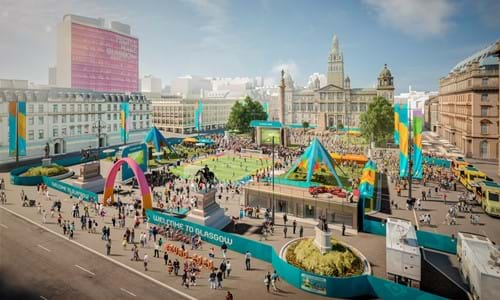 George Square will become the epicentre for fan activity next summer, with an additional Fan Zone opening in Merchant City for the four UEFA EURO 2020 match days at Hampden Park.
The UEFA Festival will see Glasgow stage a free spectator experience for all with a celebration of arts, culture, music and sport.
Visitors to the two Fan Zones will be treated to matches broadcast live on giant screens, live music and entertainment, as well as an opportunity to enjoy some of the best local food and drink that Glasgow and Scotland have to offer.
The UEFA EURO 2020 Football Village opens on Friday 12 June.
Springfield Properties invests in Nairn playing fields
Springfield Properties has teamed up with Nairn Common Good Fund to bring a new lease of life to community playing fields using sustainable materials.
To refurbish the carpark, the developer has donated more than £10,000 worth of road mix which is made using waste plastic that cannot currently be recycled such as milk bottles and black plastics This reduces the amount of asphalt required and is 60% more durable than traditional road mixes.
The community space is a short drive from Springfield Properties' Meadow Lea development, which comprises of a range of 2, 3 and 4 bedroom homes. It boasts a football pitch, skate park, BMX track and play equipment and was once a popular spot for children to play. Over time, with limited maintenance resources, the play equipment has become dated, the BMX track overgrown and the car park is pot-hole ridden.
The playing fields are home to Forres and Nairn Welfare Football League, which is in the early stages of developing designs and seeking funding for changing facilities on the site for their players too. Discussions are also underway to transform the overgrown BMX track into a sensory garden.
Earlier this year, Springfield built a road from waste plastic enhanced asphalt at their Linkwood Steadings development in Elgin, making it one of the first housebuilders in the UK to use the mix.
Carnoustie football club builds solid foundations with sponsor DJ Laing Homes
Carnoustie Panmure Football Club has revealed its new home kit and the club's main sponsor for 2019/20 season, Carnoustie-based housing developer DJ Laing Homes.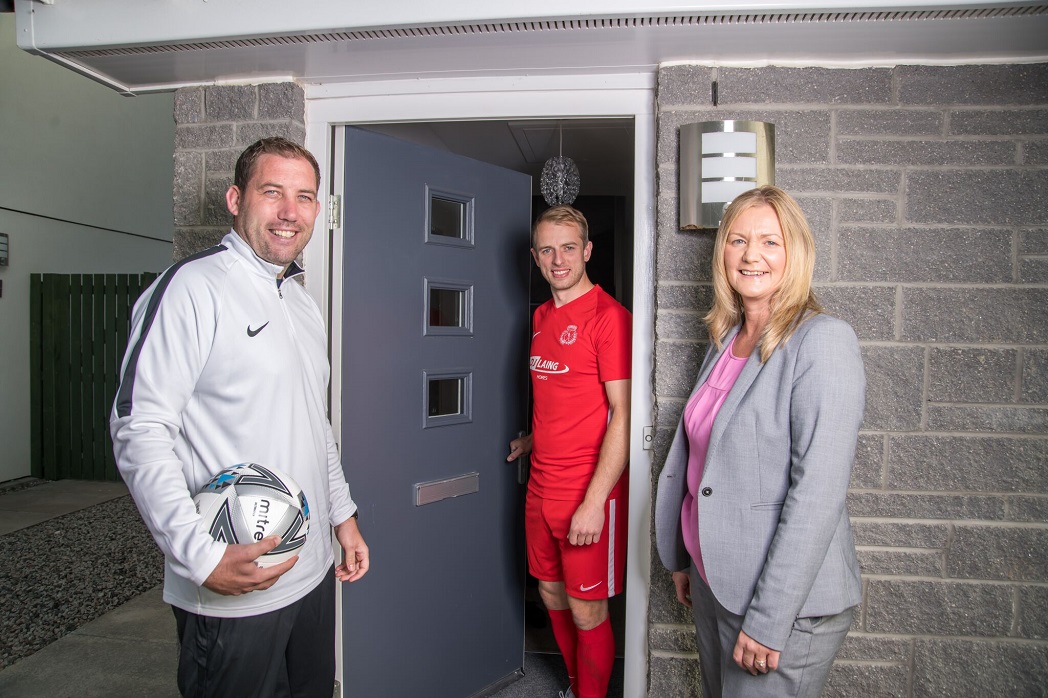 The two-year sponsorship deal marks a 30-year partnership with the company and will fund the club's home kit and other costs associated with running the football club.
Carnoustie Panmure kicked off the new season in their new home strips and has had an excellent start to the season currently sitting on top of the Scottish Junior Football Association's East Super League, four points clear of the opposition.
Karen Nicoll, managing director of DJ Laing Homes, joined some of the Carnoustie Panmure players and team manager Philip McGuire at the official launch of the new home strip at their housing development at Malt Loan, Carnoustie.
Five out of five for Galbraith staff
Property consultancy Galbraith is celebrating after all five of its new graduate trainees passed the final stage of their Assessment of Professional Competence, awarded by the Royal Institution of Chartered Surveyors.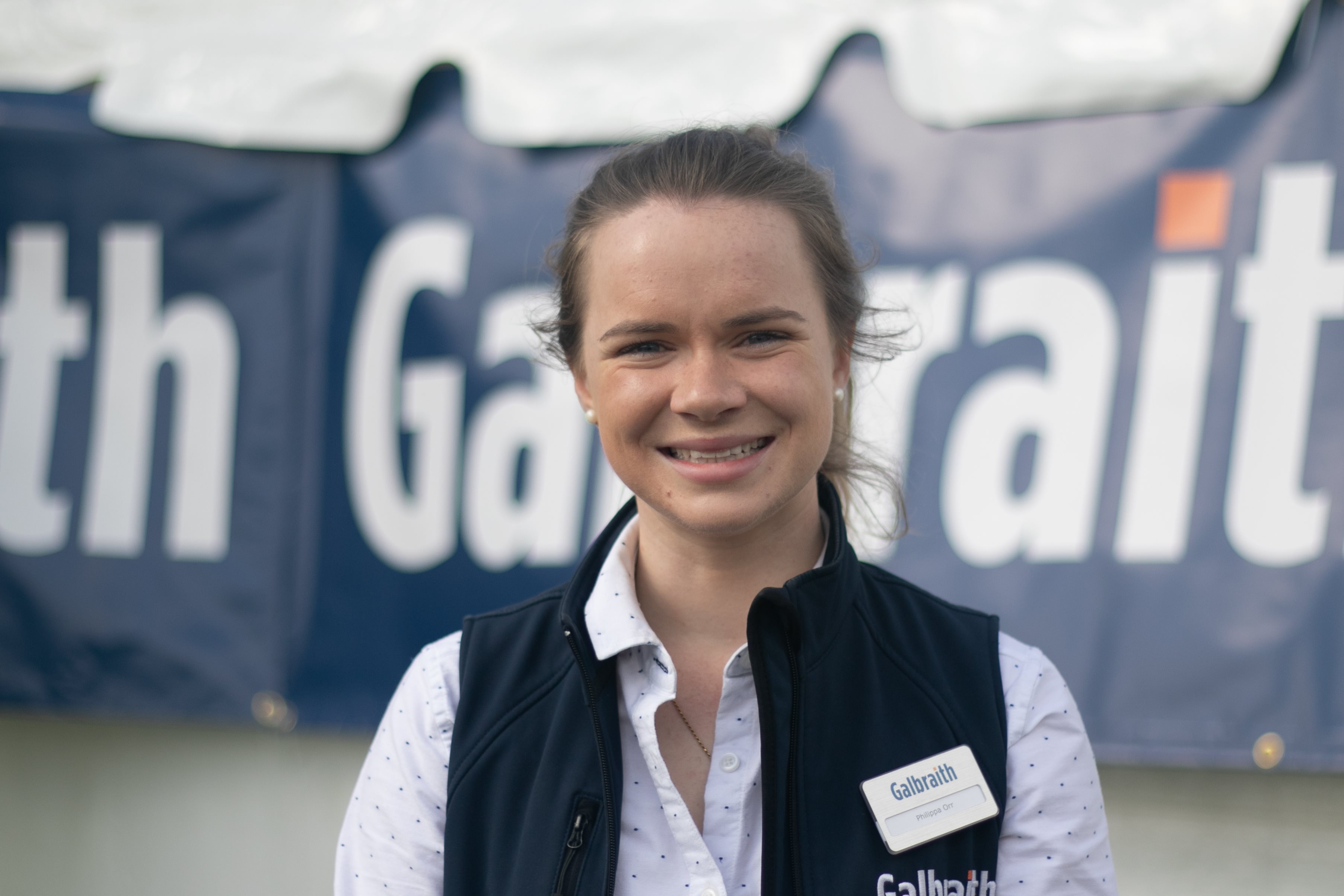 The Assessment of Professional Competence is a programme of practical experience and continuing professional development which, when combined with academic qualifications, leads to full RICS membership as a chartered surveyor and is a key career milestone.
The qualification marks the culmination of a period of extensive training and education provided by Galbraith and a huge amount of hard work by the candidates.
The five staff, who joined the firm in the last 12 months, are Claire Wilson, Philippa Orr, Isla Shaw, Sam Dillon and Alex Davis, based in the firm's Castle Douglas, Cupar, Stirling, Aberdeen and Inverness offices respectively.
Housing association receives funding for 'life-changing' extension to Kingoodie property
Abertay Housing Association has received partial grant funding from the Scottish Government to extend the property of a tenant with severe developmental delay.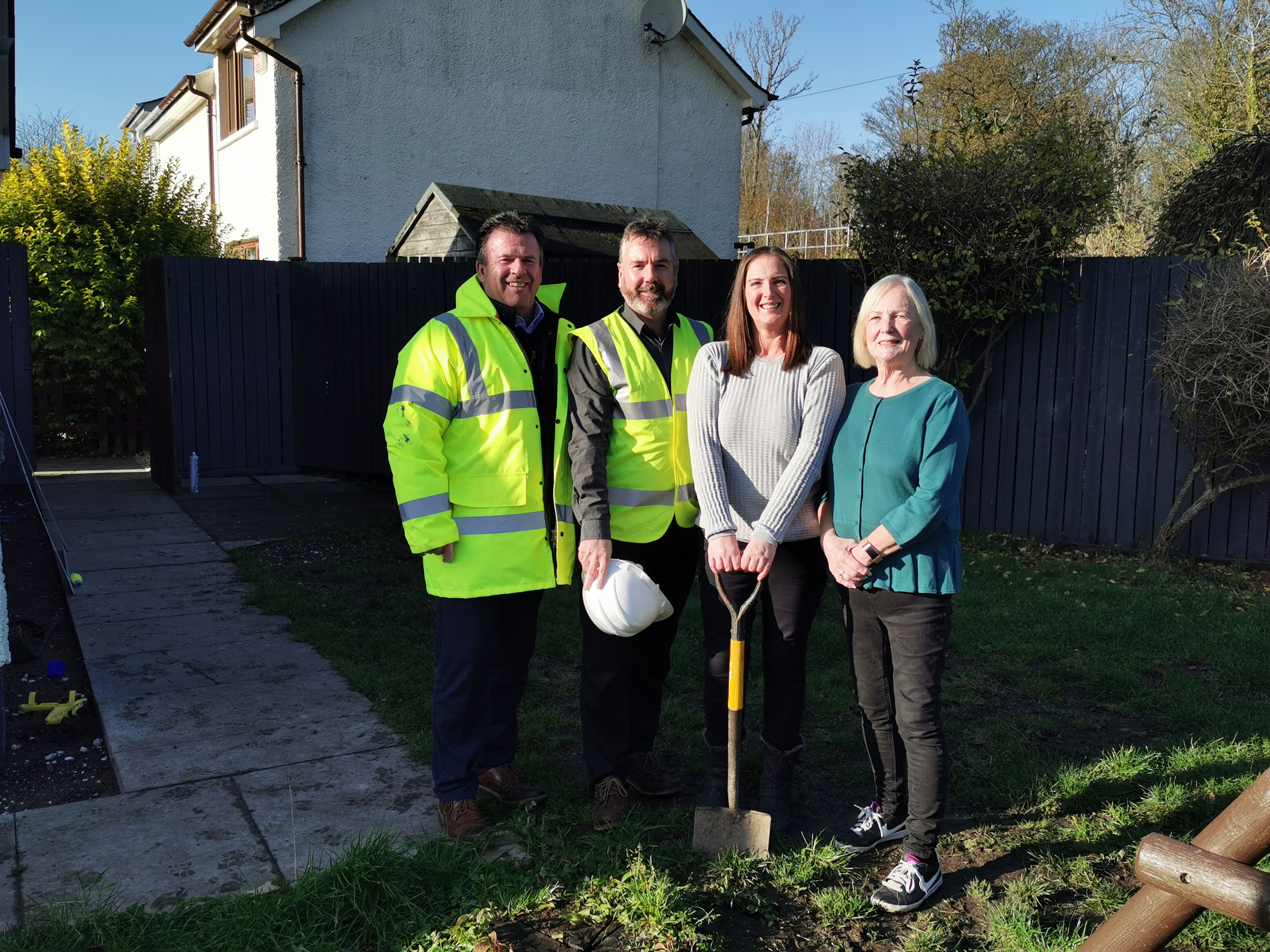 The work to one of its properties in Kingoodie is under way following approval from Perth & Kinross Council.
Working to a design by James F Stephen architects, its contractor QAPM has started work on the single-storey one-bedroom extension for tenants, Karen and her daughter Claire, who has had many health issues from birth including severe developmental delay, special needs and behavioural issues, and is also on the Autism spectrum.
The build programme is estimated to take around 8-10 weeks and Abertay is hopeful that it will be completed in time for Karen and Claire to enjoy Christmas in their newly upgraded home.
Swan Group to support Shelter Scotland's Sleepwalk 2019
Swan Group is supporting this year's Shelter Scotland Sleepwalk in Glasgow on Tuesday 3rd December.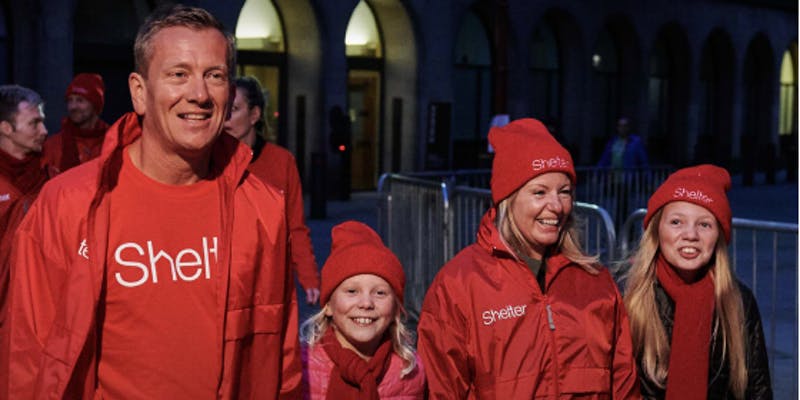 The Shelter Scotland Sleepwalk takes place in both Glasgow and Edinburgh, with supporters walking five miles around each city touring Shelter Scotland stores meeting members of the team and the local community.
Open to anyone wishing to take part, there is no fundraising limit or target being set.
Any amount of fundraising and donations is greatly appreciated by the Shelter Scotland team.
On the night, there will be a raffle to win an overnight stay at the 4-star hotel, Knock Castle in Crieff.
Tickets will be priced at £1 each with all proceeds going directly to Shelter Scotland, with the winner being drawn on the night.
If you are interested in taking part in this year's Sleepwalk, you can find out more here.
You can also help raise funds in aid of Shelter Scotland on its JustGiving page here.
Work due to start on new Straiton retail terrace
Work on the new 25,500 sq ft retail terrace at Straiton Retail Park is due to start on site later this month.
Midlothian Council gave the £10 million project the green light in October 2018.
The development will be built and managed by Peel Retail Parks, part of Peel L&P.
A701 road to close for Timber Transport Fund improvements
A section of the A701 road in Tweeddale will undergo a daytime closure for four weeks for extensive improvements.
The works will see a stretch of the A701 from Tweedsmuir to Tweedhopefoot at the Dumfries and Galloway boundary closed from Monday 18 November to Friday 13 December, from 9am to 5pm each day.
However, the road will be fully open at weekends and on Monday 2 December for the public holiday.
The A701 works is one of four rural road improvement schemes being funded by the Strategic Timber Transport Fund (STTF) and Scottish Borders Council (SBC) as part of a £1 million investment.
Aberdeen to change hundreds of road signs around AWPR
Hundreds of road signs are to change around Aberdeen to help direct people out to and in from the city bypass (AWPR).
Aberdeen City Council has awarded a contract to Markon, a division of Aberdeen-based Leiths Group, to manufacture and site about 450 signs.
The installation of signs is expected to start before the end of the year and it will take several months to complete.
The change of road signs aligns with a roads hierarchy strategy agreed at committee in June, in which it said main roads around Aberdeen are to be reclassified and junctions realigned.
For decades, motorists had to use Anderson Drive and South Anderson Drive as one of the main ways of going from north to south, along with other main roads to cut across the city centre.
The roads hierarchy report agreed by members of Aberdeen City Council's City Growth committee set out a new way of moving traffic away from crossing the city centre and instead out to the AWPR. It builds on the City Centre Masterplan by making the city centre a destination rather than a through-route, and also improves air quality, supporting public transport, and helping to reduce congestion in the area.
The roads hierarchy work will encourage traffic to leave the city by major arterial routes including King Street, Great Northern Road, Westburn Road/Lang Stracht and Wellington Road, using the bypass, and then come back into another part of the city.
The new signage is part of this work, along with reclassification of roads across the city. Later work such as junction improvements and changes to traffic light sequencing will build on these new routes.
North Lanarkshire Council welcomes 700th council house tenants
North Lanarkshire Council has welcomed its 700th tenants into their new home at the Calder Court housing development in Motherwell.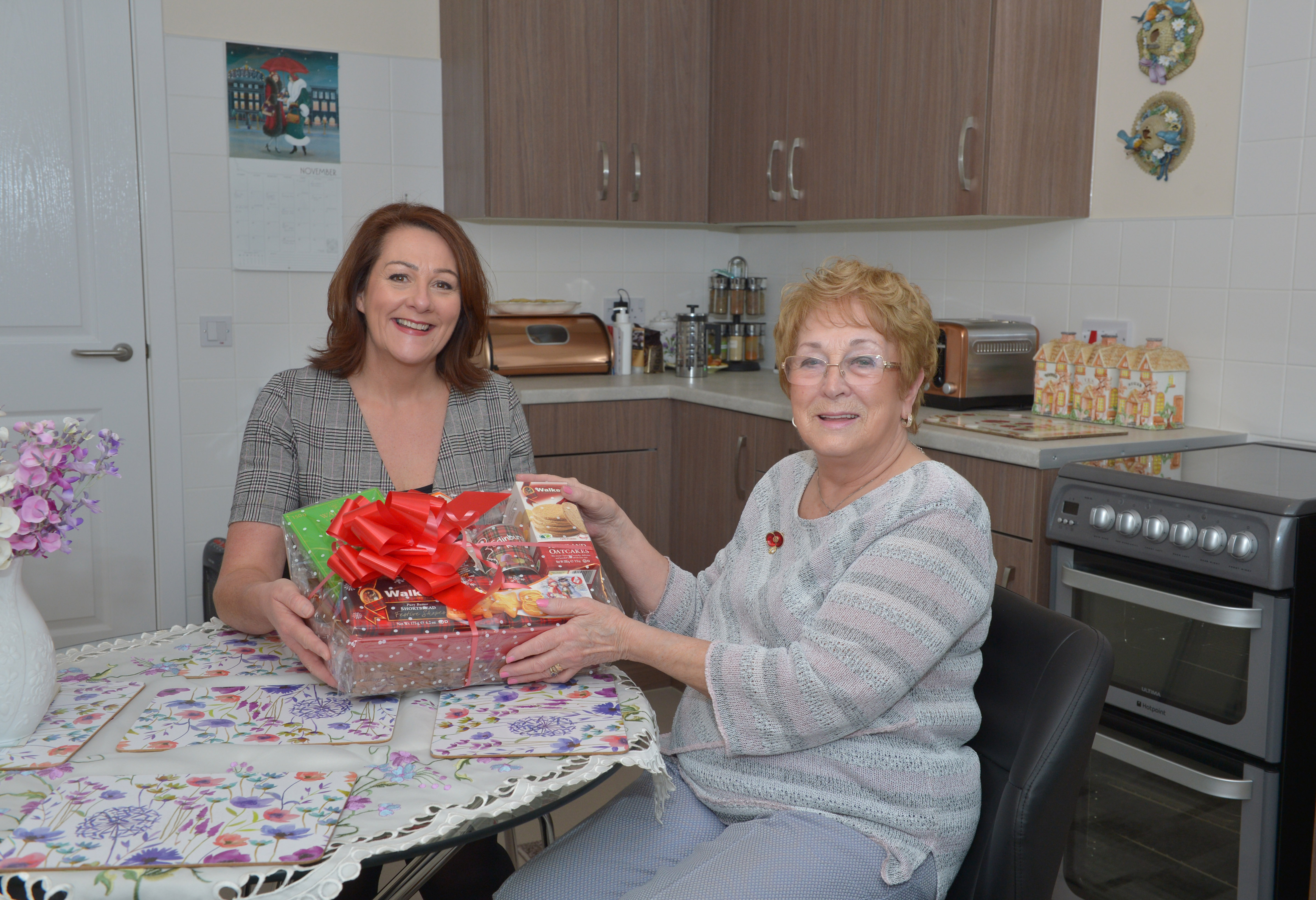 Mr William and Mrs Morag Morton didn't have far to travel to move into their new two-bedroom home. They made the short journey from nearby Draffen Tower, after spending over 48 years living there.
Their modern home is part of the fantastic new development located on the site of the former Calder Primary School, Draffen Street, Motherwell.
It's home to 30 properties, a mix of houses, flats and wheelchair homes and is part of our new house building programme which aims to deliver 5,000 new homes by 2035.
All of the council new build homes are designed with energy efficiency in mind to help minimise running costs for our tenants. In addition, they also boast dementia-friendly design features, including contrasting colours between kitchen units and flooring.
They meet Housing for Varying Needs standards and are Secured by Design accredited, which involves Police Scotland architectural liaison officers having input into the layout and design.
The development cost £4.6 million and was completed by Robertson Partnership Homes. The Scottish Government contributes towards the development costs at each site.
Improvement plans unveiled for Dundee's Dawson Park
Proposals for a ten-year improvement works programme in the Dawson Park area will be put to Dundee City Council's neighbourhood services committee.
The local authority has already invested £270,000 in a 2G synthetic multi-purpose sports pitch and fencing earlier this year.
A consultation process from the sports pitch installation highlighted other suggested changes to the park from local residents, subject to funding availability.
The potential improvements have been categorised into three time scales.
Suggested short term upgrades would take place over the next two years. Projects include a review of parking provision, tree planting, fencing, installation of trim trail equipment, cherry trees, new planters, and improved entrance access.
Proposals between two and five years would restore the fountain, redesign planting locations, renew path edging, create a wildflower area, and restore the long jump area with new fencing.
Longer term improvements outlined are the visibility of the pedestrian path network, upgrade the West Pavilion and development of the community facility, install a skate park, MUGA pitch and climbing wall, and explore a dog friendly zone for the park.
A number of completed projects have been carried out in the Dawson Park area since the 2004 plans.
Previous developmental works included a new play area, relocation of the demonstration garden, installation of adult gym equipment, installation of a pedestrian crossing on Arbroath Road, a new path and toilet refurbishments.
The neighbourhood services committee meets on November 18.