Building Briefs - September 25th
---

---
Coastal development sells out for CALA
A development adjacent to Belhaven Beach has reserved its final home following a surge in sales during lockdown.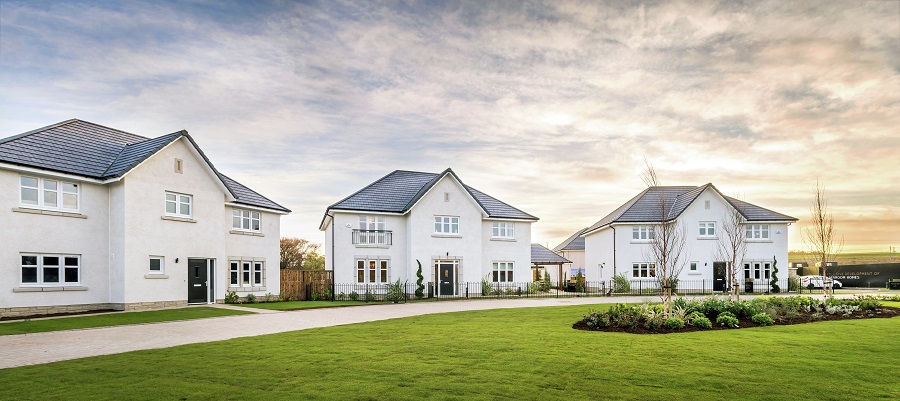 CALA Homes (East) has now sold out its Castle Bay development amid strong buyer interest in its coastal developments, highlighted by a two-thirds jump in reservations across its East Lothian sites since the start of lockdown.
Launched in summer 2017, Castle Bay represents the renowned developer's most easterly development in the region, providing a collection of 90 homes to the west of Dunbar.
In addition to the private homes, Castle Bay also saw CALA build and hand over 25 affordable midmarket-rent homes to LAR Housing Trust, with the 12 cottage flats and 11 terraced homes "tenure-blind", meaning they blend seamlessly with the wider development.
The development also provided a major boost to the local economy, with significant contracts awarded to local firms, while Section 75 payments relating to the development and paid to the local authority saw more than £912,879 go towards local schooling and infrastructure.
RTPI to achieve net zero emissions by 2025
RTPI immediate past president and Board of Trustees climate action champion Ian Tant MRTPI has announced the RTPI's aim to be the world's first "net zero" membership body by reducing its own net carbon emissions to zero by 2025.
Speaking at the Wales Planner Live Online Conference, Ian Tant said: "For many years, planners around the world have been leading the way in providing solutions to tackle climate change. The RTPI in its 'Plan the World We Need' report and campaign argues that planners should be supported to ensure that our infrastructure and our towns, cities and rural environments work harder to reach the vital carbon net zero goals set by our Governments.
"As the largest Institute for professional planners, the RTPI is now "walking the walk", setting ourselves the ambitious target of becoming fully carbon net zero by 2025 – we believe we will be the first membership organisation to achieve this.
"The actions included in the Institute's Climate Action Plan are based on a thorough-going assessment of the Institute's carbon footprint in 2019 and include switching to green energy providers and requiring that our suppliers to join with us in reducing carbon emissions. Savings in travel are an important part of the Plan: we will be looking to adapt our offices and working practices to reduce the need for staff, members and visitors to travel in order to attend meetings and events and conduct institute business. And we'll be looking to offset unavoidable carbon emissions in the course of the Institute's work.
"This is an exciting step and forms a key part of the RTPI's visionary Corporate Strategy 2020, underlining our commitment to the thought-leadership of the planning profession in tackling climate change."
Demolition restarts at council offices in Glenrothes
A landmark at Fife Council's headquarters in Glenrothes will soon be erased from the town's skyline for good.
Demolition experts are back dismantling the five-storey Kingdom House office block in Kingdom Avenue after work had been put on hold because of the coronavirus lockdown. The building, which housed the council's planning department for several decades, was vacated last year after renovation was deemed too expensive.
Demolition is expected to be completed by the end of November.
Dunblane to receive first new council houses in 45 years
Stirling Council has announced plans to deliver the first new build council homes in Dunblane for more than 45 years.
Members of the local authority's environment and housing committee yesterday agreed the purchase of 26 properties at Barbush, Dunblane, from developer Miller Homes that will be used for new social housing.
The new council housing will be delivered as part of the Strategic Housing Investment Plan (SHIP), which aims to provide new high-quality, sustainable, affordable homes for residents across the Stirling region.
The properties at Dunblane will include a mixture of 12 one-bed cottage flats, eight two-bed cottage flats and six two-bed terraced houses.
Glasgow sees robust office demand and ongoing shortage of availability
A new report from Savills reveals Glasgow has one of the most acute shortages of available office space of all the Big-6 regional cities (Birmingham, Bristol, Edinburgh, Glasgow, Leeds and Manchester).
With less than six months of Grade A office supply available, relative to annual average take-up levels, Savills says Glasgow is in critical need of speculative office development.
Data from the international real estate advisor shows office take-up in H1 2020 in Glasgow (city centre and the surrounding area) totalled 378,770 sq ft, exceeding H1 2019 volumes by 18%, demonstrating ongoing appetite by businesses for office space in the city despite challenges brought about by the Covid-19 pandemic. The firm expects total city centre take-up to reach circa 500,000 sq ft by the end of the year.
Acknowledging the ongoing requirement to 'work from home' in Scotland, data from Savills Office FiT recognises a cultural shift towards greater flexibility between office and home working in the future. In Scotland, Savills says 61% of respondents would like to spend at least two days a week working from home when lockdown measures are lifted. This compares to 19% pre-lockdown.