CALA Homes shows support for East Dunbartonshire sporting group
---

---
A Kirkintilloch-based charity has scored a funding boost from CALA Homes (West).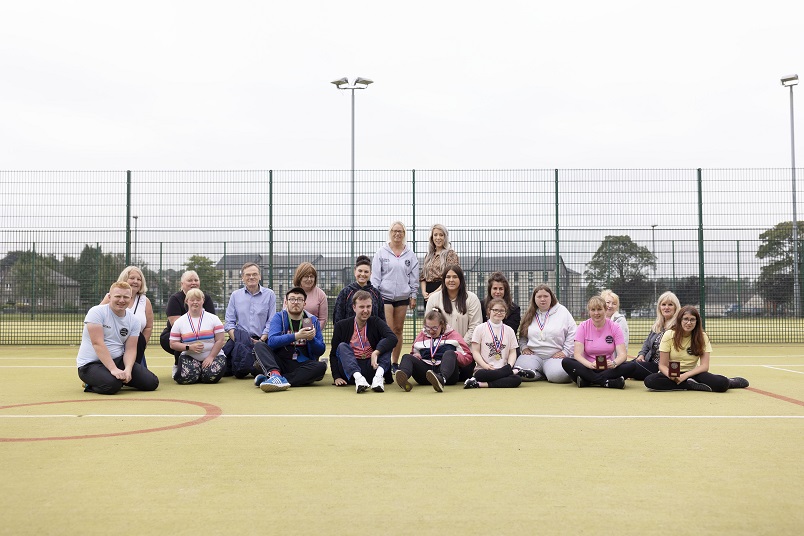 The Sporting Aces, which offers sport and social activities to adults, children and young people with a range of physical, learning and communications difficulties, was awarded £1,000 through CALA Homes' annual Community Bursary initiative.
The charity, which helps around 100 adults and children across the East Dunbartonshire area, aims to advance the health and public participation of its members through a comprehensive programme of sporting and social activities.
It also offers volunteer programmes for young people and adults aimed at creating strong, resilient and supportive communities.
The funding from CALA Homes (West) has contributed to the purchase of a range of awards – including medals and shields – to mark the end of the group's 'Achievement Challenge' which has seen members carry out a variety of activities. It will also go towards additional support for the group, including sports leaders, to help it grow.
Sophie Whittaker, marketing co-ordinator at CALA Homes (West), visited one of the small group awards presentations, which took place at Kirkintilloch Leisure Centre, following the charity's regular 'Dance Boogie Fit' session – just one of a number of multi-sport sessions run by the charity – attended by members, parents and carers.
Allwyn Crawford, operations manager of The Sporting Aces, said: "We're incredibly grateful to CALA Homes (West) for its generous donation through the Community Bursary scheme. Our members have been working hard on their own personal Achievement Challenges – from helping and supporting others in the community to carrying out random acts of kindness – and it's wonderful to be able to hand out some lovely awards as a token of their efforts.
"We rely on funding from various sources to keep the group going and enable us to provide vital activities to our members. Our weekly dance class is just one example of the variety of multi-sport sessions we run in order to build members' confidence and resilience – and they make such a difference to everyone."
Sophie said: "We're thrilled to provide support to The Sporting Aces. Allwyn and the volunteers provide fantastic resources for their members from both a health and wellbeing, and social perspective. The group has been a real support to many of the members and their families for years, particularly during the pandemic.
"It was great to see just how much some of the members of the group, along with their parents and carers, get from the sessions. And it was wonderful to see them all awarded for their brilliant achievements over the past few months."