Fife College helps Balfour Beatty digitise its workforce
---

---
Fife College has been showcasing its industry-leading credentials by running an innovative training programme in partnership with construction firm Balfour Beatty.
The three-day course in AutoDesk Revit – a fundamental computerised modelling tool used to plan, design, construct and manage buildings – was held at the College's Stenton Campus in Glenrothes and culminated in an Autodesk Revit Architecture Certified User exam for delegates held in Fife College's Certiport Assessment Centre.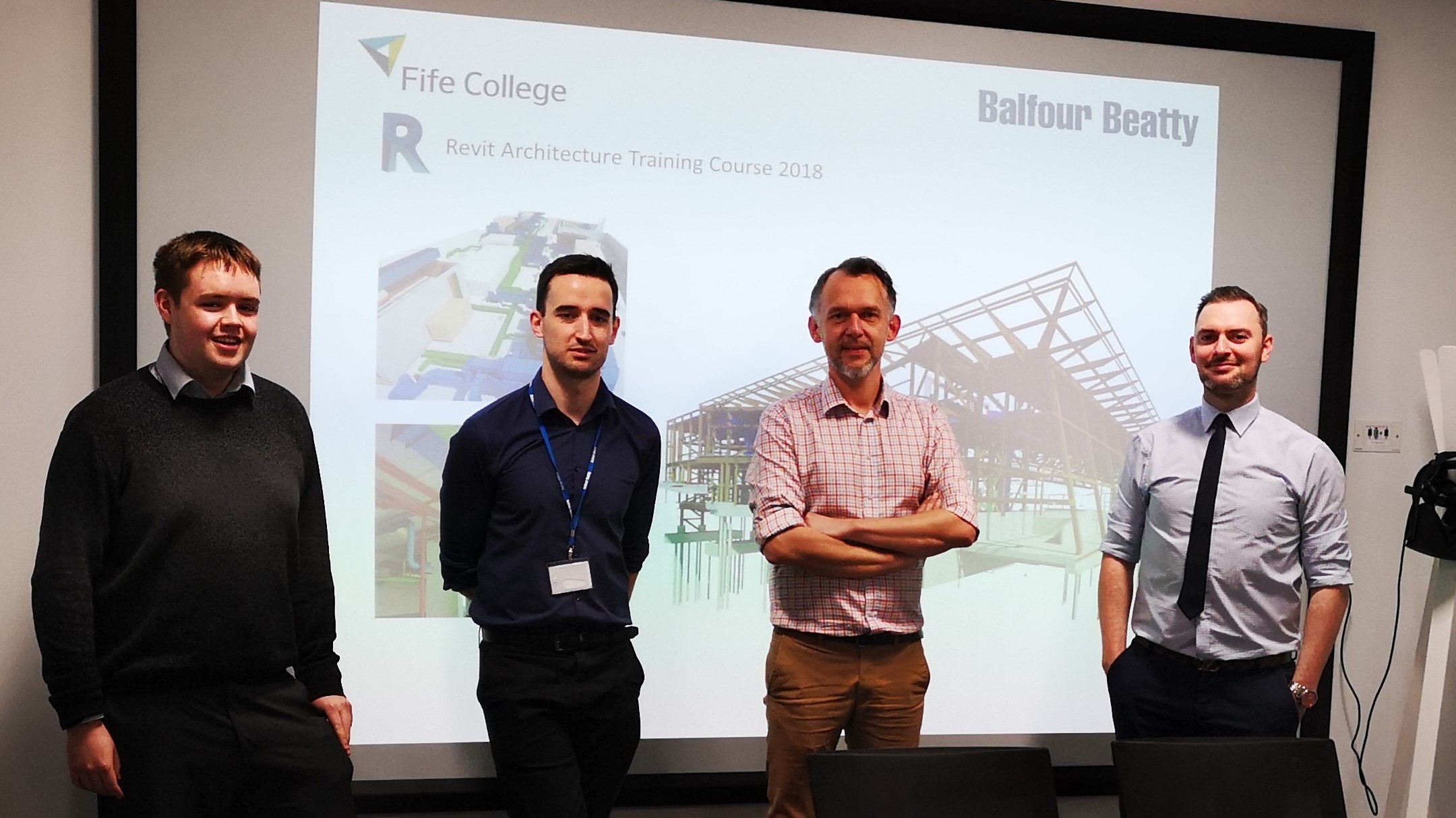 The link up with industry provides the College a platform to promote its commercial and innovative capabilities – and is part of a wider plan to work with more local businesses to help with their training needs.
The 10 Balfour Beatty employees received in-depth training on a range of digital construction skills – with a certified user exam at the end of the three days.
Marc Fleming, curriculum manager within the faculty of built environment, said that Fife College has been working with Balfour Beatty on a range of projects for the past three years and this on-going work has resulted in this first training programme being launched.
Marc said: "We have developed a terrific working relationship with each other and it has given Fife College an opportunity to really show a company the size of Balfour Beatty, what our capabilities are in terms of supporting the transition to the digital built environment.
"It is a real testament to the College that Balfour Beatty chose us to deliver the training and we were naturally delighted with the feedback on the high standard of training provided.
"We have aspiration to further excel in our provision of courses that support the diverse range of courses that built environment professionals require. We will continue to work with companies such as Balfour Beatty to ensure that our curriculum offering meets the needs of industry and can be tailored to suit the needs of the employer in terms of modes of attendance and content."
Balfour Beatty is involved in some of Scotland's biggest construction projects, including building the £24 million Glenrothes Energy Network in Fife.
Alan Duffy, regional digital construction lead for Balfour Beatty Scotland and Ireland, said: "It's important for all our staff to have a good understanding of how Revit works to leverage its capabilities and to also understand how design teams are delivering information compared to AutoCAD. Our staff, ranging from Design Managers, Planners, Temporary Works and Quantity Surveyors, really enjoyed their three days at Fife College. It was a positive experience and they got a lot out of the course, adding to their digital skills which they will now be able to use within our company."