GAP Group posts record £200m turnover
---

---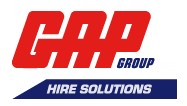 Glasgow plant, tool and equipment hire firm GAP Group has posted record annual profits and turnover of £200 million.
The firm, which is also celebrating its 50th year in business this year, saw profits rise after making concentrated efforts at diversification.
Run by brothers Douglas and Iain Anderson, the business has also revealed a restructuring with an eye on growth and succession-planning. It said that the increase in profits has showcased the firm's ability to drive into higher-margin areas by harnessing its extensive UK coverage.
Pre-tax profits at GAP rose to an all-time high of £18.7m in the year to March 31, from £16.7m in the prior 12 months, on the back of an 8.8% increase in turnover to a record £203m.
Earnings before interest, tax, depreciation and amortisation also hit a record in the year to March 31, rising from £73.1m to £80.4m.
The pre-tax profits for the latest financial year were just ahead of a figure of £18.6m for the 12 months to March 31, 2015.
Chairman Danny O'Neil highlighted GAP's progress over the last four years by noting that, in the year to March 2015, GAP's turnover had been £143m and its EBITDA had been £55.5m.
Mr O'Neil stated that the company's shareholder funds had increased from £69.3m at March 31, 2015 to £109m in the latest accounts. He noted that this was the first time in the company's history that net assets had climbed above £100m.
GAP has a current staff headcount of 1,858, an increase from its 1,350 at March 31, 2015.
When asked by The Herald if he was surprised that the business had grown to the scale it is today, Douglas Anderson said: "I am only surprised when I think about it. I don't think about it very often because I have found thinking about it doesn't actually achieve anything. You just do what you do."
He added: "It is certainly a big year with quite a few milestones and records."