GRAHAM encourages nursery and primary pupils to show artistic talents
---

---
Pupils from Netherthird Primary School and Early Years Centre have taken part in a competition organised by GRAHAM to showcase their artistic flare.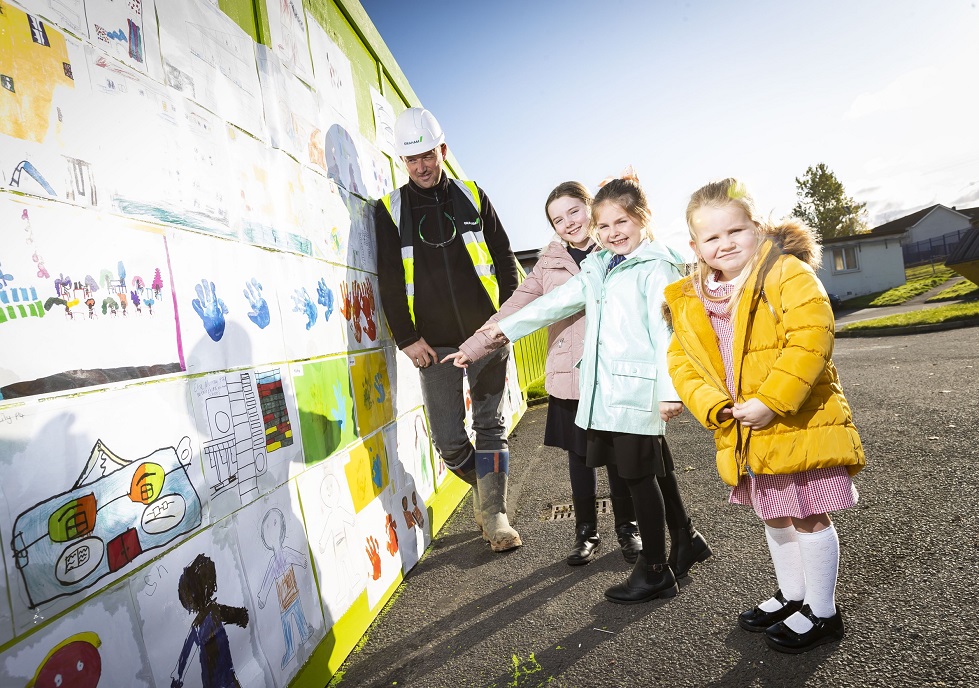 The contractor is currently working on the completion of a new build Early Years Centre in the Netherthird area which will have capacity to work with 83 children.
Nursery pupils were encouraged to draw what they imagined their new nursery was going to look like, while primary students designed artworks around the theme 'new buildings'.
After much consideration from the judges, nursery pupil Lacey McCreadie, P3 pupil Kali Phillips and P5/6 pupil Kayla Chalmers were named as winners and awarded with gift vouchers for local retailers as a prize.
All of the artworks created by the children are now being proudly displayed on the site hoardings, which the pupils pass on their way to and from school.
GRAHAM is currently building three Early Years Centres for a total of 293 young children across Stewarton, Cumnock and Kilmaurs for the East Ayrshire Early Years expansion programme.
Each nursery will have extensive external play space, complete with play equipment and learning spaces, wireless technology and on-site kitchens. They will also be fitted with the latest renewable technologies to reduce carbon footprint.
GRAHAM is also contributing to the work of local groups and organisations, including Netherthird Community Garden, with three apprentices installing two polytunnels at the community project to nurture plants, which require warmer temperatures to grow while also providing protection from winter weather.
Gerard O'Hare, contracts manager at GRAHAM, said: "Well done to all of the winning entries and a huge thanks to all of the children who took part. It has been a pleasure to see the creativity and talent of the pupils at Netherthird Primary School and Early Years Centre.
"As a company, GRAHAM is dedicated to working with the communities surrounding our projects, while we hope to encourage more young people to think about a career in construction through engagement with local schools."
Jemma Donnelly, head teacher of Netherthird Primary School and Early Childhood Centre, said: "We were delighted to take part in the competition run by GRAHAM. The children really enjoyed the process and were excited to engage with their new school building.
"It's fantastic for them to see their work displayed in our local area."