Homes plan lodged as community takes ownership of former Whithorn hotel
---

---
Community organisation All Roads Lead to Whithorn (ARLTW) has taken ownership of the former Grapes Hotel, a derelict property that has blighted Whithorn High Street for 30 years, whilst submitting plans for four new community-led homes.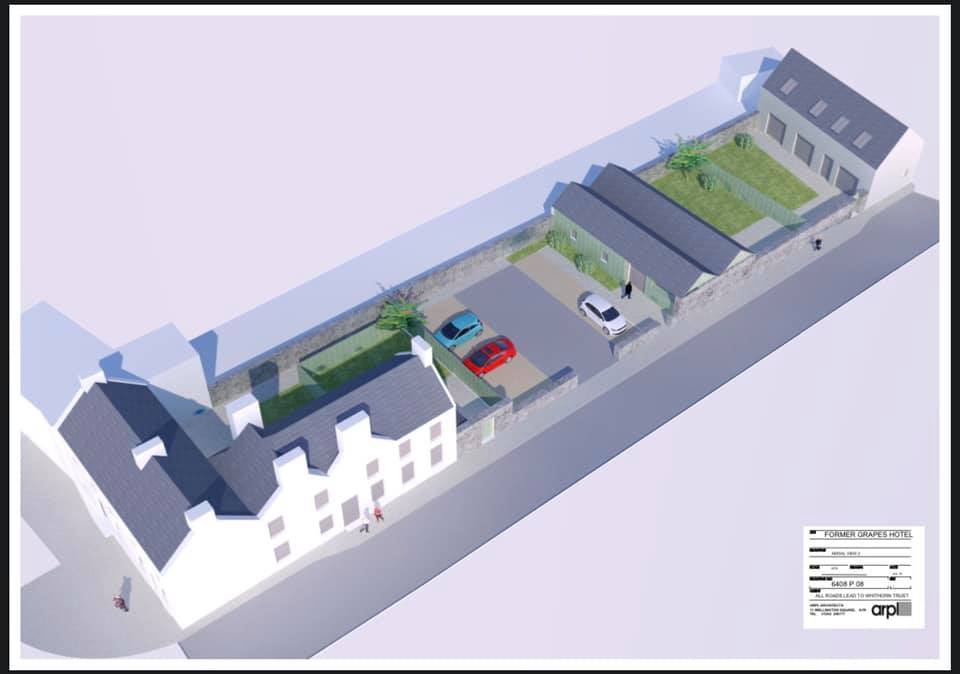 Teaming up with community-led housing support specialists Dumfries and Galloway Small Communities Housing Trust (DGSCHT) to deliver the first phase of the project, ARLTW will help sustain the historic heart of Whithorn by bringing the prominent derelict building back into use as affordable housing.
Plans have now been lodged by APRL Architects with Dumfries and Galloway Council that will see the development of the entire former Grapes Hotel, which is currently an abandoned and derelict shell, in a two-phase project.
Phase one will refurbish the Grapes itself, creating two family homes for affordable let. The second phase, to come at a later stage, will develop the rest of the site to include a further two, 3-bedroom accessible homes.
Having worked with DGSCHT to identify housing needs and demands, the Trust will let all of the properties in line with their localised allocations policy at social rent level, helping to secure provision of affordable housing in the town in perpetuity.
Assisted by DGSCHT since project inception, ARLTW secured ownership of the building and associated land with the backing of a Stage 2 Grant from the Scottish Land Fund, and will develop the first two, three-bedroom homes using a package of funding from the Scottish Government's Rural Housing Fund and Town Centre Capital Fund, as well as Dumfries and Galloway Council's Town Centre Living Fund and private borrowing.
ARPL Architect's innovative and sympathetic design will breathe new life into this building, whilst helping to support and sustain the local population, enhance the affordable housing offer in Whithorn and further complement the wider community development and regeneration work of ARLTW.
Mike Staples, chief executive, Dumfries and Galloway Small Communities Housing Trust, said: "DGSHT are really pleased with progress to date on this project. The Grapes building has been a source of frustration to the community of Whithorn for many years and we're delighted to have helped the group identify and secure a solution that meets local needs. It's an ongoing pleasure to work with the ARLTW team and we look forward to seeing Phase One come to fruition, before we turn our attention to Phase Two next year."
Hazel Smith, chairperson of All Roads Lead to Whithorn, added: "We're all delighted to have reached this exciting stage with the excellent guidance from DGSHT. Our community are supportive of the development and keen to see this prominent landmark building be renovated to provide affordable housing. Thank you to our funders for their generous support in ensuring this historic building is given a new life in the heart of our Royal Burgh."