hub West Scotland presents inaugural Community Investment Award to BAM
---

---
The outstanding efforts of BAM Construction's Stobhill Mental Health Unit site team have been recognised with the presentation of hub West Scotland's inaugural Community Investment Award.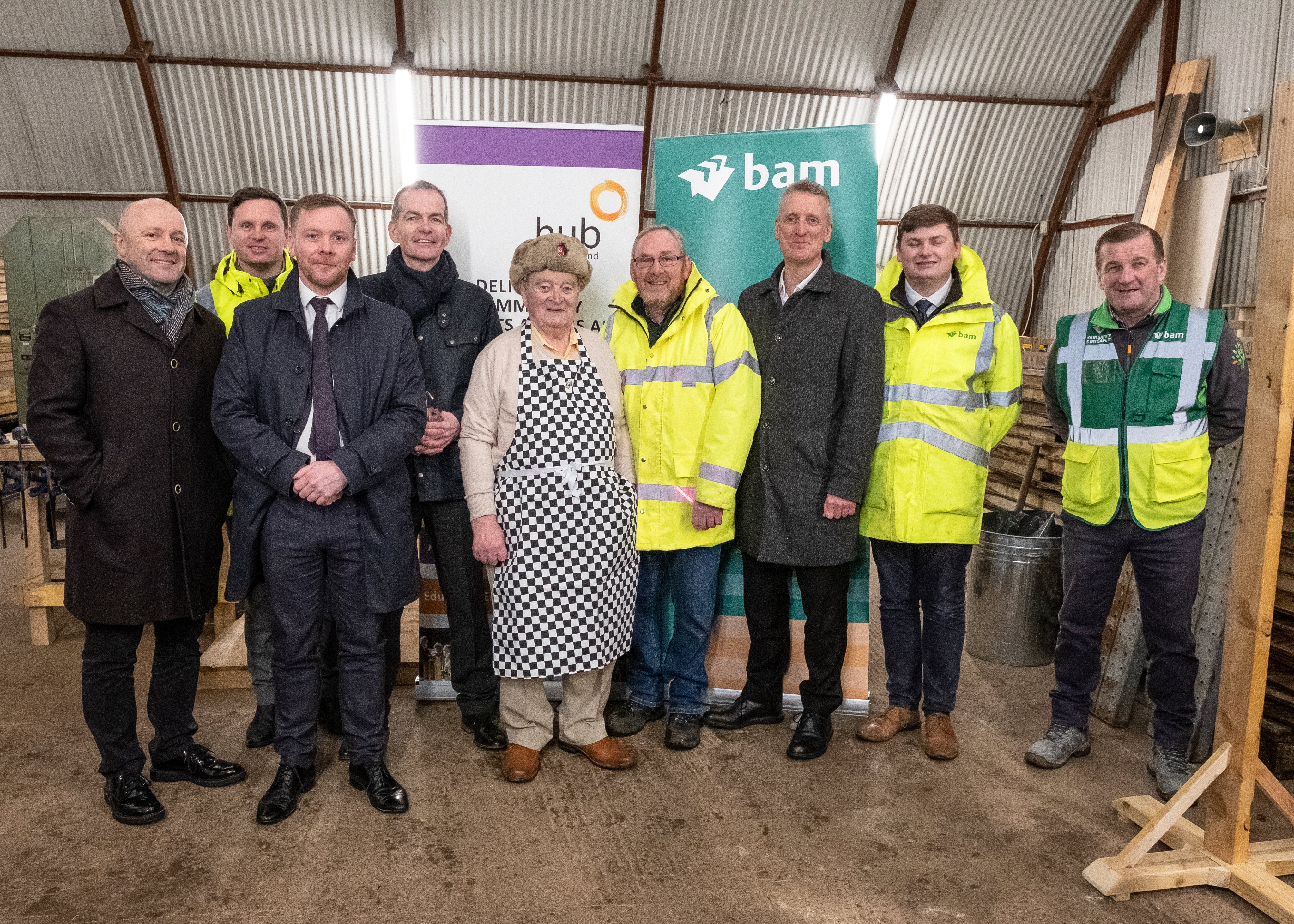 The award is designed to recognise when hub's supply chain partners go above and beyond their contractual commitments in delivering social, economic or environmental benefits to the communities in which hub are developing new community facilities.
BAM began the construction of two new acute mental health wards on behalf of hub West Scotland and its client NHS Greater Glasgow and Clyde at the beginning of 2019.
A couple of months into the project, site manager Paul Allan was approached by Tom Bennett from the Springburn Men's Sheds, located in nearby Springburn Park.
Tom was initially hoping for some spare pallets and timber off-cuts for the men's woodwork and carpentry but when Paul and his team realised the amazing work that the Sheds movement do in reducing isolation and loneliness for men and helping to improve levels of mental health and well-being, they wanted to do more.
BAM donated two Portacabins, supply chain partner Arc-Tech connected them to power and the wider team donated power tools and other materials. BAM has continued to donate a trailer of pallets, plywood and cable drums on a weekly basis which the men then recycle and up-cycle and continue to help out where they can, often in their own time.
Iain Marley, CEO of hub West Scotland, said: "Our Community Investment approach is all about delivering sustainable positive impacts for the communities in which we work.
"BAM's Stobhill team have built and developed these local connections, allowing the Men's Shed to support even more local men, who, in turn, are not only recycling and upcycling materials but are also helping other community members from nursery groups to the nearby care home."
Michael Hannan from BAM Construction said: "I'm proud that we could help this fantastic charity by giving them these cabins, so that more men suffering with depression and loneliness have a place to go!"
Tom Bennett from Springburn Men's Sheds added: "We first contacted Paul from BAM to ask for pallets and timber off cuts. Our application for funding for a Portacabin had failed and a few days later Paul called us to say he had a cabin for us, he gave us two in the end, free of charge!
"A few days later Arc-tech's director visited us and organised all the buildings to be reconnected to the mains electricity, free of charge! Our membership has doubled since then and we can now offer more services to our members. During school holidays a local nursery use one of our cabins as a base in the park, today they came back and asked if they can use the cabin every Tuesday & Thursday from now on.
"Springburn Gardens Allotments use it for meetings too. Mental health support workers also use the cabin as a base in the park to meet with clients, we provide refreshments. The help we have received from Paul and his team has made a huge difference not only to us but the wider community."