Kilmarnock parents and pupils learn about careers in construction
---

---
Around 1,000 S1–S6 pupils and parents took part in a career carousel event in Kilmarnock Academy, supported by GRAHAM – the construction company delivering early years centres in Stewarton, Cumnock and Kilmaurs as part of the East Ayrshire Early Years Expansion Programme.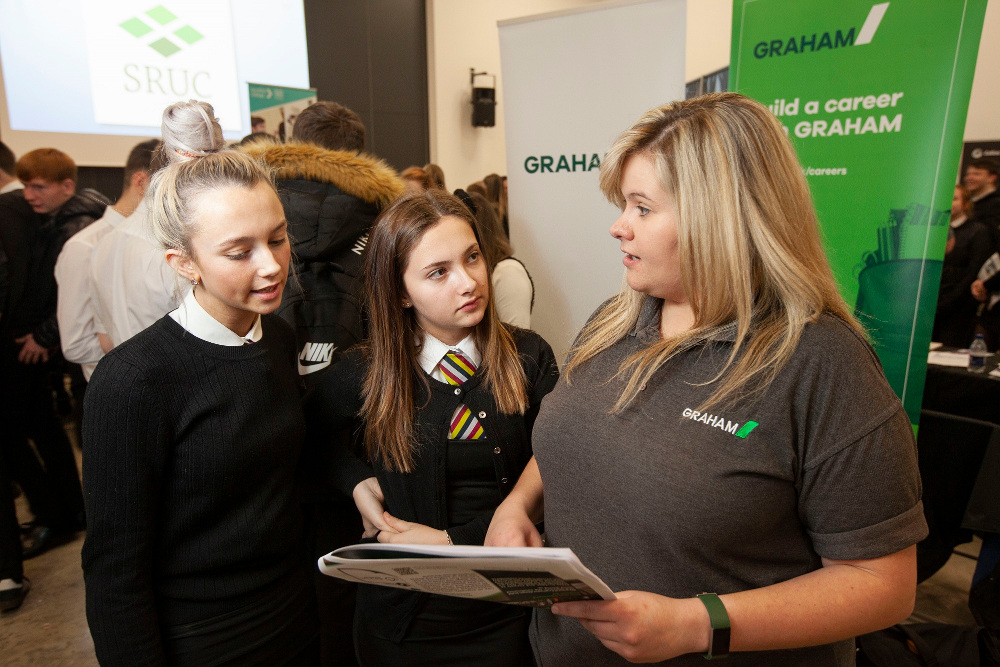 Young people and parents heard from employers who shared information and advice about careers, job roles and their sectors at the DYW Ayrshire organised event.
GRAHAM's social impact co-ordinator Amy McBride provided information about the many different career pathways into the construction industry – including work experience, apprenticeships and summer placements. One-to-one sessions were hosted with parents, promoting vacancies within GRAHAM and various routes to employment within the sector.
Amy said: "It was fantastic to be able to discuss the many different opportunities within the construction sector to both parents and pupils – sharing insight into the broad sector with lots of jobs roles, skillsets and avenues for employment. We regularly engage with school pupils but this was also an excellent chance to speak to a new audience.
"Events like these are really important to GRAHAM, giving us the opportunity to speak directly to the next generation of construction recruits while updating the community about the excellent work being undertaken as part of the Ayrshire Early Years programme."
GRAHAM is delivering three early years centres in Ayrshire, for a total of 293 young children. Each centre will have extensive external play space complete with play equipment and learning spaces, wireless technology and on-site kitchens. They will also be fitted with the latest renewable technologies to reduce carbon footprint.