NorDan UK appoints new regional director in Aberdeen
---

---
Norwegian window and door manufacturer NorDan will see its first change in leadership at its Aberdeen office in almost ten years.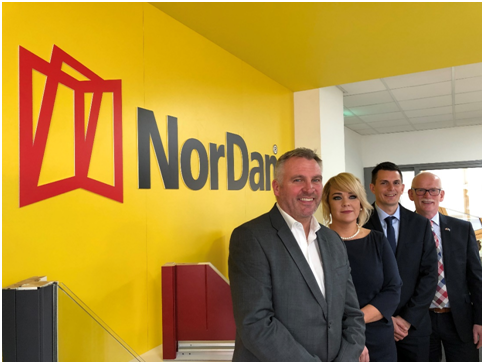 Current regional director Gordon Mitchell will be stepping down from June 1, passing on the torch to take up a new position as project director.
In his time leading the Aberdeen office, Gordon has built and maintained a strong business unit and helped to establish the brand's presence in the North of Scotland. As projects director, Gordon will now be focusing on developing the company's solutions service as well as developing specific market segments, building upon the foundations set during his tenure as regional director. Leadership will now be handed over to Barbara Massie, with support from operations director, Calum Sinclair.
On his time as regional director and the appointment of his successor, Gordon said: "It's been an absolute honour & privilege to have led the Aberdeen business for NorDan since January 2012.
"I now very much look forward to my new role and contributing to the growth and ongoing success of NorDan in Aberdeen. It is with great pride that I hand over the leadership to Barbara and take this opportunity to wish both her and Calum every success in taking the business forward."
Both Barbara and Calum are long-standing members of the NorDan UK family, having progressed through the company's Talent Management programme, which encourages lateral growth as part of the company's people-centric approach. Their appointment also follows their recent promotion to the board of directors at the Aberdeen branch, which has been undergoing restructuring to accommodate its vast growth within the UK market.
Having been with NorDan for over 15 years, Barbara said she is looking forward to her new role at the helm and hopes to continue the momentum and success of the Aberdeen office: "I am extremely fortunate to be surrounded by wonderful people. Gordon has been a fantastic support to me over the last 15 years and I would like to thank him for ensuring Aberdeen has always been a success and for guiding me along the way. We are nothing without our team and I am grateful for the unquestionable support from Alex Brown, Gillian Irvine, Mike Moir and Calum Sinclair.
"I would like to thank my husband Richard Massie and my mother Patricia Henderson who has taught me the value of people and relationships, which are the foundations of NorDan. I look forward to seeing our customers again soon and wish Gordon well in his new role."
With a new generation leading the way, managing director of NorDan UK, Alex Brown, is hopeful that the company's presence in the region will continue to grow: "During my time as managing director, Gordon has grown and strengthened a very successful regional unit that has been the cornerstone of NorDan UK. I would like to thank Gordon for the personal support he gave me during this time and all that he achieved as regional director and also welcome Barbara and Calum to their new roles.
"The NorDan Board is delighted to have Barbara as our new regional director supported by Calum as operations director. With them at the helm, I am confident that the branch will remain successful as we adapt to an ever-changing market and explore new ventures."