Pre-emptive cladding replacement plan unveiled at Dundee school
---

---
Councillors in Dundee are being asked to approve funding towards the replacement of cladding at a city school as part of new measures to further improve fire safety in council buildings following the Grenfell Tower tragedy.
Members of the council's policy and resources committee will hear that while that the aluminium composite material cladding (ACM) at St Paul's RC Academy meets current Scottish building standards, the UK Government may be considering a ban of this type of material in the future.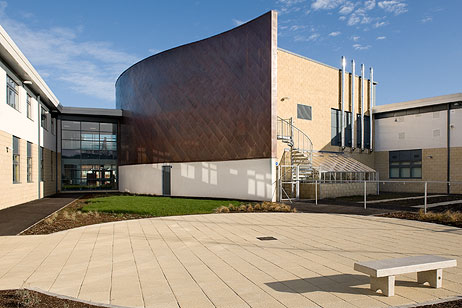 At a meeting on Monday November 19, the committee is being asked to approve a financial contribution of £70,000 toward the replacement of the cladding in partnership with Sir Robert Macalpine.
A report to the policy and resources committee explains that, like other schools in the city, St Paul's is covered by detection, alarm and sprinkler systems. The report highlights that an inspection by the Scottish Fire and Rescue Service in August last year did not give rise to any material areas for improvement.
Other fire safety measures include the installation of new fire and smoke alarms in domestic properties in line with new Scottish Government guidance.
Fire specialists have also been appointed to advise on the potential retrofitting of sprinkler systems in multi-storey blocks.
The move follows a report which revealed eight safety failures at Braeview Academy which had been highlighted months and years earlier had not been resolved by the time flames engulfed the school.
A report given to officers probing September's blaze at Braeview confirms required actions, including replacing CCTV and fitting locks to cupboards to individual gas shut-off valves, were never completed.
Council leader Councillor John Alexander said: "Following the tragic events at Grenfell Tower last year, we carried out a thorough investigation and review of fire safety in all of our buildings.
"We also communicated directly with tenants of our multi-storey blocks and the parents of pupils of St Paul's Academy last year to offer them reassurances, and to explain to them that we are working hard to see if any further improvements were needed.
"While the ACM cladding at St Paul's meets current standards, there may be a change in legislation in the future and I think it is important that we take this opportunity offered by Sir Robert McAlpine to replace this material."
Councillor Alan Ross, convener of community safety and public protection, added: "The council is writing to parents directly to inform them of this development and to offer them assurances about the current fire safety arrangements in the secondary.
"We are not complacent about fire safety and work regularly with the Scottish Fire and Rescue Service. This comprehensive report shows the efforts we are making to ensure that risks are minimised across all of our buildings.
"The recent events at Braeview Academy have also led us to make additional checks at schools across the city. We have been able to confirm that 42 of 44 of the action points from the fire risk assessment at Braeview were either complete or in progress at the time of the blaze in September."
The council report covers areas including fire safety regulation, the council's domestic and other properties, consultation on fire and smoke alarms, building standards and fire risk assessments.
The replacement of the cladding at St Paul's Academy is likely to take place over the Easter and summer school holidays in 2019.
The committee will hear that further reports are likely to follow detailing further recommendation from Scottish and UK government inquiries.