Scotframe and Cairnrowan Custom Homes are shortlisted for Build It Awards 2019
---

---
Two Aberdeenshire companies Scotframe and Cairnrowan Custom Homes are celebrating after three of their collaborations in Udny have reached the finals of the Build It Awards 2019.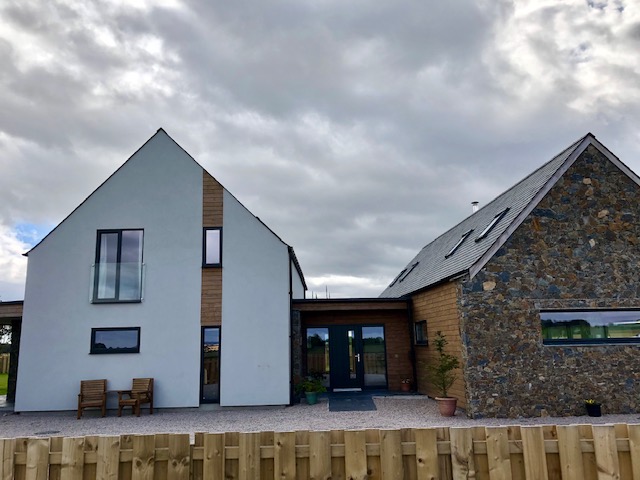 'Linkwood' in is in the running for Best Timber Frame Home, 'Millbank' is up for Best Off-site Manufactured Home and 'The Black House' is a finalist in the Best Eco Home category.
The awards ceremony which will take place in London on 29th November.
As well as winning the Best Self Build under £250k in 2018, this is the third year running that Scotframe and Cairnrowan have been finalists in these awards.
Headquartered in Inverurie, Scotframe manufactures and supplies full kit packages for housing and commercial projects. Established in 1989, the company has gone on to expand with 160 employees and a £35m turnover.
It has two manufacturing facilities in Inverurie and at Cumbernauld as well as sales offices and showrooms at Inverness, Dundee and Swindon.
Cairnrowan Custom Homes, based in Udny, builds homes which are A-rated for energy efficiency, air-tight and quick to build.
The company builds all its homes using Scotframe's Val-u-Therm PLUS system, and the close relationship between the two businesses has allowed them to develop their own bespoke detailing for projects and work quickly and efficiently as a team.
The shortlisted entries are:
'Linkwood', designed by Rachael Walker Architects, is an affordable large family home with an energy and environmental rating of 94% built in just 14 weeks over the winter. This timescale was made possible by using Scotframe's closed panel system.
'Millbank', designed by Fiddes Architects, is made up of 3 separate structures which. by using off-site manufacturing, was completed in 14 weeks. It is A-rated with an energy efficiency rating of 94% and has achieved passivhaus standard for air tightness.
'The Black House', a high-spec bespoke property with Scandinavian and west coast influences, this eco-home achieved a 100% energy efficiency rating. The house boasts the key attributes of modern living - intelligently laid out open spaces, bold materials, solar and battery technology inside a thermally efficient structure with an estimated running cost of £30 a month.
Malcolm Thomson, sales director at Scotframe, said: "These projects demonstrate how our partnership with Cairnrowan Custom Homes continues to be successful. They also highlight the many advantages of self-build projects, allowing customers to build in remote locations, achieve high energy efficiency and low running costs – all within just a few weeks."
Gregor Davidson from Cairnrowan Custom Homes, said: "We specialise in bespoke houses and, thanks to our partnership with Scotframe, we can assist self-builders without huge budgets to create their dream energy-efficient homes. We're delighted that three of our recent collaborations are receiving this recognition."