Shipping containers to form landmark Edinburgh Park installation
---

---
Architects have submitted plans for a landmark installation for Edinburgh Park made from more than 30 shipping containers.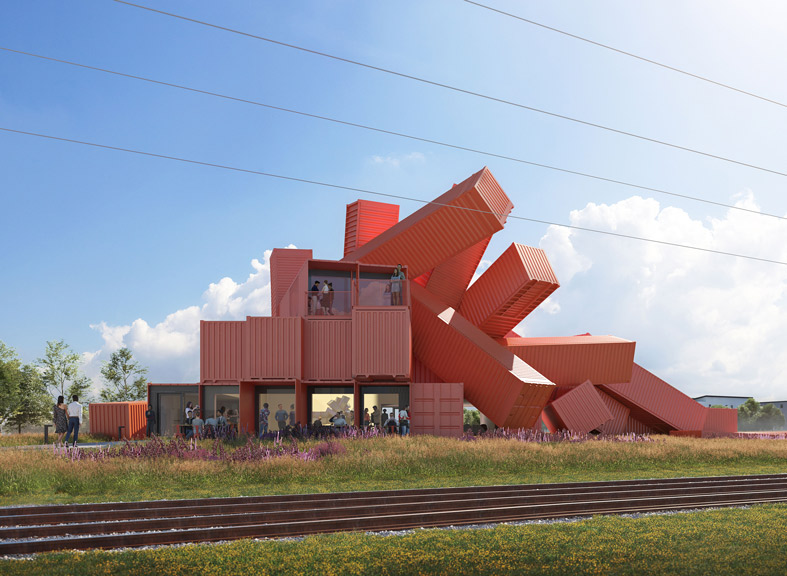 London-based studio Dixon Jones said its new multi-purpose building will serve as a gateway and marketing suite for the 43-acre Edinburgh Park development.
Dubbed as 'Mach 1', the unique building has been commissioned by developer Parabola and is the first to be designed by one of the UK's most respected artists David Mach.
It will also serve as an arts, events and conference venue and includes a large double height gallery space to exhibit a full site model, detailed building models, illustrations and information boards as well as audio-visual displays.
Parabola chairman Peter Millican said: "Mach 1 will be an eye-catching and engaging piece of art, as well as a functional building from which we can communicate our vision. It will be a meeting place in which to engage with prospective tenants, residents, interested neighbours and visitors from further afield.
"It will also be a place that can welcome more diverse arts and cultural events on occasion, offering a striking venue to be used by the wider Edinburgh Community."
For news of planning approval for the world's tallest building made from shipping containers, see today's And finally…