Trio of female joinery apprentices commence training with CITB and New College Lanarkshire
---

---
Three young women are carving out a career in joinery as they begin their Modern Apprenticeship training at New College Lanarkshire.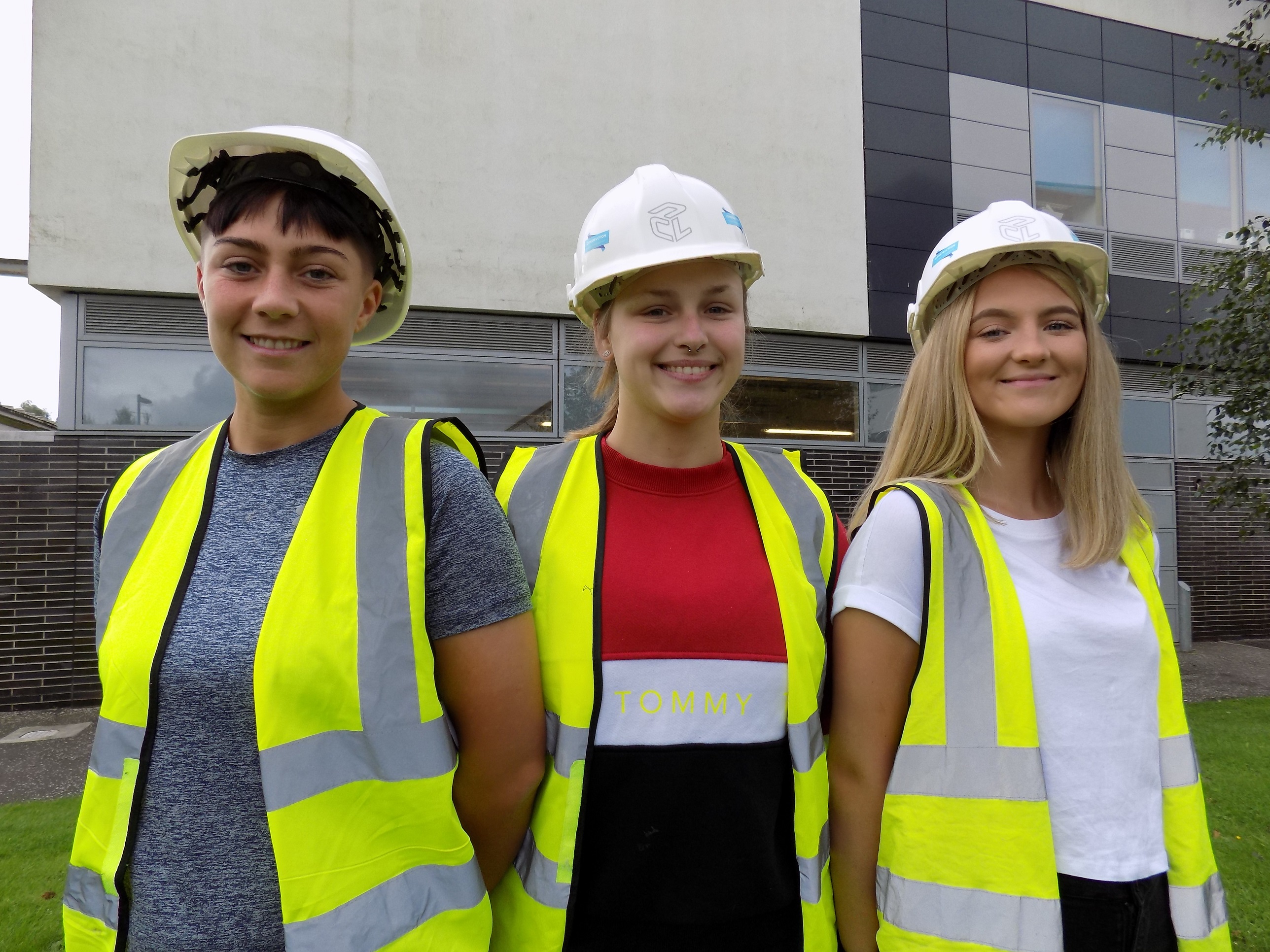 Hollie McArthur, Sarah Healy and Helena Montague all secured apprenticeships after completing introductory courses in Construction at the Motherwell campus.
The trio have now started the first year of their four-year training programmes with CITB. And they are the first female joinery apprentices to undertake the training in the College's 13-year partnership with CITB.
All three apprentices completed a full-time Construction Pre-Apprenticeship course at the college before the summer – with Hollie and Helena also completing an introductory programme, Females into Construction, at the Motherwell campus in 2018.
Hollie McArthur, 17, from Coatbridge, has recently started a job as an apprentice joiner with Barratt Homes.
The former Coatbridge High pupil said: "I think there were around 100 applicants for the apprenticeship scheme – I'm actually really proud of myself to have got it.
"My interest in joinery started in school – I really liked woodwork and I was quite good at it.
"Barratt really encourages its apprentices to build on their skills – there's an academy in England for doing more courses and it seems like there are a lot of opportunities within the company."
Sarah Healy, 19, who lives in Shotts, and Helena Montague, 22, who lives in Motherwell, have both commenced apprenticeships with Newhouse-based property maintenance company Timetra.
Former St Aidan's High pupil Sarah said: "I was ecstatic to get the apprenticeship – the work placement that I did with Timetra as part of the pre-apprenticeship course definitely helped.
"I hope that they saw that I worked hard and got on with whatever they asked me to do.
"I love seeing the finished work in joinery – it's a great feeling seeing something that I've done that is going to last for a long time."
Former Braidhurst High pupil Helena said: "The pre-apprenticeship course at the College gave us a taster of bricklaying and painting and decorating as well, but it was in joinery that I felt most confident.
"I'm absolutely buzzing and I hope to make a career out of this – my goal is to one day have my own business.
"I'm so proud to be one of the first girls to do a joinery apprenticeship at the College – it feels like we're flying the flag!"
A number of young people secured Modern Apprenticeships after completing the college's Construction Pre-Apprenticeship course, including John McCrone, 20, from Viewpark, who is now employed by Alltech Construction in Airdrie.
John said: "I've been trying to get an apprenticeship for two or three years, so it felt good to finally get one.
"I like joinery because you're always doing different things – I started last month with the company and I've already been involved in roof work and fitting kitchens and staircases."
Danny Shearer, assistant head of faculty for engineering & automotive, said: "I am delighted to welcome these new apprentices who have progressed from our full-time Construction Pre-Apprenticeship and Females into Construction programmes.
"For all of our new apprentices, this is a great step towards careers in the construction industry.
"I said to the new intake of Carpentry & Joinery Apprentices on the day that they started with us, that in the 13 years we have offered this programme in collaboration with CITB, we have never had a female joinery apprentice.
"This is a great achievement for each of the three young women who have joined us this year.
"It also highlights the success of our Females into Construction courses, which we started in April 2018, and which are now bearing fruit in terms of supporting young women into the construction industry.
"I look forward to watching how all of our new intake of apprentices progress over the next four years, knowing that they will receive every encouragement and assistance from the excellent Carpentry & Joinery team to successfully complete their apprenticeship."
Ian Hughes, CITB Scotland strategic director, said: "It's great to see new learners starting their career in construction, and particularly to welcome the first women joinery apprentices for New College Lanarkshire – a historic first."