Turf cutting marks start of second stage of Inverness West Link
---

---
A turf cutting ceremony was held yesterday to mark the start of Stage 2 of the West Link roads project in Inverness.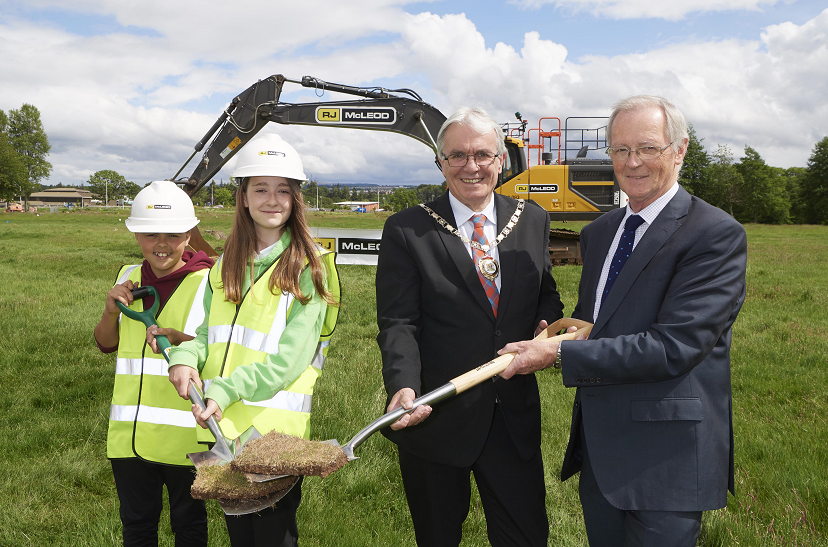 RJ McLeod (Contractors) Ltd has been awarded the contract to realign General Booth Road to join the A82 at a new roundabout to allow linkage to the previously constructed Queens Park Roundabout via a new swing Bridge over the canal. The two canal bridges will then work in tandem to make sure one route is always available to traffic, thus removing delays due to the passage of canal traffic.
The works are programmed to be complete in December 2020.
Compass Building and Construction Services is currently working on the construction of the new control building which will then be fitted out to manage the operation of the existing and proposed canal bridges.
Stage 2 of the West Link project has required the relocation of Torvean Golf club to the new Kings Course which has been constructed to the North West of General Booth Road. The relocation has included the construction of a new clubhouse and maintenance facilities which are now operational.
Relocating the golf club has released land for housing and commercial development at Torvean as well as public open space and parkland. To coincide with Stage 2 of the West Link the Highland Council's city of Inverness area committee last week agreed a new Torvean and Ness-side Development Brief which provides the framework for development of this area as a gateway to the city and the Great Glen. The Development Brief promotes generous new parks in this area along with new commercial, leisure and recreational facilities for both visitors and residents of the city, as well as some new housing and a safeguarded site for a new primary school.
Cllr Allan Henderson, chair of the environment, development and infrastructure committee, said: "The Inverness West Link has been a huge success to date. It has already reduced traffic flows through the city centre and the route is proving very popular as a distributer road. Stage 2 will further reduce traffic congestion in the city centre, improve journey times around the canal crossing and support active travel through new cycling and walking routes."
Council leader Cllr Margaret Davidson added: "The construction of the swing bridge to ensure an uninterrupted flow of traffic across the canal will be a welcome improvement for all who use the A82."
The initial West Link works on Stage 1 including the new Holm Mills Bridge over the River Ness were completed in December 2017.