Worthy winners recognised at 2019 SELECT Awards ceremony
---

---
In a year in which the Scottish electrical industry took another historic step towards being recognised as a profession, the country's largest trade association paid tribute to the sector's leading talent, drive and enterprise last week.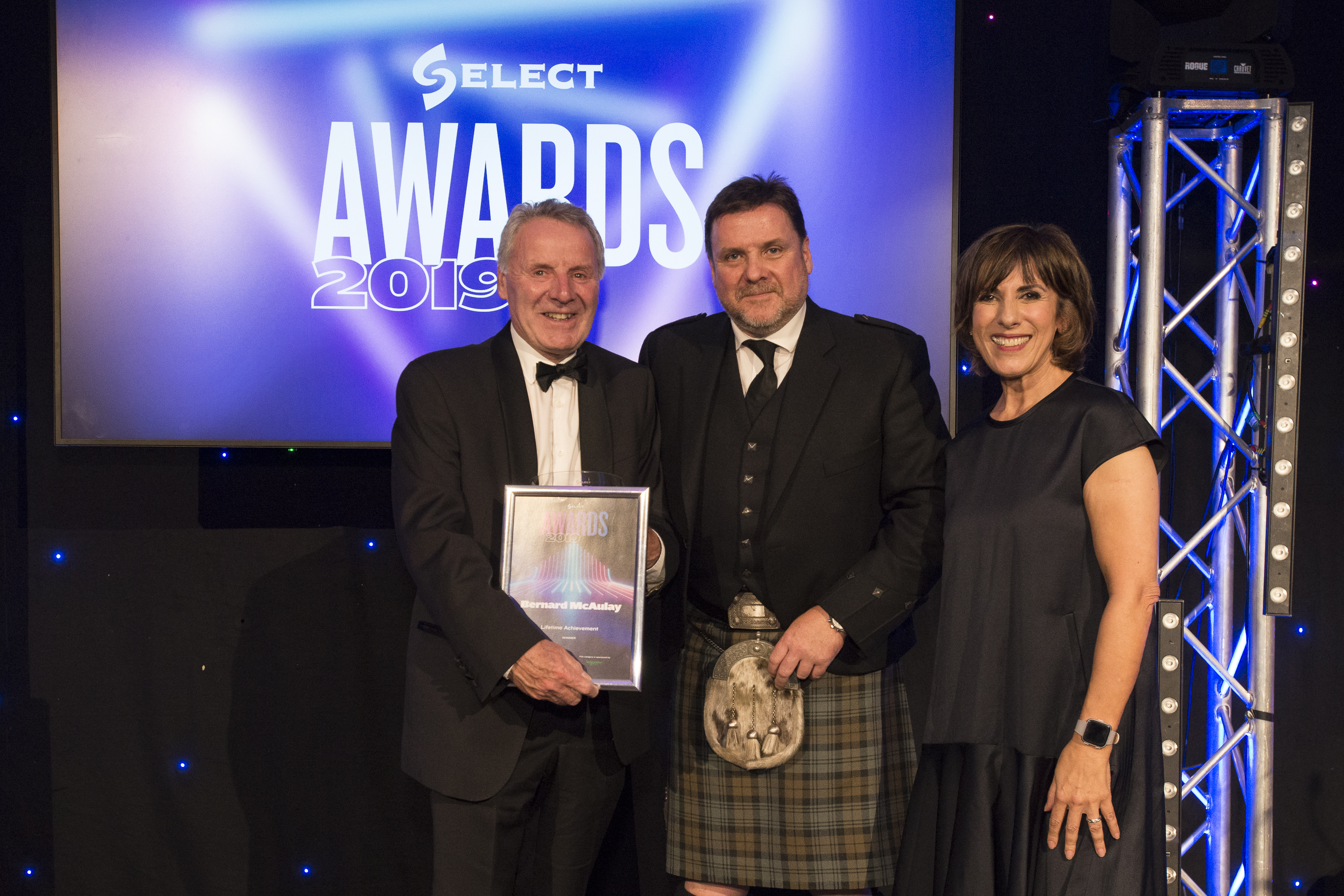 Behind the glitz and glamour of SELECT's annual awards ceremony at the Radisson Blu hotel in Glasgow was burgeoning support from all quarters for moves in Holyrood towards Protection of Title.
The ceremony also coincided with the cinematic showing of The Current War, a Hollywood film which highlighted the way that electrical power transformed the world and took societies everywhere out of literal darkness.
In a world which is increasingly dependent on electrotechnology, SELECT singled out some of the individuals and companies which have stood out from the crowd and delivered particularly outstanding services.
Electrical professionals from companies large and small, and from every part of the country, gathered in Glasgow to submit themselves to the critical judgement of their peers – and emerge as winners.
This year also saw a new award category, the Health and Safety Initiative award, which replaced the Best Electrical Safety Project award.
Alan Wilson, managing director of SELECT, said: "There has never been a more exciting time to be part of the electrotechnical industry, a sector which underpins everything we do in our day-to-day lives.
"Scotland's electrical trade has earned and maintained a reputation for quality, craftsmanship and excellence and SELECT has been instrumental in raising awareness of quality, safety and the highest possible standards.
"The 2019 awards are all about recognising top performers and once again we have been astounded by the response from companies throughout Scotland. Every one of them is a worthy winner."
As an example of the growth the sector has experienced, the Best Large Contractor award went to Ayrshire-based Booth Welsh, which has transformed itself from a local company in Irvine into a globally operating concern with hundreds of employees.
Alan Wilson said: "Scotland is very lucky to have major players like Booth Welsh – which have gone out into the world and come back with hard-won export orders – in its industrial and commercial portfolio."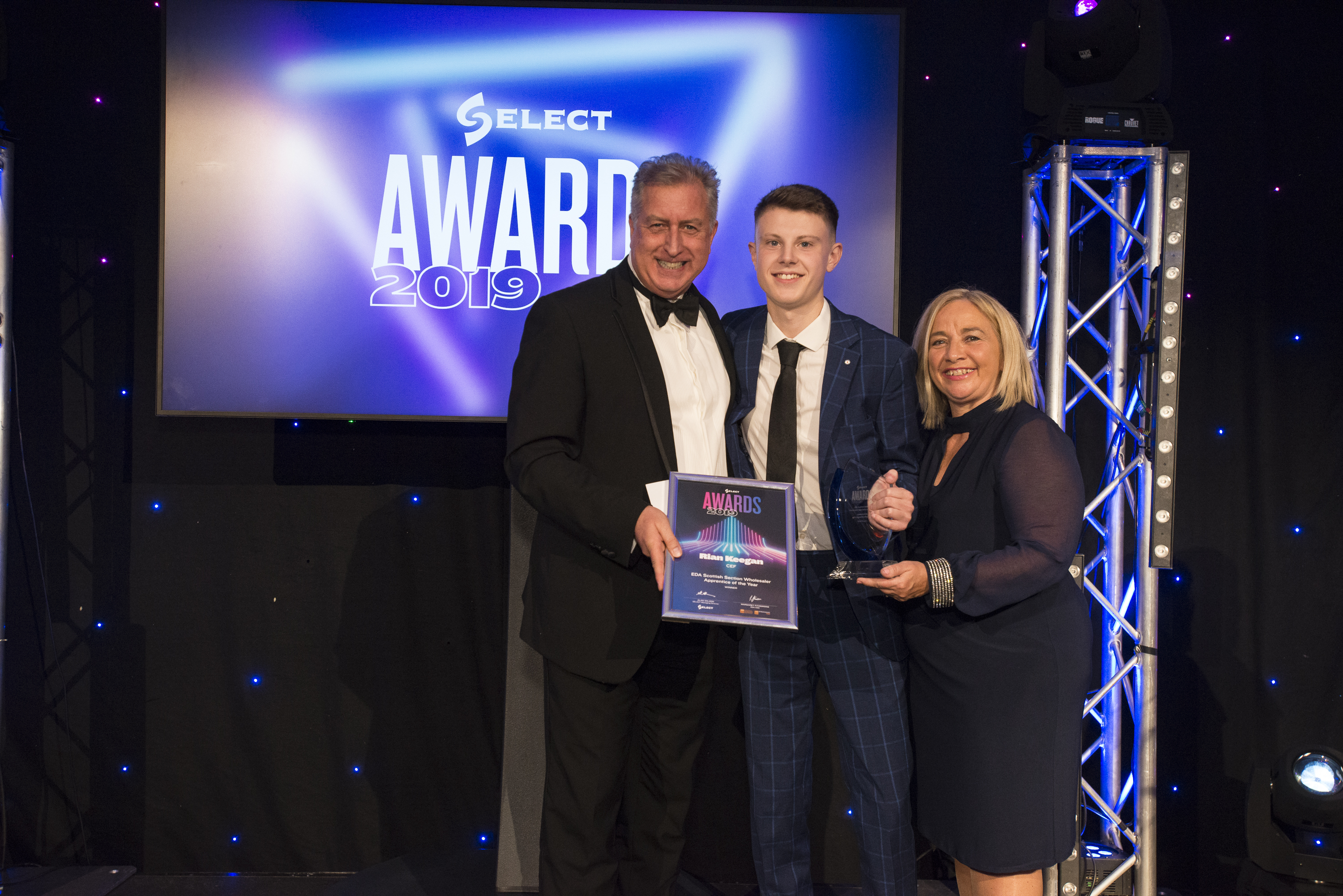 Rian Keegan, 20, from East Kilbride, was named as Electrical Distributors' Association (Scottish Section) Wholesaler Apprentice of the Year 2019, an award category which was introduced only two years ago.
Winner Rian said: "There was a huge response for the apprentice post with CEF and I am very grateful to them, and the teams I work with, for showing faith in me and giving me this great chance.
"After successfully completing my apprenticeship in Warehousing and Storage, I was delighted to be offered a permanent Sales Assistant role at CEF in Glasgow. To win this award is an enormous incentive for me, and I plan to take every opportunity to progress my career in electrical wholesaling."
Rian's award was presented by Angela Devine, apprenticeship account manager at EDA Apprenticeships Plus, and Andrew Burt, chair of the EDA Scottish Section and MD of Glasgow-based AIB Electrical Wholesale Ltd. EDA Apprenticeships Plus, which also sponsored the awards, manages the Association's UK-wide apprenticeship programme.
Alan Wilson said: "Wholesalers are the essential link in the supply chain between the manufacturers of electro-technical products and electricians who install them.
"Just like the installing sector, wholesalers need a steady supply of talented individuals, like Rian, coming through and showing enthusiasm and dedication."
John Henry, managing director of EDA Apprenticeships Plus, said, "Apprenticeships are a fantastic opportunity to attract new talent to your team. Scotland is one of the top performers for take-up of the EDA's service and there's a rich source of talent out there ready to be harnessed.
"Our winner, Rian, faced tough competition in the finals from Lewis Connor, of Scott Coppola Electrical Distributors, Stuart Farmer and Connor Grant, both of CEF, and Danny Jones of Edmundson Electrical Ltd."
Rian's manager at CEF's Glasgow city centre branch, Andy Thomson, added: "Rian showed a great work ethic and adapted to his role very quickly, demonstrating a real can-do approach and a willingness to go the extra mile."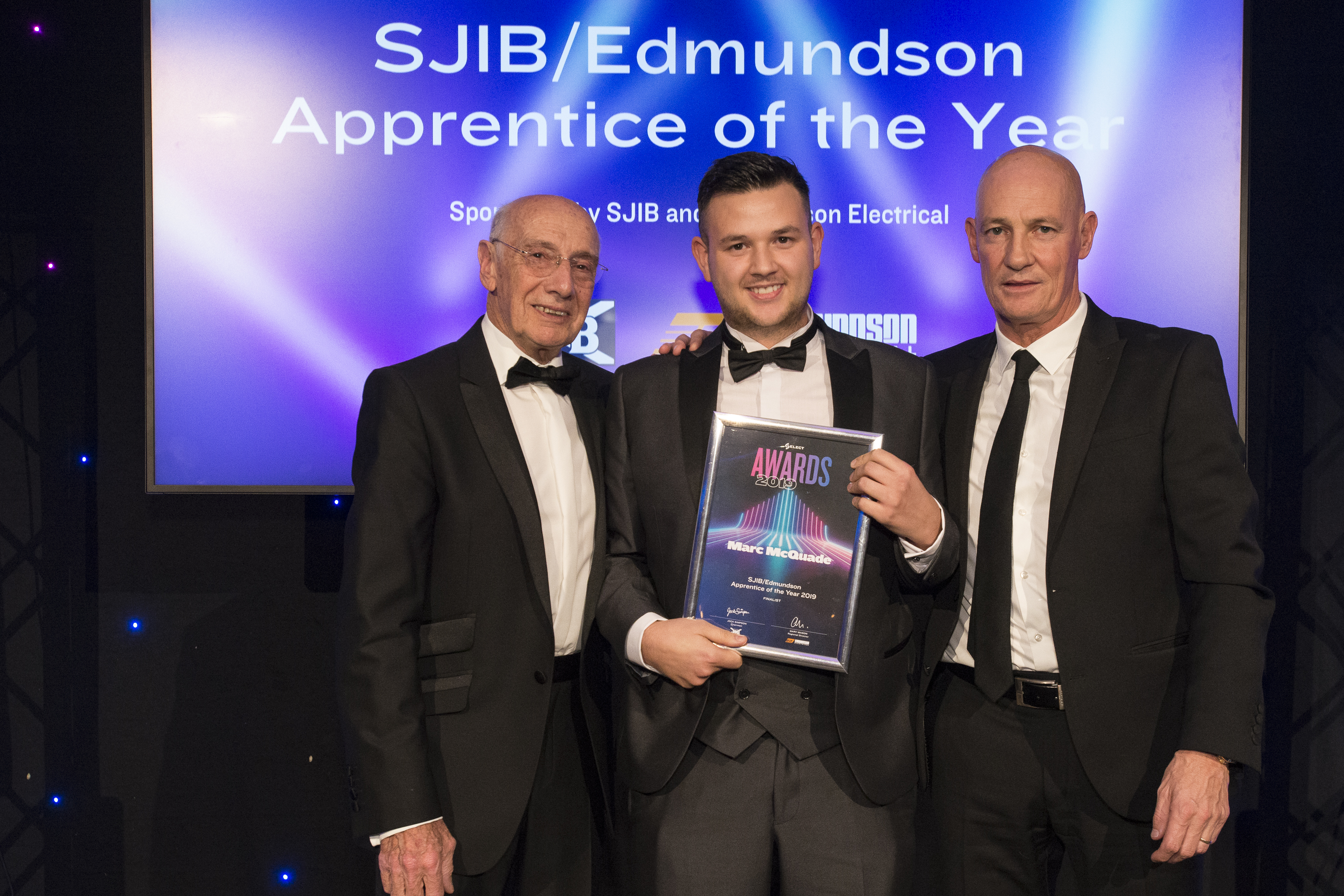 Marc McQuade, 26, took the SJIB/Edmundson Apprentice of the Year 2019 title at the ceremony.
Marc, from Wishaw, works with long-established firm Weir & McQuiston, also based in Wishaw, which has once again enhanced its track record of excellence in its training of young people. The company, which was established in 1976 with three workers, now has more than 200 employees.
Marc said: "This is, of course, a tremendous event for me but it also reflects the values of Weir & McQuiston, which was willing to give me opportunities that I was more than ready to accept.
"My managers and the teams I work with have made it clear to me that they hold me in high regard and, speaking as someone who has only been with the firm for a relatively short time, that is something which I greatly appreciate."
Daniel Begg, who works with Moray Council, and Kevin Durning, of HF Electrical, from Glasgow, were also shortlisted for the award.
Fiona Harper, the secretary of the Scottish Joint Industry Board (SJIB), said: "It is a particularly exciting time for young people to become part of the electrotechnical industry. Standards and technology are constantly improving, as are working practices and attitudes towards the environment.
"Marc is very typical of the quality of new entrants that we need in the sector. He has strong family values and he also has a vision of where he wants his career to take him. I don't doubt that he will more than achieve his goals and ambitions."
The Apprentice of the Year award was presented by Jock Simpson of the SJIB and Gary Mason of Edmundson Electrical, a distributor of electrical equipment to trade and industry in the UK.
Iain Mason, head of membership and communications at SELECT, said: "This award encourages and rewards electrical apprentices who have shown they have attained the highest standard of academic and technical competence and displayed excellent personal qualities in their education and training.
"In the current advanced state of the industry, apprentices must demonstrate not only extremely high levels of technical and academic expertise but also energy and enthusiasm and a good approach to team working."
Other awards were:
Best Small Contractor, won by Aberdeenshire electrical company RH Electrical.
Best Medium-Sized Contractor, won by Interlink Lighting and Electrical, of Glasgow.
Best New Product, won by South Wales company Super Rod, for its Ferret WiFi Cable Pulling Tool.
Best Delivery of Customer Service, won by Electrical Solutions Network of Ayrshire.
Best Use of Training, won by JFM Electrical, of Bellshill, Lanarkshire.
Best Visual Promotion, won by for the second time by Ideal Electrical Solutions, of Edinburgh.
Health and Safety Initiative, replacing the Best Electrical Safety Project, and won by EDI-Aberdeen Ltd.
The Lifetime Achievement Award, sponsored by Schneider Electric, was made to Bernard McAulay, Unite the Union's national officer for construction, allied trades and technicians, who is also a member of the Scottish Joint Industry Board (SJIB).
Alan Wilson said: "Bernard McAulay's focus over the course of many years of high-level union activity and negotiation has always been on the workers he represented and he has never sought the spotlight for himself.
"Like many of the people he represents, he has always been a hard worker. He is not only tenacious and determined but is well known throughout the industry as being very capable of driving a hard bargain on behalf of his members. We are delighted to be able to pay tribute to him."
The evening was hosted by popular radio and television personality Shereen Nanjiani and was attended by more than 350 guests from a wide spectrum of companies, ranging from major electrical enterprises to local firms, illustrating the diversity and strength of Scotland's electrical sector.