Wright, Johnston & Mackenzie LLP supports the Scottish construction industry
---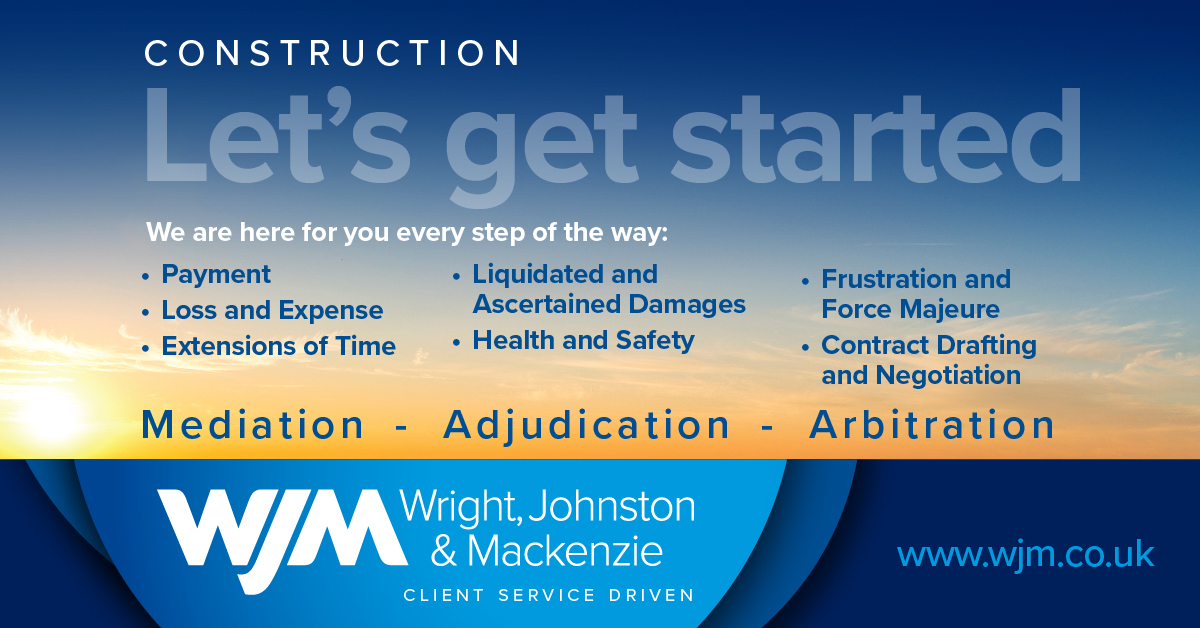 COVID-19 has had a devastating impact on the construction sector. On 23 March 2020, the First Minister of Scotland called a halt to all but essential projects. This has left many struggling for cash flow, which is the lifeblood of the industry.
On 18 June, the Scottish Government permitted the return to full operation of on-site works. However, full operation will not be a return to the old normality. The sector faces new challenges in maintaining a safe environment for its workforce and protecting public health. These requirements are likely to be with us long into the future. Building design is also likely to change to overcome new infection risks.
The construction team at law firm Wright, Johnston & Mackenzie LLP is ready to support the industry through these new challenges.
Specialist Expertise
WJM is a proudly independent Scottish law firm, with a history stretching back 165 years. Its Construction Team focuses on private self-builders, small-to-medium-sized enterprises and professional services providers, who may have previously felt under-represented.
With specialist expertise in planning, renewables, business structuring and commercial property, WJM is equipped to provide a full service - from concept inception, to utilisation and sale – across a variety of projects. It can deftly guide its clients towards their business objectives, by finding innovative solutions that work.
As the Scottish courts are under unprecedented pressure, due to the backlog of cases caused by COVID-19, alternatives to litigation are now key to quick dispute resolution. When disagreements do arise, the team at WJM can offer support here too. It has highly qualified partners who can act as mediators, adjudicators, or arbitrators.
Client Service Driven
WJM recently unveiled a new brand identity, which illustrates its commitment to delivering a quality service. In these new and testing times, WJM's core values remain resolute - to do the right thing, make a difference and build trusted relationships. Its clients are at the heart of everything it does.
Let's Get Started
As the construction sector in Scotland is given the green light by the Government, the expertise within WJM will benefit stakeholders throughout the supply chain. Its Client Service Driven approach and core values are more important now than ever before, to reinvigorate the sector for a sustainable future. So connect with WJM and let's get started.
Further information can be found at www.wjm.co.uk.